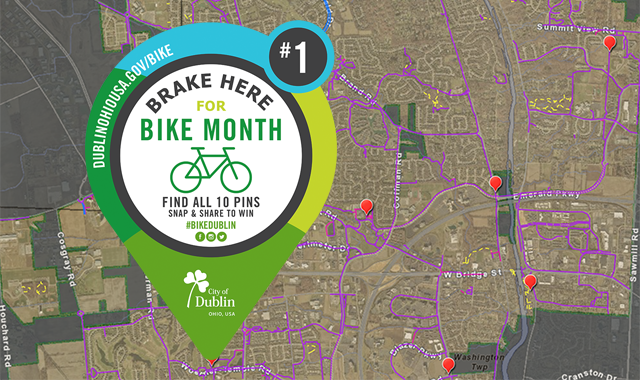 This May keep an eye out for something a little different on your bike ride. Find all 10 of these special markings on our paths (or as many as you can) for a chance to win a bike from Trek Bicycle.
When you spot one, snap a photo and share it on Facebook, Instagram or Twitter using the hashtag #BikeDublin. Make sure your account is set to public. The winner will be announced at the end of the month.
Safety first–make sure the path is clear before stopping to take your photo!
The Prize
Trek Bicycle of Dublin has donated a brand new Trek FX 2 bicycle. The lucky winner will be able to choose from a women's or men's version, and customize the size and color. The prize will go to the social media user who shares the most unique pins. If multiple users share all 10 pins, a winner will be chosen at random. Winner must be a Dublin resident, school district resident or corporate citizen.
Where to Find the Pins
Please note the #1 pin in Ballantrae Community Park has gone missing. Instead you can share a photo from the park and we'll count it.
For more Bike Month fun including special events, safety information and other resources, click here.