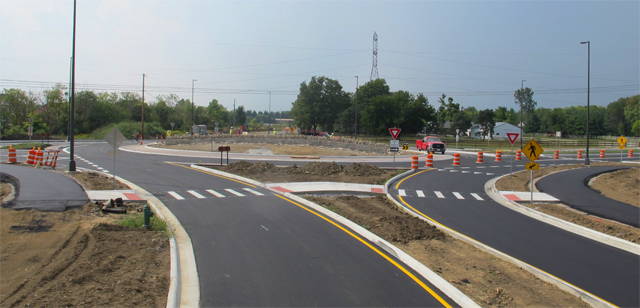 The City of Dublin opened its 15th roundabout Friday, Sept. 13. The roundabout at Hyland Croy Road and Brand Round near Dublin Jerome High School was under construction since early June. The roundabout was constructed by contractor George J. Igel Company, Inc. The project included construction of a modern roundabout, an asphalt bikepath, storm sewers, concrete arch structure bridge south of the roundabout, guardrail, LED street lights, waterline and stone walls.
According to data by the City of Dublin Division of Engineering, area roundabout improve overall safety and improve traffic flow. The three roundabouts carrying the most traffic in the City are at Muirfield Drive & Brand Road, Dublin Road & Brand Road, and Avery-Muirfield Diver & Post Road. Crash history shows an overall crash reduction at all three major intersections where roundabouts have been installed. Crashes resulting in an injury at these locations has been reduced by more than 60%.
A multi-lane roundabout will be built at the intersection of Hyland Croy Road and Brand Road near Dublin Jerome High School. The south (Hyland Croy) and west (Mitchell DeWitt) legs of the intersection will be closed June 7, 2013 with an anticipated completion date of mid-September, weather pending.