24-hour Anonymous Tip Line
Submit an anonymous tip to the Dublin Division of Police regarding crime in the Dublin area online.
Note: This tip line is NOT live monitored.  If you have an emergency, please call 9-1-1.  If you have something urgent or requires an immediate police response, please call 614.889.1112.  You can request to remain anonymous.
View Crimes in Your Area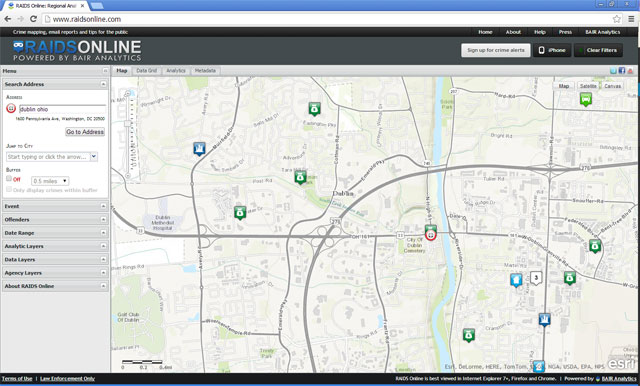 The Division of Police is now using RAIDSONLINE a public crime mapping product from BAIR Analytics. You can access Dublin by entering an address in the search bar or by choosing 'Ohio – Dublin' in the city drop down menu. Read the tutorial to find out how to use RAIDSONLINE.
Keep it Safer in Dublin
The Dublin Division of Police, in an effort to solve and prevent crime from occurring, has identified burglaries and thefts from vehicles as their top crime concerns. That is why Dublin Police launched 'Like it. Lock it,' a large scale educational campaign to create awareness and understanding on how you can reduce your chances of becoming a victim of crime and decrease the number of residential burglaries and thefts from vehicles in Dublin.
Through our analysis of these crimes we have discovered that 51 percent of residential burglaries in Dublin occurred because a garage door was left open and that most open garage door residential burglaries occurred between 7 p.m. and 4 a.m.
Burglaries – Close Your Garage Door
By leaving garage doors open, residents take the unnecessary and much avoidable risk of losing valuable items. Tools, golf clubs, unlocked vehicles and bicycles are left in clear view to criminals. By simply closing and securing your garage door you eliminate the risk of being an easy target.
Theft from Vehicles – Remove Your Valuables and Lock Your Vehicle
Dublin Police advise residents to remove valuables from unattended vehicles and to make sure vehicles are locked at all times. Leaving items such as an iPod or a GPS device is an open invitation for someone to break into your car and steal them.
Neighborhood Watch Program
Designed by the Dublin Division of Police, this program allows you and your neighbors to help prevent and reduce crime in your neighborhood.
A Neighborhood Watch group is an association of neighbors who look out for each other's families and property, alert the police to any suspicious activities and work together to make their community a safer place to live.
Residents interested in forming a Neighborhood Watch group in their subdivisions can get started by contacting the Dublin Division of Police at 614.410.4800, or by emailing Sgt. Rodney Barnes at rbarnes@dublin.oh.us.
Here are a few extra steps you can take to start organizing your Neighborhood Watch group:
Host a neighborhood meeting to gauge neighbors' interest and begin to identify neighborhood issues that need to be addressed.
Invite a Dublin Police Officer to attend this meeting to discuss details of the program and answer any questions.
Select block captain volunteers who will be responsible for relaying information to members on their block, keeping up-to-date information and making efforts to involve everyone.
Elect a chairperson to serve as liaison with the Division of Police and relay information about meetings and crime incidents to block captains.
Establish a regular means of communicating with Watch members.