Registration is now open for anyone wishing to sign up for the Dublin Police active shooter awareness class on Thursday, April 6, 2017.
The class will be held at Coffman High School from 6 – 8:30 p.m. Registration is for participants ages 13 and up. The cost is $5 per person. Register online for activity 244102.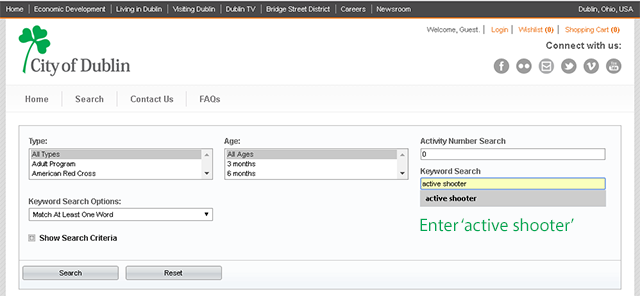 Dublin Police have offered active shooter training in Dublin City Schools for many years and also conduct training for businesses by request.
The course is led by Officer Bruce McKenna, who is ALICE certified. More information on the ALICE principles are available online.
More information on how to prepare for an active shooter situation is available on the City of Dublin website – http://dublinohiousa.gov/dublin-police/active-shooter-situations/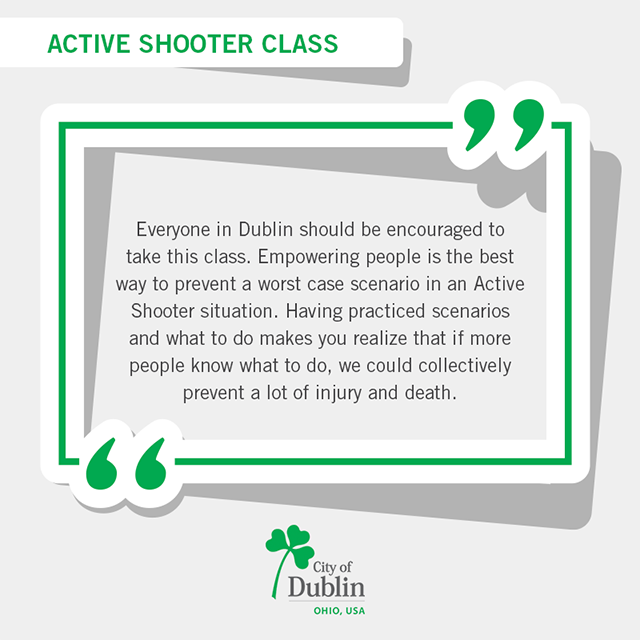 ###
Media contact:
Lindsay Weisenauer
Senior Public Information Officer
614.410.4504 – Desk
614.704.9742 – Cell
lweisenauer@dublin.oh.us
Newsroom: http://dublinohiousa.gov/newsroom
@DublinOhio | @DublinPolice | www.DublinOhioUSA.gov