Questions or concerns about a LimeBike?
Text 888.546.3345, call 888.LIME.345 or submit feedback through the LimeBike app: IOS | Android

As of May 5, 2018, Dublin residents and visitors have a new bicycling option. The bike share company LimeBike launched a pilot program in Dublin, marking its first location in Ohio! The company provides bicycles around town that riders can rent through a smartphone app. The LimeBike fleet features GPS and self-locking technology.
The process to rent one is simple:
Download the app and set up an account.
Use the app to locate a nearby bike.
Unlock the bike by using the app to scan or enter the bike's plate number. To pay for a ride, users will enter credit card information into the app for ride credit.
Enjoy your ride!
When you're finished, lock the bike's back wheel to end your trip. Park the bike in a designated parking area such as a bike rack or identified LimeBike parking space.
LimeBike will rollout 100 bikes initially and gradually expand the fleet to 250. Bikes are available on a first-come, first-served basis. After you complete your ride, the bike will then be available to other potential users. When you need your next ride, just use the app to locate another one.
LimeBike rides cost $1.00 for 30 minutes, or 50 cents for students with a valid student ID. To celebrate the launch, new riders can use the code "LIMEDUBLIN" to receive a $3 credit on their account.
LimeBike will have a team in Dublin to help place bicycles in high-demand areas and to keep them in designated parking areas. They'll also be available to offer customer service. Questions or concerns may be submitted through the LimeBike app, by calling 888.LIME.345 or texting 888.546.3345.
"We're excited to kick-off National Bike Month with LimeBike's first launch in the State of Ohio," says Todd O'Boyle, LimeBike Director of Strategic Development. "We hope our launch in Dublin activates a region-wide effort to increase and expand accessibility to affordable, sustainable mobility options in Central Ohio."
Bike share services are part of the City's plan to improve transportation by providing safe, affordable and sustainable travel options to residents, visitors and those who work in the City. Alternative mobility options help reduce traffic congestion and pollution while encouraging active lifestyles.
As an added benefit, this program is available in Dublin at no cost to the City, which differs from traditional dock-based bike share programs that require significant investments in docking infrastructure.
"We are dedicated to maintaining and improving our status as a bicycle friendly community here in Dublin," says Assistant City Manager Michelle Crandall. "Bike share programs are emerging as a convenient and popular option in cities around the world, and we're excited that it will now be available for those who live, work and visit Dublin."
Dublin is an extremely bicycle friendly community, featuring an extensive recreation path system with more than 130 miles of paths, 200 miles of sidewalks and new sections added each year. The League of American Bicyclists has recognized Dublin as a bronze-level Bicycle Friendly Community since 2013.
Bicyclists are required to follow all traffic laws and are encouraged to wear helmets whether riding on the road, a path or sidewalk. Click here for other bicycle safety tips.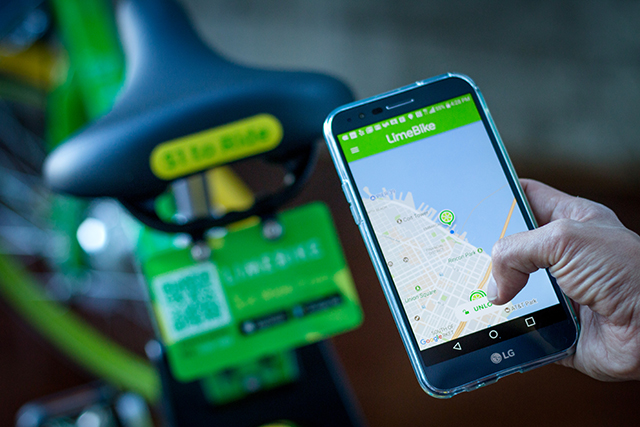 Go to https://www.limebike.com/en-us/to download the app and get started.
About LimeBike
LimeBike is revolutionizing mobility in cities and campuses by empowering residents with a greener, more efficient, and affordable transportation option that also improves urban sustainability. By partnering with local key stakeholders and systematically deploying a fleet of smart-bikes and scooters that are enabled with GPS, wireless technology, and self-activating locks, LimeBike will dramatically improve urban mobility by making the first and last mile faster, cheaper, and healthier for riders. Since launching in June 2017, the company has logged over 1.5 million trips, expanded internationally to Europe, and deployed electric scooters, electric-assist bikes, and multiple models of their standard pedal bike. Funded by Silicon Valley's leading VC firm Andreessen Horowitz, LimeBike is based in San Mateo, CA. Learn more at limebike.com.
About the City of Dublin, Ohio, USA
Dublin is a city of more than 48,000+ residents located just northwest of Columbus, Ohio.  It offers residents and corporate citizens responsive services, attractive housing, superior public education, direct regional highway access, abundant park space, thoughtful and strategic planning, innovative ideas and technology and a dynamic community life. Dublin is consistently ranked one of the safest cities in the nation and in 2015 was named one of America's Top 20 Creative Class Cities.  It is home to more than 20 corporate headquarters, an entrepreneurial center, 4,300+ businesses, world-class events and the urban, walkable Bridge Street District. For more information, visit DublinOhioUSA.gov or call 614.410.4400.
Media Contacts:
Lindsay Weisenauer, Public Affairs Officer
City of Dublin
614.704.9742 – Cell
lweisenauer@dublin.oh.us
Newsroom:http://dublinohiousa.gov/newsroom/
Emma Green & Mary Caroline Pruitt
LimeBike
press@limebike.com