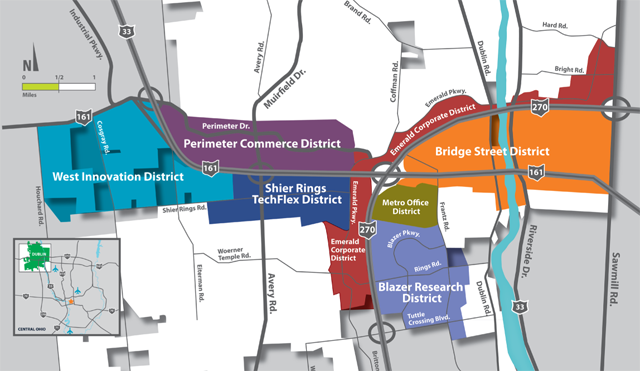 Download the Dublin District Map Brochure | Map

Blazer Research District
This business neighborhood offers easy access to restaurants, hotels, and retail, and includes multiple locations with freeway visibility. The offices in this neighborhood include corporate headquarters, high-tech research labs, class-A office space, and multi-tenant options, as well as a number of settings ready for custom builds.

Bridge Street District
The Bridge Street District will offer innovative businesses the Midwest's only true mixed-use, walkable neighbor¬hoods within a suburban community. The urban energy will combine with suburban convenience to make an ideal home for creative offices, retailers, restaurants, entertainment venues, and residential alternatives. With development standards and an infrastructure that will encourage high density and a variety of architecture, this community will embody the next generation of community development. It will attract everyone from the young professional to the empty nester – anyone who desires an active neighborhood for every aspect of their life.

Emerald Corporate District
The Emerald Corporate District offers the premier address for class-A office and corporate headquarters. Highly visible from I-270, and already occupied by some of the biggest brands in the U.S., this business neighborhood offers ideal locations for any organization that desires a high profile set¬ting with easy access to all the amenities that Dublin and central Ohio have to offer.
Metro Office District
The Metro Office District is the most established office park in Dublin, with modern amenities – including a world-class fiber-optic system, year-round walking and biking paths and 5500 parking spaces. Metro offers great freeway visibility and access; provides affordable office options; has a limited number of lots ready for new offices or support businesses; contains a variety of restaurants and hotels; and is just blocks from even more restaurants, hotels and retail. Dublin's Entrepreneur Center (DEC) and an adjacent data center are located in the Metro Office District.
Perimeter Commerce District
The Perimeter Commerce District is the classic suburban mixed-use business neighborhood – made up primarily of retail, restaurants, medical and professional services. Its proximity to the freeways, high-end residential neighborhoods, Dublin Methodist Hospital, Muirfield, and West Innovation District makes this business neighborhood ideal for any organization trying to reach a large swath of Dublin's residents, employees and visitors.

Shier Rings TechFlex District
The Shier Rings TechFlex District offers Dublin's best combination of office and high-tech manufacturing. Ideal for small to medium-sized companies, this business neighborhood caters to any organization that desires to have their headquarters or offices immediately adjacent to modern industrial applications such as prototyping, special¬ized assembly, or clean manufacturing.

West Innovation District
Dublin's West Innovation District is the showcase business community for forward-thinking companies that desire high-tech office space, clean manufacturing facilities and related supporting purposes. Freeway visibility and access, open spaces and a unique mix of contemporary architecture and natural landscapes make this business neighborhood the ideal setting for modern enterprise campuses.