The Storm Structure Maintenance Program will begin May 30, 2014, and is scheduled to continue through the end of October 2014. Signs will be posted once construction is scheduled to begin.
During the construction period through October 15, 2014 – residents may see temporary "No Parking" signs along the streets in front of the curb Inlets that will be repaired. We apologize for the inconvenience and thank you for your patience.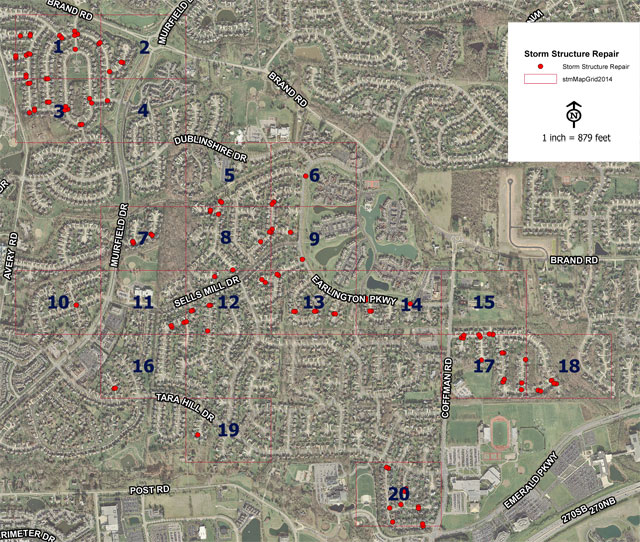 How will I be affected during construction?
Due to various phases of construction, access to your street and sometimes your driveway may be obstructed during construction hours. We will come in contact with your private property. However, if any damage does occur to your lawn, dog fence, and irrigation it will be repaired. The City appreciates the property owner's cooperation in watering newly seeded areas. Please notify your lawn services of any seeded areas on your property.
What happens during construction?
There are multiple stages in resurfacing a street. You will notice some large equipment such as jackhammers, backhoes, concrete saws, front-end loaders and dump trucks hauling construction materials in and hauling excavated materials out. There may be days when you notice a lot of activity, and others you notice very little. Please do not be alarmed if nothing is happening on a particular day. The contractor will be working in several subdivisions throughout Dublin. Rest assured that once construction begins on your street, it will be completed in a timely manner.
What if I have a sprinkler system or underground dog fence by my curb?
If you have a sprinkler system or electric dog fence immediately behind the curb, please notify Grady McGraw, at 614.410.4681, or gmcgraw@dublin.oh.us, as soon as possible. He will notify the contractor of its existence so that extra care can be taken during the curb removal. Should the contractor damage your sprinkler system or dog fence after the City is notified of its presence, the contractor will repair it to its original condition as soon as possible. Once construction begins in front of your house please test your dog fence before you let your dog out.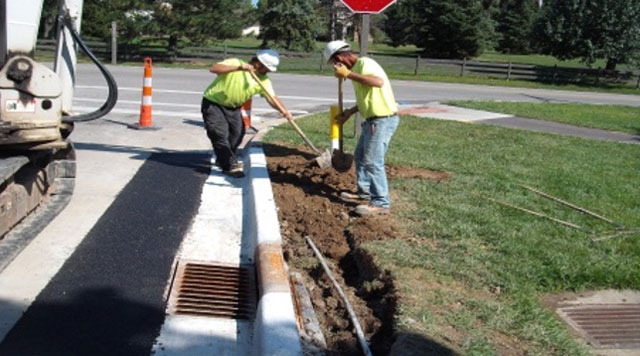 What has the City done to keep debris and noise to a minimum?
Construction projects can create noise, dust or other disruptions. To minimize these problems, the City will restrict hours of construction work. Normal construction hours are 7 a.m. – 7 p.m. The contractor will also use dust retardants to minimize dust particles in the air, cleaning up debris regularly, and restoring any damage to pre-construction condition.
What about other City Services?
There are multiple stages during storm sewer maintenance. The police and fire departments will be notified of all traffic restrictions. There will be no changes in your refuse pick-up. All lawn waste, garbage and recyclable collection will continue according to their normal pick-up schedules.
How long will I be inconvenienced?
Construction work will start at 7 a.m., and will last for approximately ten hours each day. For the most part you will have access to your driveways in the evenings. The only time you will not have access to your driveway for an extended time period will be if a new curb is installed. The contractor has been instructed to give you access to your driveway within seven days after the old curb is removed. Once the new curb is poured we ask that you allow five days for it to cure before you drive on it.
Questions?
If you have any concerns throughout the process visit http://dublinohiousa.gov/engineering/storm-structure-maintenance-program/ or call 614.410.4665, or e-mail tgarwick@dublin.oh.us.