Updated Stormwater Management Design Manual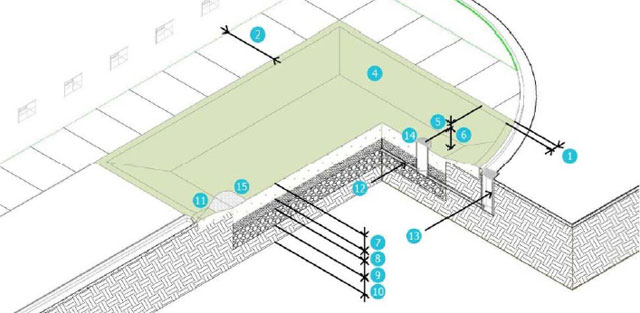 The updated Stormwater Design Manual will be effective starting June 3, 2013. The revisions include the requirements to meet the needs for Bridge Street Corridor development, additional clarification for stormwater control measure design, updated references for rainfall amounts and location of specific control requirements.
The 2013 Stormwater Design Manual includes several chapters that outline the requirements for designing a stormwater conveyance system in the City of Dublin:
Chapter 2 – Hydologic & Hydraulic Design Criteria
Addresses the specific design criteria required to design stormwater control measures in terms of the rate, volume and water quality. Climatological information is provided on the rainfall patterns and distribution to be used in preparing an application. The manual has been updated with different criteria depending on the location of the project. Additional guidance has been included for projects that are considered redevelopment projects.
Chapter 3 – Special Conditions and Constraints
Highlights site conditions that require supplemental protection or that potentially represent a hazard to the public health, safety or welfare are identified and protective measures are incorporated into the design of site improvements and storm water management measures. This section also establishes standards and demonstrations for approval that are consistent with other regulatory requirements and procedures applicable to development within the City of Dublin.
Chapter 4 – Flow Conveyance
Provides standards and criteria to ensure the safe and effective flow of storm water through flow paths, treatment facilities and the physical storm drainage system in a manner consistent with protection of the public health, safety and welfare; the safety and function of properties, roads and improvements; and maintaining and improving water and environmental quality in the City of Dublin and its surface waters.
Chapter 5 – Stormwater Control Measures
Defines the approved stormwater treatment and control measures and practices for use in the City of Dublin. Design guidance and requirements for each type of control measure are presented in a table with accompanying figures.
Chapter 6 – Bridge Street District Integration with Stormwater Management
Defines and describes the manner in which recommended stormwater treatment and control measures (as defined in Chapter 5) may be used in specific areas of the Bridge Street District. This Chapter is intended to support the general purpose, scope and intent of the Bridge Street District by promoting and facilitating the use of recommended stormwater control measures that are consistent with and suitable for particular street families, right-of-way elements, building types, building sites, and open space types, and which contribute to sound stormwater management in a walkable mixed-use development setting.
Chapter 7 – Stormwater Management Plan
Provides guidelines, standards and requirements for the orderly development, approval, and implementation of Stormwater Management Plans, including provisions for shared systems and ongoing maintenance. This Chapter sets forth the requirements for preparation and submittal of Stormwater Management Plans, and provides a framework by which property owners and public agencies may propose collectively an overall plan for managing stormwater from multiple properties, where such a management plan will enable greater consistency with the City's adopted plans and policies. It is a further purpose of this Chapter to provide sufficient standards and safeguards for associated plans, approvals and agreements to protect the public interest by ensuring long-term management and maintenance of stormwater management facilities.
Chapter 8 – Erosion and Sediment Control
Provides standards and guidelines for the preparation of erosion and sediment control plans that protect public health, safety and welfare, and the quality of Dublin's waters from excessive erosion and sedimentation resulting from the construction and operation of development.
Erosion and Sedimentation Control

In an effort to reduce erosion and the amount of sediment pollution generated from the construction sites during rainfall events, the City of Dublin will be requiring that construction sites submit an erosion and sediment (E&S) control plan with any new application for building permit. Administrative Policy and Procedure 09-032 outlines the applicability and requirements for E&S control measures for construction projects in Dublin. Click here to see the new Policy. The developer/builder shall designate a person responsible for the E&S controls on site. This person will be responsible for calling the City to request the initial E&S controls inspection and ensuring the necessary monitoring and maintenance of controls are routinely performed.
The purpose of this policy is to provide City E&S standards and create uniformity in design standards for E&S controls on all construction sites within the City limits. This also allows the City to provide effective and efficient review of site design data.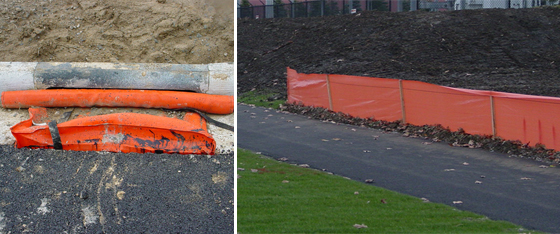 E&S control is an evolving science. The goal of the City is to be responsive to updating its standards to reflect the most innovative, creative and cost-effective practices available. To achieve this goal, this policy will be revised and updated as necessary to reflect accepted new standard practices in the area of E&S control.
This policy applies to all projects in the City, except for patios, decks, sidewalk, curb and driveway replacement, and other minimum disturbance projects that are not required by Ohio Environmental Protection Agency (OEPA) to provide an E&S control plan. Applicable projects shall include: alteration, construction, installation, demolition or removal of a structure, impervious surface or drainage facility; clearing, scraping, grubbing, killing or otherwise removing the vegetation from a site; adding, removing, exposing, excavating, leveling, grading, digging, burrowing, dumping, piling, dredging; or otherwise significantly disturbing the soil, mud, sand or rock of a site. A minimum site disturbance (other than those listed above) does not exist for this policy.
Ohio Environmental Protection Agency