The 2016 street maintenance program is underway and work is ongoing in several Dublin neighborhoods. Residents on streets that will be improved will be notified directly through written communication delivered to their address.
October 14, 2016 Update
Corbins Mill Drive 
Finish pavement markings
No traffic impacts expected
Dublin Road 
Finish pavement markings
No traffic impacts expected
Neighborhoods Substantially Complete 
Muirkirk Drive, Laidon Court and Stratton Lane
Glenaire Drive, Glenamoy Court and Glenliven Court
Rothesay Drive, Rothesay Court and Preswick Court
Amberleigh Way, Glencullen Court, Gillingham Way and Autumnwood Way
O'Shaughnessy Hills (Arrowhead Road, Westbury Road, Forest Hill Road and Woodland Drive)
Brandonway Drive
Valley Stream Drive and Running Deer Place
Shier-Rings Road
Moors Place
Wynford Drive, Wismer Circle, Worsham Way, Whigham Court
Holt Road
Old Wilcox Road
Tuttle Road
All work is weather dependent, and the schedule is subject to change.
Work included in the 2016 Street Maintenance Program consists of roadway resurfacing and reconstruction, roadway base stabilization, roadway spot repair, curb and gutter replacement, installation of ADA compliant curb ramps and other associated work. All work is planned to be completed by September 30, 2016.
Streets included for the 2016 Street Maintenance Program:
The 2016 program includes resurfacing on City streets as depicted on the attached City map. The streets to be improved are as follows: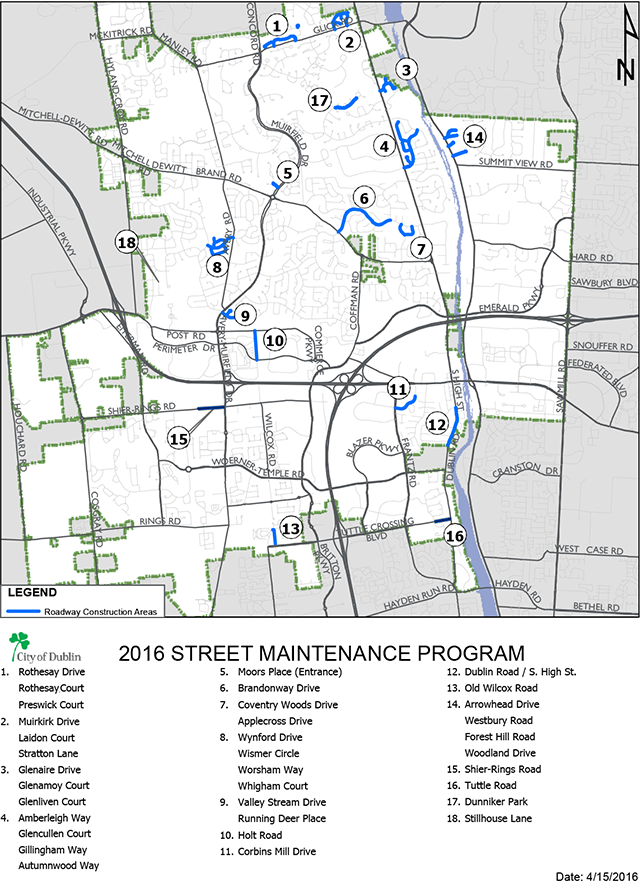 What you need to know:
All work will be performed while maintaining traffic where possible.
Traffic will be maintained as much as possible, but drivers should expect delays due to construction activities. Traffic will regularly be limited to one lane during work hours.
We request that residents keep vehicle travel on the road to a minimum during the construction activities.
Please follow the "no parking" signs in the work areas.
Your mailbox may be temporarily removed during this process. Temporary mailboxes will be placed during the project to allow for uninterrupted mail delivery. Once the improvements are done, your mailbox will be permanently reset in its original location in the same or better condition than when the project began.
Communications with Residents and Motorists
The following communication methods will be used to communicate construction information with the residents and motorists throughout the duration of this project.
Brochures are placed on mail boxes at each residence on affected streets (see attached brochure). These brochures are distributed by Dublin staff.
Residents whose driveways will be closed during construction will be given written notice at their front door at least 24 hours in advance of the closure. These are distributed by the contractor.
Temporary signs are placed along streets at least 24 hours in advance of construction to notify residents and motorists of upcoming construction work and anticipated construction dates.
When appropriate, portable message board signs are used for construction notification on arterial and collector streets.
The City of Dublin Engineering Division street maintenance website implemented in 2010 gives current construction schedule information. This website is listed on the signs posted in advance of construction activities and in the brochure placed on mail boxes. The website is www.dublinohiousa.gov/construction.
Due to the short notification time period for driveway closures, Dublin Engineering staff makes adjustments to the construction schedule to accommodate resident needs on a case-by-case basis.
Social Media (e.g. Twitter, Facebook, Instagram) is used to communicate timely construction updates.
Please contact Tim Root, P.E., Project Engineer at 614.410.4638 or troot@dublin.oh.us
How do we determine which streets to pave/repair?
The Street Maintenance Program consists of replacement of deteriorated concrete curb and gutter, street base stabilization, milling of deteriorated pavement surfaces and placement of new asphalt pavement. The factors used to prioritize and select streets for inclusion in the program include:
Existing pavement condition index
Type and severity of deterioration
Average daily traffic
Functional classification of the street
Annual maintenance costs
Expected economy of grouping streets by location to gain contractor efficiency and minimize neighborhood disruptions
We also evaluate the condition of the existing curb and gutter that work is aligned with the pavement work