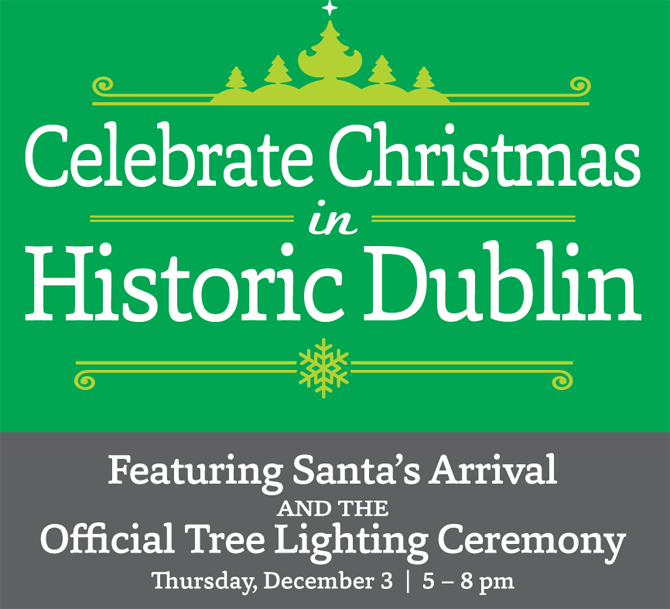 Holiday Cheer Abounds at Dublin's Tree Lighting Ceremony
To kick off the holiday season in Dublin, the City's annual Christmas Tree Lighting Ceremony will be held Thursday, December 3 at 5:30 p.m. at Indian Run Elementary. This festive evening, which is free and open to the public, features the illumination of a 25-foot Christmas tree in the heart of Historic Dublin.
Beginning at 5 p.m., families can get into the spirit of the season with activities throughout Historic Dublin including dining with a snowman and princesses at La Chatelaine, watching ice carvers on the patio of J. Liu Restaurant, or gazing at hundreds of luminaries along High and Bridge Streets.
At 5:30 p.m., enjoy complimentary hot chocolate and donuts from Tim Hortons, take photos with live reindeer and Christmas characters, and gear up for the tree lighting – all on the lawn of Indian Run Elementary.
The main event starts at 6 p.m. with performances by Dance Extension Project and the Eli Pinney and Indian Run Elementary School Choirs. Santa Claus will make a grand entrance aboard a Washington Township fire truck followed by a countdown to the tree lighting with Dublin City Council and the Dublin School Board. Afterwards the Dublin branch of the Columbus Metropolitan Library will host cookies and photos with Santa until 8 p.m.
Parking is available at Indian Run Elementary School, John Sells Middle School, Dublin Community Church and throughout Historic Dublin.
New this year, one lucky child will win the opportunity to ride with Santa on the fire truck. To be eligible, children ages 5 – 12 should submit a drawing online or at the Dublin Community Recreation Center depicting their favorite winter activity in Dublin. For more information visit dublinohiousa.gov/coloringcontest.
5 p.m. Illumination of Historic Dublin
Bridge and High Streets will be illuminated with 500 luminaries, merchant Christmas lights and a stunning display at BriHi Square
5 – 8 p.m. Fairytale Dining at La Chatelaine
65 W. Bridge Street
Featuring a limited menu of soup, salad, sandwiches and mac and cheese at $8.55 per person; call 614.763.7151 to make a reservation
5:30 – 7:30 p.m. Ice Carving at J. Liu Restaurant
50 W. Bridge Street
Watch a masterful ice carver create an amazing holiday sculpture
5:30 – 7 p.m. Tree Lighting Ceremony & Festivities
80 W. Bridge Street
Christmas carols by Eli Pinney and Indian Run Elementary School students
Performances by Dance Extension Project
Live reindeer
Complimentary hot chocolate and donuts
Photos with Christmas characters
Children's prizes
6:30 p.m. Santa's Grand Entrance
80 W. Bridge Street
7 – 8 p.m. Photos with Santa at the Dublin Library
75 N. High Street
Download: Celebrate Holidays in Dublin 2015 (PDF)
Media Contact:
Sarah McQuaide, Public Information Officer
614.410.4523 – Desk
614.593.9438 – Cell
smcquaide@dublin.oh.us
Newsroom: http://dublinohiousa.gov/newsroom/