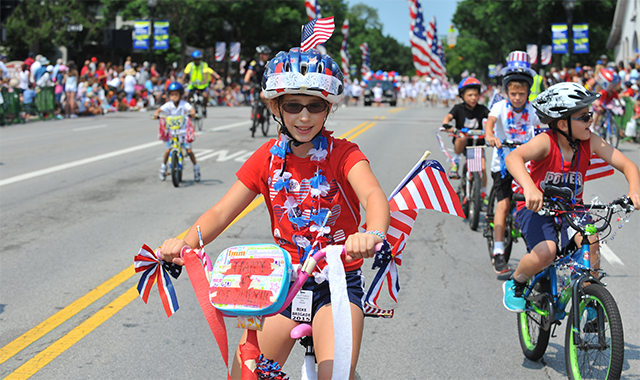 The City of Dublin's Bike Brigade is set to return for the 2017 Independence Day Parade!
You and your friends are invited to take to the streets of Dublin during its Independence Day Parade and participate in the annual Bike Brigade. Show off your Independence Day spirit by decorating your bike while incorporating a patriotic touch. The 2017 theme for the Dublin's Independence Day celebrations will be announced soon, so stay tuned for more details!
The parade kicks off at 11 a.m. at the Metro Center on Tuesday, July 4. The Bike Brigade is open to all children ages 6 to 13. All participants will be in one group, riding their bicycles together. For added safety, the Dublin Bicycle Ambassadors will escort the Bike Brigade.
Parents, some FACTS to consider before signing up your child to participate:
Total time may be more than two hours from the time participants are asked to be in the Bike Brigade staging lot (10 a.m.) until the parade ends and participants return to the Bike Brigade staging lot for pick up (approximately 12:15 p.m.)
The parade itself is 1 mile in length – from Metro Place N. to Waterford Dr. The uphill return route is an additional 1 mile – from Waterford Dr. to Metro Place N.
Any participating child should demonstrate the ability to ride a bicycle without adult assistance.
Rules and Regulations
Age: 6 to 13 years old
Decor: Patriotic themed bicycles
Bikes only. No scooters, Razor scooters, motorized vehicles, skateboards, etc.
Requirements: Helmets are required for all participants and will be strictly enforced
Confirmation: We will contact you via e-mail on Monday, June 27 with additional information
Questions? Please contact Events Administration at 614.410.4545.
Check back soon for more information on the 2017 Bike Brigade application process.