Julie Rinaldi Named Grand Leprechaun of City of Dublin St. Patrick's Day Parade
Community volunteer and Dublin resident Julie Rinaldi, will lead Dublin's Greenest, Grandest St. Patrick's Day Parade as the 2016 Grand Leprechaun on Saturday, March 12.
In this role, Rinaldi will preside over Parade activities including serving as judge of the Parade float decorating contest where more than 110 units will be on display.
In her nomination of Rinaldi, Lucy Smith said, "Julie is an amazing leader, mentor and advocate who works with a compassionate spirit and a gift for making things happen. She works long hours outside of the office and on her private time to make sure the needs of the community are met."
Rinaldi currently serves as the Executive Director of Syntero (formerly Dublin Counseling Center) where she has held the position since 2009. She is an active community volunteer serving in numerous capacities for the Miracle League of Central Ohio, Dublin City Schools, Dublin Irish Festival, and the Dublin A.M. Rotary where she was President in 2014. She also serves on the Healthcare Collaborative Board of Greater Columbus.
Rinaldi and her husband David reside in Dublin. In her free time, she loves to spend time with her two year-old grandson, Briden.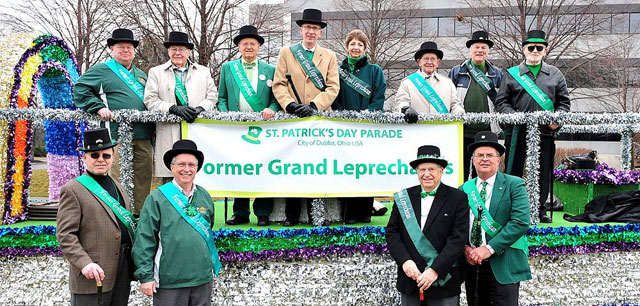 Grand Leprechauns
Bob Adamek – 2015
Michael Blackwell – 2014
Cap Clegg – 2013
Rich Weber – 2012
Dave and Margie Amorose – 2011
Clayton Rose III – 2010
Tom Sevitz – 2009
Lois Dixon – 2008
A.C. Strip – 2007
Tom and Gayle Holton – 2006
Gene Bostic – 2005
Chi Weber – 2004
Jim Richards – 2003
Herb Jones – 2002
Daniel Sutphen – 2001
Jan Rozanski – 2000
Jack Price – 1999
Don Piunno – 1998
Jim Link – 1997
Bryan Deal – 1996
David Wolfe – 1995
Dr. R.C. Smith – 1994
Sherman Sheldon – 1993
Bill Chambers – 1992
Joseph Dixon – 1991
Robert Karrer – 1990
Catherin Headlee – 1989
Bill Doty – 1988
Edward Thornton – 1987
Lewis Geese – 1986
Clayton Rose II – 1985
George Eger – 1984
For more information, please contact Mary Jo DiSalvo at 614.410.4545 or by email at mdisalvo@dublin.oh.us