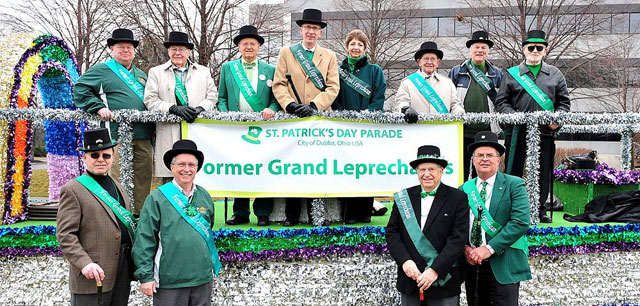 Dublin Resident and Community Volunteer Bob Adamek Honored
Community volunteer and Dublin resident Bob Adamek, will lead Dublin's Greenest, Grandest St. Patrick's Day Parade as the 2015 Grand Leprechaun on Saturday, March 14. In this role, Adamek will preside over parade activities including serving as judge of the parade float decorating contest.
"I was totally taken back when Mayor Keenan told me I had been chosen for the Grand Leprechaun honor," said Adamek. "I am humbled to represent Dublin this way because it puts me in a category with so many wonderful people who have given a lot of time and energy to our extraordinary community."
Adamek is a long-time volunteer for the Dublin Irish Festival and serves as Committee Chair for Token Management. Each year, Adamek contributes more hours of volunteer service than the Festival is even open in this important, behind-the-scenes role. In addition, Adamek served as President of the Wyndham Village Homeowners Association, Board member of the Dublin Foundation and Trustee for the Coventry Woods Civic Association.
Adamek currently is a Board Member of Syntero/Dublin Counseling Center where he previously served as Vice Chair and Chair. Adamek has also volunteered as a basketball and soccer coach for the Dublin Youth Athletics program. He served as a flag post volunteer for the Field of Honor and as a member of Dublin City Council from 1998 – 2001 and served two years as Vice Mayor.
Adamek and his wife, Sharon were recognized by the Emerald Ball committee for their community contributions at the 2013 Emerald Ball. Their daughter Kaylee is a senior at Dublin Coffman High School. .
In their nomination of Adamek, 2006 Grand Leprechauns Gayle and Tom Holton said, "Bob is one of those individuals that can be counted on to do whatever it takes, wherever there is a need and without a reservation. His dedication to Dublin is an example for us all."
Grand Leprechauns
George Eger – 1984
Clayton Rose II – 1985
Lewis Geese – 1986
Edward Thornton – 1987
Bill Doty – 1988
Catherin Headlee – 1989
Robert Karrer – 1990
Joseph Dixon – 1991
Bill Chambers – 1992
Sherman Sheldon – 1993
Dr. R.C. Smith – 1994
David Wolfe – 1995
Bryan Deal – 1996
Jim Link – 1997
Don Piunno – 1998
Jack Price – 1999
Jan Rozanski – 2000
Daniel Sutphen – 2001
Herb Jones – 2002
Jim Richards – 2003
Chi Weber – 2004
Gene Bostic – 2005
Tom and Gayle Holton – 2006
A.C. Strip – 2007
Lois Dixon – 2008
Tom Sevitz – 2009
Clayton Rose III – 2010
Dave and Margie Amorose – 2011
Rich Weber – 2012
Cap Clegg – 2013
Michael Blackwell – 2014
For more information, please contact Mary Jo DiSalvo at 614.410.4545 or by email at mdisalvo@dublin.oh.us