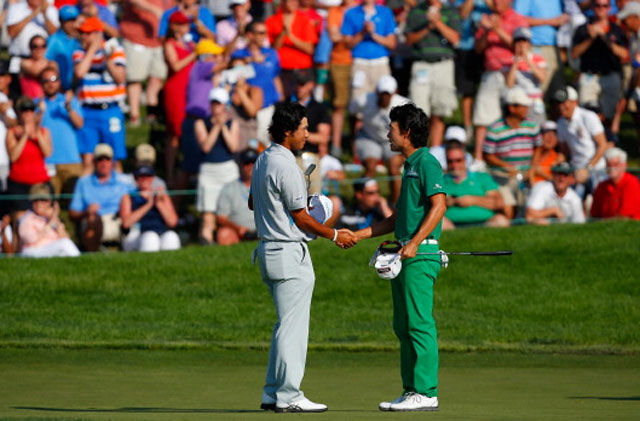 Congratulations Hideki Matsuyama 2014 Winner of the Memorial Tournament at the Muirfield Village Golf Club.
The 2014 Memorial Tournament will be held May 26 – June 1 at the Muirfield Village Golf Club. The tournament is a major PGA Tour event that features the best golfers in the world.
Latest news
The Memorial Tournament presented by Nationwide Insurance is held annually at Muirfield Village Golf Club. The Tournament, founded and hosted by Jack Nicklaus, is conducted each year with three goals in mind: to honor individuals living and deceased who have distinguished themselves in the game of golf; to showcase the world's best golfers competing on one of the most challenging venues in the world for the enjoyment of spectators; and to benefit many Greater Columbus Charities in alliance with the Nicklaus Children's Healthcare Foundation, Nationwide Children's and numerous other local organizations.
Traffic and Parking Advisory for the Memorial Tournament presented by Nationwide Insurance
Dublin Police would like to offer a traffic and parking advisory as Dublin prepares to receive international attention once again with the 2014 Memorial Tournament presented by Nationwide Insurance.
Dublin Police would like motorists to be aware of preferred traffic routes and the availability of taxi service this year to help mitigate any potential traffic issues.
Dublin Police are asking motorists to use Dublin Road or Sawmill Road as the primary routes to Memorial Tournament parking. The Memorial Tournament has parking for the event at the Columbus Zoo and Aquarium with shuttle service being provided Thursday May 26 – Sunday June 1. Shuttles start at 7 a.m. and conclude one hour after tournament play. However, ADA parking and shuttles will be available at the zoo all week.
The Safe Ride program is also being enhanced at the Tournament this year with the addition of a taxi cab stand at the Memorial Tournament's 6th Tee Lot off of Dublin Road where taxi cabs will be staged and Safe Ride vouchers can be utilized.
The Safe Ride program offers vouchers worth $10 toward the cost of a cab ride to discourage drinking and driving. The program is sponsored by the City of Dublin, OhioHealth and other key sponsors. Three area cab companies honor the Safe Ride vouchers: Central Ohio German Village Taxi, Shamrock Taxi and Yellow Cab. The vouchers can be found at Dublin area businesses and restaurants starting on May 23, 2014 and from beverage servers and first aid stands at the Memorial throughout Tournament week.
The map below gives an overview of the preferred traffic routes as well parking locations.