Kaltenbach Community Rooms
Kaltenbach community rooms are the ideal place to hold small parties, showers or community meetings. They are located inside the Kaltenbach Community Center adjacent to Kaltenbach Park. The rental hours are as follows:
Monday-Thursday 8am-9:30pm
Friday-Saturday 8am-11pm
Sunday 8am-8pm
Amenities:
Comfortable chairs
Light wood laminate round or rectangular tables (table cloths not provided)
Small warming kitchen available at no additional fee (oven/stove, microwave, sink, refrigerator/freezer)
Audio/visual equipment is available at no additional charge (TV/DVD player, projector, screen and audio speakers)
Convenient access to Kaltenbach Park
Restrooms
Food, Beverages and Catering
Guests are welcome to bring in their own food and beverages. Alcohol is prohibited. If hired caterers are using the kitchen area or staying onsite throughout the event, they must provide a copy of their certificate of insurance and food vendor's license prior to the event.
Capacity and Fees
The hourly rate includes the rental of both rooms. Discounts are not provided for using only one room.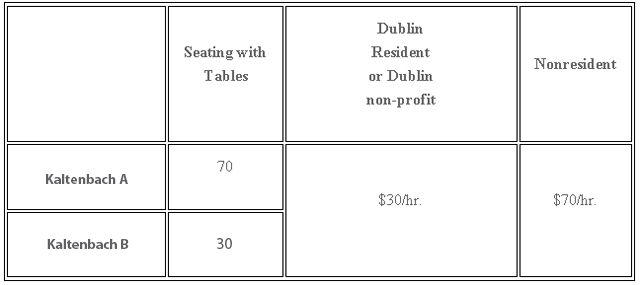 For more information or to reserve the Kaltenbach Community Rooms, please contact the Reservations Staff at 614.410.4510.