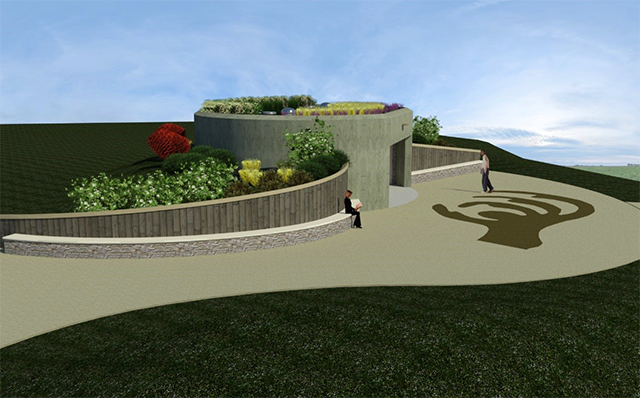 Construction of the new Ferris-Wright Park began January 2018 at the northeast corner of Emerald Parkway and Riverside Drive.
Drivers will experience periodic traffic impacts in late spring/early summer. Beginning July 2, eastbound lane closures are possible between Riverside Drive and Bright Road from approximately 9 a.m. to 3 p.m. for installation of the turn lane into the park. Traffic will be maintained in both directions.
By Fall 2018, this phase of construction will include:
Road Extension (from Emerald Parkway)
Emerald Parkway Turn-Lane Addition
New Parking Lot (on road extension)
New Restroom Facility with iconic Hopewell/Adena Culture symbol
Pedestrian Bridge over waterway dividing north and south sections of the park
Earth Mounds with Landscape Plantings
Informational Signage
Improving and preserving historic sites and adding passive parkland to the City of Dublin is an investment in quality of life, and provides educational opportunities for residents.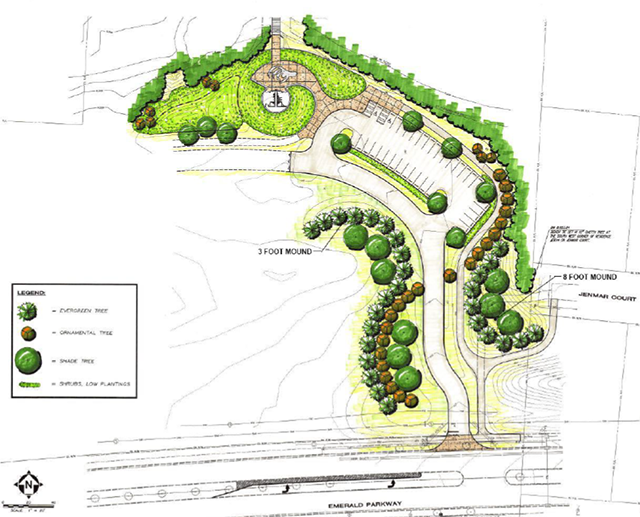 About Ferris-Wright Park
Located at the northeast corner of Emerald Parkway and Riverside Drive, Ferris-Wright Park will preserve and showcase the ancient earthworks, farm house and natural features of the space that are a significant part of Dublin's history. Current projects include construction of a restroom facility, parking lot, entry drive, utility extension, small pedestrian access bridge over Wright Creek, and paths to begin later this year.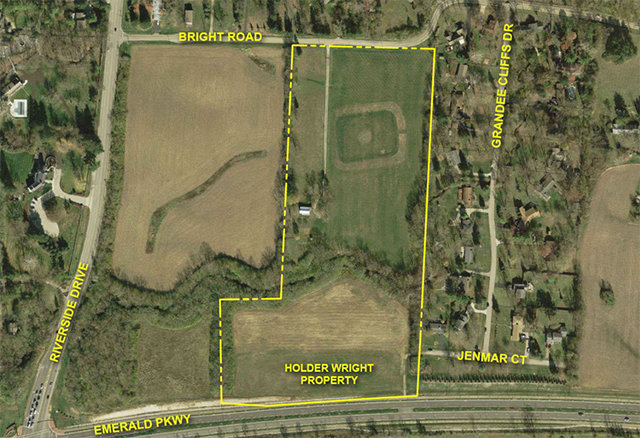 Preserving Dublin's Treasured Past
The land surrounding the Ferris-Wright Farm and Earthworks has been home to many different people including the Ferris-Wright family and the Hopewell Indians. The land is considered a multicomponent site where many groups of tribes are represented with the oldest dating back to Clovis times or about 12,000 years ago. Hopewell Indians built earthworks for ceremonial purposes, such as burials. The park contains three earthworks.
Early Americans explored the Ohio region. The rich soil and abundance of water made the surrounding land a desirable area for settlement. Billingsly Creek, which runs through the park, hydrated early farms, and rivers like the nearby Scioto River were used for milling and other industries that brought prosperity to Dublin.
Joseph Ferris came to Ohio in 1818, and built his farmhouse in 1820. It is said that his house was the first frame house in the area. The others were all cabins. The family cleared the land for farming and built the first frame house in the region. The home still stands today and serves as a museum/classroom.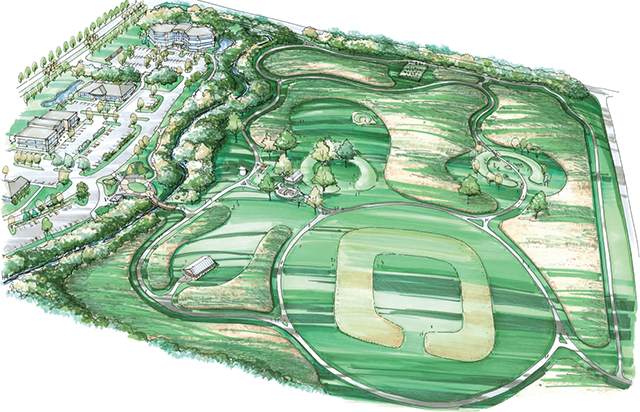 A Place of Ceremony
The Hopewell people lived, hunted, fished and farmed in Ohio and other parts of eastern North America around 100 B.C. They were an advanced society who had an extensive trade network that ran from the Great Lakes to the Gulf of Mexico and out west to the Rocky Mountains. They had a sophisticated understanding of geometry and astronomy, and these principles were demonstrated in their ceremonial spaces known as earthworks.
Earthworks were much like modern-day event centers. Groups of Hopewell Indians gathered at these sites for ceremonies and burial services. Teams of people built the earthworks by excavating stone or dirt with stone tools. They moved the dirt in baskets and potted containers and organized the material into geometric shapes. The majority of earthworks were very large, and some consisted of complex, symmetrical shapes (such as an octagon), which required a high level of precision to build.
Today, few of these ceremony spaces remain intact. Many of the Hopewellian earthworks have been cleared away for farming and development or damaged by early excavation efforts. The earthworks on this site are the northernmost earthworks in the Hopewell's territory.
The Ferris-Wright Mound and Earthwork group is made up of three geometric earthworks (two circles and a square) and five burial mounds. The tallest mound once stood five feet tall and the others were approximately three feet tall.
The earthworks were professionally excavated in 1922 and 1961. The artifacts retrieved during the digs helped archeologists better understand the culture of the Hopewell People.