The Dublin Community Recreation Center is turning 20! For two decades, the DCRC has offered recreational excellence for the Dublin community with countless programs, classes, workouts and open gym hours.
The DCRC is still in great shape, but just like us, buildings need a little work from time to time to stay on track. In 2016, the DCRC will undergo several important improvements, including:
Roof replacement
Gymnasium floor resurfacing
Pool deck, drain and lighting upgrades
A major upgrade to our Rectrac membership and program
Several projects are being consolidated to minimize disruptions and maintain the highest safety standards for all patrons, visitors and staff. Most of the improvements will take place with no interruption to services, but an extended shutdown of the swimming pools and gym will be necessary.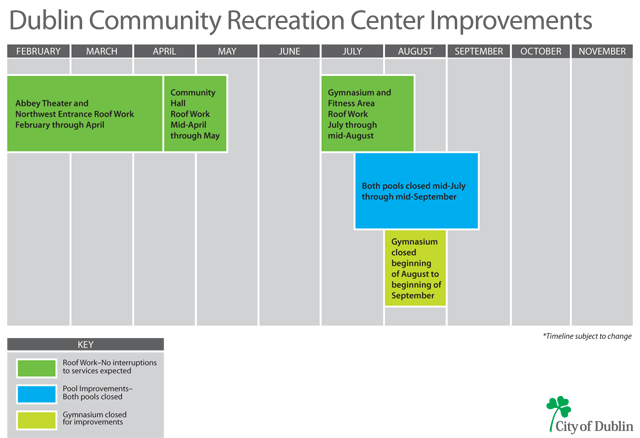 Roof replacement
Roof replacement will take place at various times in various locations from February through August, but no service interruptions are anticipated. Patrons may notice extra noise and other signs of construction in the DCRC as a result of the improvements.
Pools
Both of the DCRC pools will be closed between mid-July and mid-September for improvements, including slot drain replacements, LED pool light replacements and the installation of a new deck surface in the lap pool area, which will match the current leisure pool deck. This project will increase deck traction for safety and will make deck drains more efficient. The improvements also include more energy efficient lights that require less maintenance. Special open lap swimming hours will be provided at the Community Pool North to serve our early morning lap swimmers.
Gymnasium
The gymnasium is expected to be closed from the beginning of August through the beginning of September, 2016. This project includes painting, ceiling duct work and sanding the gym floor down to the wood, repainting the lines and refinishing the surface. This will improve floor traction for users, improve aesthetics and improve the ability to change line configurations to accommodate additional sport offerings.
RecTrac
Our Rectrac membership and program registration software and database will undergo a major upgrade. This upgrade requires a direct database transfer that will prevent us from conducting transactions during the transfer period. The next generation of RecTrac is a modern web-based application that will provide a number of enhancements and efficiencies for both staff and customers. Patrons should see improved speed during online registration and reservations. This upgrade will also allow the City to offer online ticket sales and venue seating for the Abbey Theater. The upgrade will take approximately one week and will happen during the DCRC annual shutdown and should not impact DCRC users. Plans are in place to maintain operations at the outdoor pools.
As a result of these closures, Recreation Services will be extending all active DCRC memberships for an additional two months, since this project duration exceeds the usual shutdown period that is outlined in the membership agreement.
Staff will be working closely with contractors to adhere to the schedule as closely as possible. As with any project of this magnitude, there may be unexpected situations that may require adjustments.
Questions? Contact us!