Happy October! I've been out and about and with the cool, moist temperatures I've been seeing some great mushrooms in many colors and shapes. I decided to write about them this month. Mushrooms, yeast and molds belong to the Kingdom Fungi. They're often grouped with plants but structurally they're incredibly different and they do not photosynthesize. Fungi break down organic matter and this can be detrimental or beneficial. Moldy bread can be a real bummer but I appreciate seeing the white threads of fungi in my compost bin. No one wants athlete's foot or black mold in their home, although I do like seeing mushrooms in my yard.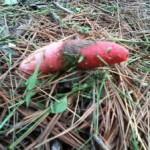 I was fortunate to take a mycology (fungi) class in college. We had no text books but used the fall, Ohio landscape as our study guide. I remember exploring through woodlots, riparian zones and fencerows looking for new varieties of fungi. With over 2,000 types in Ohio we were busy. I've always enjoyed poking around and it was a thrill to find a bright orange Jack-o-lantern mushroom or a Giant Puffball. Even the smallest, delicate mushrooms would draw in the class. I remember oohs and ahs as well as pews as we came across many varieties including stinkhorns. Yes, the name says it all.
My class also visited edible mushroom growers in Hillsboro, Ohio. We were treated to tours of temperature, humidity and light controlled rooms and shown the medium in which different types of mushrooms grow. We also ate a lot of mushrooms. I will immediately warn everyone that eating wild collected mushrooms can be hazardous. Proper identification is crucial. However, there are a lot of varieties for sale and kits for home grown mushrooms are readily available. Mushrooms are high in potassium and selenium and have many other nutrients. Of course mushrooms have helped humans medicinally for centuries. Where would we be without penicillin? Mushroom consumption has also been related to reduction in cancers, boosting the immune system and lowering cholesterol. Humans also use fungi to impart flavor to cheese and even use fungi in pest control. Furthermore, we can purchase mycorrhizal fungi to assists vascular plants in nutrient uptake.
Other animals including deer, voles, chipmunks and insects eat mushrooms. I've seen red squirrels dry mushrooms in tree tops for winter caches and found slug trails over mushroom caps in my yard. Fungi live in the gut of several insects and play a role in nutrient intake. Some ants actually grow fungi as a food source while others utilize fungi to create ideal habitat for their offspring. Various lichen species cannot survive without fungi.
Fungi are amazing huh? Who has a good edible mushroom recipe?