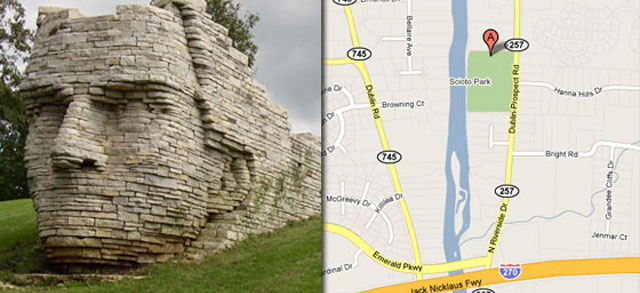 Dublin parks have much to offer. Whether you're in the mood for sports, walking a dog, enjoying a woodland walk, or splashing along the Scioto River you can enjoy it in Dublin. Dublin is rich with park diversity, boasting 1400 acres of land, 17 community parks, and 35 neighborhood parks. Your family might challenge themselves to see how many of the 38 playgrounds you can visit in a year; or which of the 41 ponds has the largest fish. Perhaps you can discover one of the scenic bike routes along all 90 plus miles of bike path. Regardless of how you enjoy the outside world, it's obvious that there's richness in Dublin.
Scioto Park Scavenger Hunt
Scioto Park was acquired by the Village of Dublin in 1978. It originally had a swimming pool, changing house, shelter house, and restrooms. Start your hunt in the lower parking area next to the middle shelter house, (where the changing house once stood).
1. This structure helps visitors get from one side to another. It keeps feet dry and crosses over something flowing. It's a short one, so pay attention or you'll miss it!
Answer: Bridge. There's a small foot bridge that crosses the water. It was placed to help those using the north shelter house get there safely. A lot of small critters called macro invertebrates live in our streams. Snails, insects and crayfish are all macro invertebrates. Stop and gently turn over a rock. Do you see any? The presence of diverse macro invertebrates tells the health of a waterway. Please remember to gently replace the rock. It's somebody's home!
2. Listen! What do you hear? The second thing you're looking for seems to flow from nowhere. It comes right out of the hillside. Follow the gurgling to its source.
Answer: Spring. This small stream of water flows directly from the hillside. Historical records tell of the Wyandot peoples traveling the Scioto River in canoes, stopped to drink from this spring. *Because of pollutants, this water is not safe to drink today!
3. Look to the Northeast, towards the trees. Stairs will lead you towards the next item. This object is covered with manmade materials to make it look natural. It helps people communicate over long distances. Birds, including red tail hawks often sit at the top.
Answer: Communication Tower. The City of Dublin wanted it to blend in with the natural landscape. Many people drive past it without noticing. Imagine being a Red-tail hawk and looking out over the land. What would you see? Perhaps you'd see dinner. Red-tail hawks eat mice, squirrels, rabbits, snakes and all sorts of smaller creatures. The tower provides a great place for them to sit and survey the land.
4. This larger than life art piece pays respect to someone known to keep his word.
Answer: Leather Lips Monument. Chief of the Wyandot peoples, Leather Lips was known to keep his word. Accused of "witching", Leather Lips was killed by his own people in the late 1800's. He is buried north of the park along Riverside Drive. You can spot his monument, a large pink headstone just south of Stratford Road. For more information on Leatherlips, look for the book Dublin's Journey at the library.
5. Acting, songs, and even weddings are common at this next stop.
Answer: Scioto Amphitheater. Built in the mid 1980's, the Amphitheater host events such as "Sundays at Scioto" and weddings. Many people also enjoy lunch in this area. What do you feel like when you're on stage?
6. The next item is back down the stairs towards the Central shelter house and is oval is shape. It attracts two or six legged creatures that sip nectar. People stop to smell what grows here.
Answer: *Butterfly/Hummingbird Garden. The garden was planted over ten years ago and attracts many critters. Because butterflies have poor eyesight, the garden has a lot of color and flat flowers on which they can easily land. Can you see any insects on the plants now?
An interesting fact: The butterfly garden is planted on top of an old swimming pool that once attracted many guest to this park. The park was privately owned and charged visitors to enter and swim in the spring fed pool. The middle shelter stands where the original changing house stood.
7. The next item is tall and some people say it looks camouflaged because of its patchy shapes and different colors. Others call it ghostlike because the white areas can been easily seen at night. It always grows close to water.
Answer: Sycamore Trees. These trees line the Scioto River. They are known to grow in wet areas and many Native Americans used them as markers to find water. Their seeds are in tight round clusters about the size of a quarter and are eaten by birds. Sycamore trees are also known as the Camouflage or Ghost tree because of their bark.
8. It is fun! Kids of all ages glide through the air, hang from bars and climb on this next item. It is surrounded by soft materials to keep anyone that might fall safe.
Answer: Playground…this playground is visited by many children each year. With benches nearby, parents sit and relax while their little ones play.
9. The final item won't be hard to find. It's what the park is named for.
Answer: Scioto River… You are standing on the banks of the longest free flowing river in the state of Ohio. At almost 231 miles long, the Scioto River basin drains over 6,510 square miles, including all of Dublin's land. The river provides drinking water for many central Ohio residents. We, as a community have control over the health of our drinking water. Please be aware of what washes down storm drains in your community.
Thanks for visiting Scioto Park.
*Indicates this item might be harder to find in winter.
Coffman Park Discovery Walk
5200 Emerald Pkwy.
Welcome to CoffmanPark a nearly 100 acre park located at 5200 Emerald Parkway and 5600 Post Road. Once you explore many of the special features of Coffman Park, you will probably be able to explain why it is known as both as a neighborhood park and as "central park" for the City of Dublin.
1. From the parking area off Emerald Parkway, scan the area around you. Within sight try to locate:
(a) an important city government building
(b) active recreational areas
(c) art in the park
(d) a farmhouse and barn of historical significance
There is so much to enjoy and learn about Coffman Park! Let's begin.
First, do you hear or see any signs of a basketball game or tennis match in progress?
Near the parking lot on the basketball court side, find the inscribed words on a large rock.
Answer: "In our togetherness, castles are built. " What could these words mean for our city? What might they mean for you or your family?
Coffman Park is the location of the annual Dublin Irish Festival. With humble beginnings and just a few people in 1988, the Dublin Irish Festival has grown to a huge, cultural event including authentic Irish dance, music, storytelling, arts and crafts and more! The Festival is attended by over 100,000 people! Big things can truly be accomplished when many people work together!
2. Walk to the building across the parking lot from the rock. What is the name of this building and what kind of work is carried out here?
Answer: This is the Dublin Municipal Building, open Monday through Friday from 8 a.m. to 5 p.m. Tours are available by appointment. It houses the office of the Dublin City Manager, and the Dublin City Council meets here. In addition, the offices for finance, information technology and volunteer services are in this building. On the wall just inside the entrance is "Titration, " a cast bronze and poured glass sculpture by Daisuki Shintani. Outside the City Council Chamber, in the main entrance area, is a large mural by local artist, Bev Goldie, "A Parade Through Time, 1810 – 2010, " depicting many highlights of Dublin's 200+ year history.
3. Now follow the path away from the city building and parking area, noting the trees and plants along the stone wall.
Answer: You will find pine, maples and ornamental fruit.
4. Next go in search of evidence of Ohio pioneers from the 1800's. What structures on the property are older?
Answer: The Fletcher Coffman Homestead and Heritage Garden. This 2 story, Victorian farmhouse was built over a 5 year period during the Civil War era, (1862-1867) with bricks that were made here on the property. The Coffman family was a second generation Ohio pioneer family who built this home and farmed the land.
Can you begin to imagine the 1860's farm life on the grounds upon which you are now standing? When the Coffman family and their friends stood right here around 150 years ago, what type of work or play do you suppose they were doing? How would the Coffman family's work and daily life differ from ours today?
The Coffman Homestead is now the headquarters and museum for the Dublin Historical Society, open from 1:00 to 4:00 the first Sunday of every month during the summer or by special appointment.
5. Walk along the split rail fence between the homestead and the Municipal Building and notice its design, the farm outbuildings, the grounds, and (in season) the plantings. Are any of the trees or plants familiar to you?
Answer: Apple trees are reminiscent of the original orchards that were here. During the summer you will find a garden with a few plants that are authentic to the late 1800's. The 19th century barn contains agricultural tools and equipment of that time.
6. Now walk toward the park path and find something that is fun! This is where kids enjoy climbing and sliding and swinging. It is surrounded by soft materials to help keep people safe.
Answer: Playgrounds – this playground is visited by many children each year. With the octagonal roofed shelter and benches nearby, parents may sit and relax while their little ones play.
7. Next, just west of the playground in an area across from the tennis courts, you will find some large, interesting wooden boxes. What are these?
Answer: Peep Boxes, by California artist, Danielle Wallis. Be sure to look inside each box! Can you describe what you see? The artist has created a viewing field that both expands and shrinks distances.
8. Continue walking further out into the grass and toward the main natural feature of Coffman Park. What is it?
Answer: The South Fork of Little Indian Run flows eastward through Coffman Park to join the North Fork behind the Dublin Public Library. They then flow together into the Scioto River, the longest free flowing river in the State of Ohio. Here we have a delicate watershed area. Over the years, Indian Run has been channelized by digging out ditches to drain fields and build roadways. With nearly 90% of Ohio's wetlands gone, city leaders are mindful of creating "floodways" to protect waterways and structures. Further west in the park you can find areas that are not mowed in order to help filter and clean the water.
9. Take a close look into the stream or gently turn over a rock. Do you see any critters?
Answer: There are few macro invertebrates (snails, crayfish, insects…) in this section of stream. Pollution is most likely to blame for lower numbers. However, as we learn to improve the water quality macro invertebrates will increase. Enjoy the sound of flowing water is calming and relaxing. How can you help improve water quality?
10. Walk along the stream until you see this "ghost tree"…also known as the "camouflage tree. " The tree you are looking for is at the edge of the stream, on an imaginary line between the park bench behind you and the red brick building off in the distance.
Answer: Sycamore tree. Recognized by its exfoliating, colored bark, this tall tree can live to be hundreds of years old. The roots of the tree help minimize soil erosion and stabilize stream banks. Many Native Americans say a sycamore tree always grows within a hundred feet of water. Is this true here? The seeds of the sycamore are eaten by birds, and cavities in sycamores can be used by owls, raccoons, swifts, and bats.
11. Look high up into the sycamore tree! A surprise awaits you. What is it?
Answer: A human-shaped tree climbing figure by Kentucky artist, Todd Smith, titled Exuvia. Thisis just one of four, all here at Coffman Park. How many can you find as you continue your walk? (Clues can be found on the Dublin Arts Council information sheet. ) The Exuvia series is influenced by cicadas that molt their exoskeletons, leaving their shells in the trees.
12. As you look up along the tree line near the stream, can you observe any large nests high in the trees? What type of animal made the nest?
Answer: If the nest is as big as a soccer ball or basketball, you are probably looking at squirrel nests, also called "dreys, " made from twigs and leaves and often lined with fur or feathers. Squirrels will have two to four babies once or twice a year. The baby squirrels will live in the nest for 8 to 12 weeks until they are able to take care of themselves.
13. Continue slowly along the stream and the tree line back toward the parking lot. As you walk, share your observations of plant and animal life.
Depending upon the time of year of your walk, you may notice a turtle or dragonflies, many tree seeds, pinecones, walnuts, and be careful – poison ivy!
14. Continue walking until you arrive at tons of concrete fun. What is it?
Answer: Dublin Skate Park, which opened in 2001, is a 15,000 square foot skate park with 3 levels of skateboard and in-line skate ability. A fun and exciting time at the Skate Park must also be a safe time. Be sure to follow all safety rules and recommendations when enjoying the Skate Park. This includes wearing the appropriate safety gear (helmets, pads, and wrist guards). The Skate Park is not directly supervised by Dublin City Staff.
15. Even without skates or skateboards you can enjoy lots of active play. Where?
Answer: Playground for School Age Kids. Just west of the skate park is an area distinctly designed for older kids by landscape architect, Laura Karagory. How many ways can you move through this playground?
16. There are many landscape plants in this area. Which can you identify and why are they important?
Answer: Some of the plants here include spruce, ornamental grass, juniper, viburnum, sweet gum, oak and hawthorn. These and other plants help provide shelter for a variety of living creatures, cleaner air, and a healthier environment. If it is an extremely hot or cold day, you may notice how much more comfortable you feel in this area.
17. What has tiered seating built into the natural bowl shape of the land?
Answer: The Dublin Coffman Park Amphitheater is a community stage built in 1998. It is a cantilevered platform (built out and balanced beyond the base) extending over the floodway. In early August each year, the amphitheater is one of several Irish Festival stages for groups who bring Irish song and dance to our community. Would you like to perform?
18. Continue your walk across Coffman Park Drive to a building with dormers and 2 stone-clad chimneys. What is it?
Answer: Coffman Park Shelterhouse and Skating Pavilion mimics the design of the Dublin Recreation Center. It includes a stone hearth, which is a great place to warm up when the area just outside the shelterhouse becomes an ice skating rink each winter. Also included is a caterer's space, (kitchen) and a clearspace interior. When you are standing in the shelter house, look up. Why do you suppose the netting and "catclaws" were placed at the ceiling? (to keep hawks from flying up there and birds from perching) If you are interested in architecture, notice the trusses and transoms. A large open area just north of the shelter house is an "event lawn" for many special Dublin activities and Family Camp-Out Night, Spooktactular, the Dublin Irish Festival and more!
19. Now walk along the sidewalk toward the pond adjacent to the Recreation Center. Can you hear the sound of falling water? At the edge of the pond, what plant and animal life can you observe?
Answer: Around this man-made pond and waterfall, you may see ducks, blue gill, bass, carp, minnows, and sometimes, even a muskrat. Notice the cattails at the edge of the pond. A stand of cattails might be considered a wild supermarket. Historically, they were used in many ways including food, housing, and clothing. Cattails and other wetland plants help improve water quality by removing chemicals from water. They also help erosion control and provide shelter and food for a variety of wildlife.
20. For the last stop on your walk today, continue along the pond side walkway until you arrive at the cross street, the Post Road entrance to the Dublin Recreation Center. Cross over the bridge and look for a path on your right. This leads to an 8 foot high Hopewell and Adena inspired earthen mound and a copper house. What is it?
Answer: Watch House. The earthen Indian mound has a shrunken center of prairie grass and sunflowers, a reference to the crops of the Hopewell Indians who share a piece of Dublin's past. Inside the 20-foot by 10-foot copper house, created in 1998 by artist Todd Slaughter, are dirt and four seats to sit and reflect. Can you find evidence of barn swallows or bats living at Watch House?
Cutouts in Watch House's dome feature shapes of a bed, chairs, and children's toys. The sculpture is "not intended to be a memorial to the past, " said the artist, "but a symbol of how Dublin has evolved."
Hopefully, you have enjoyed Coffman Park and are now aware of many of its special features, making it both a neighborhood park and a "central park" for Dublin. Please continue to enjoy the natural world by visiting here again or by visiting other Dublin parks.
Donegal Park Scavenger Hunt
4460 Donegal Cliffs Dr.
Welcome to Donegal Park. Purchased in 1979, the park was developed in 1988.This historic site was home to an active limestone quarry owned by the Snouffer's and was productive into the mid-1900's. Can you see the old quarry from the parking lot?
1. From the parking area, walk towards the sound of children's laughter. Rub the underside of the first natural item in the mulched bed on your left before the stairs. Does it smell familiar? Can you identify it?
Answer: Bayberry. This shrub, native to the United States, typically grows in more coastal area, including along the shore of Lake Erie. Reports from the mid 1700's tell of settlers utilizing the wax coating of the shrub's berries to make candles and soap. However, the wax was very brittle and later settlers learned to mix it with bee's wax to produce a "sweet smelling" candle.
2. You'll feel this next item with your feet. Used to protect children at play from injuries, keeping visitors safe.
Answer: The City of Dublin does what it can to be Green including using recycled materials in its Playgrounds. The surfacing beneath your feet is made from recycled tires. What can you recycle?
3. Stand on the playground, facing the river to find this next item. It shades the playground for most of the morning.
Answer: Oak tree. Fruits from the oak tree, called acorns, provide food for an amazing number of animals including insects, birds, deer, squirrel, fox, and coyote. Humans even once depended on acorns for food.
***Please do not collect acorns and please do not try any wild edible without proper knowledge!
4. You'll walk away from the playground for this next item. Listen for the sound of a ball bouncing.
Answer: Basketball Court. The city has 10 basketball courts; many of which are tucked into neighborhood parks. Have you ever used one? It's free and fun!
5. Look deep into the South end of the park. This next item will allow you to sit and rest before continuing your hunt.
Answer: Bench. The city has placed several benches in many parks. How relaxing to sit and experience the sounds in nature. As you sit, close your eyes and listen for sounds. How many different sounds can you hear? Are they natural or man made?
6. Head behind the bench to the bike path and go down the long hill. Following the path look for a shrub on both sides with long, curving stems that reach up to 20 feet long. In the springtime it has white flowers that fade to yellow. It smells sweet. In the fall it has red or orange berries. It's one of the most predominant plants along the bike path. What is this?
Answer: Honeysuckle. Typically visitors believe this is a good plant. However, this particular species is invasive and not native to the United States. This is why you see so little plant diversity. Honeysuckle is one of the first plants to grow leaves in the spring and one of the last to loose them in the fall. Thus, it blocks sunlight from reaching other plants and therefore they can't grow.
7. Continue your journey down the hill.
Indian Run Falls Scavenger Hunt
700 Shawan Falls Dr.
Begin at the Library Entrance. Parking is available behind the Library.
1. This structure holds information for visitors on plants, animals and history as well as rules and etiquette for the park.
Answer: Kiosk. Most City of Dublin parks do not have these structures, but in order to help educate visitors about the unique
features of this park and ways to keep it safe the kiosk was installed.
2. This large, older tree is at the bottom of the first set of stairs and has a prominent Y shape in its growth.
Answer: Oak Tree. Oak trees have been intertwined in human history, myths and legends more than any other tree. Because of its hardness and resistance to fungi, oak wood has been used by human for centuries. Oaks have been utilized in the production of alcohol, medicines, furniture, housing, any several other products. Acorns, the fruit of oak trees, feed deer, turkey, and many other animals. Native Americans also utilized the fruit which must be specifically prepared for human consumption. How many other oaks do you see?
3. At the first overlook, you'll see this "ghost tree"…also known as the "camouflage tree".
Answer: Sycamore tree. Recognized by its exfoliating camouflage bark, this tall tree tends to be mostly white in color. The bark shows the obvious growth that tree gives way to. Also called a Buttonwood, the seeds of this tree form walnut sized balls which hang like ornaments from its branches. The New York stock exchange is also called the "Buttonwood Agreement" because the first trading took place under a Buttonwood. Many Native Americans say a sycamore tree always grows within a hundred feet of water. Is this true here?
4. The next item to look for (or listen for) can also be spotted from an overlook. These water features can be found when the water is flowing over rocks. They're bubbly and what gives the water sound as it flows. You can see them from all overlooks if the water is flowing.
Answer: Riffle Zones. This is the area within a waterway where the water bubbles through a section of rock. Without rocks, the water would flow but collect less oxygen. When the water is bubbling, oxygen more easily enters the water supporting more life. Fishermen tend to fish downstream of riffles because this is where fish like to live and find things to eat.
5. These large rocks in the ravine don't 'match' the rest of the limestone walls. Some are different colors.
Answer: Glacial Erratic. They were brought here by glaciers hundreds of thousands of years ago. The ice actually moved them here from further north. When the ice melted they were left behind. Most are made of granite a rock not typically found in Dublin which has more limestone than anything else.
6. This item is why most people visit the park. Overall it allows the water to drop around 60 feet and continue flowing to the river.
Answer: The falls. The falls come in steps further towards the road and then one larger drop. The water flows through limestone around 300 to 500 million years old. The sound of the falls typically blocks out the sound of traffic giving visitors a tranquil place to rest.
7. This structure helps people cross the falls.
Answer: Bridge. The bridge was brought in by a large crane so that no large trees were disturbed by heavy equipment. It helps visitors cross safely and enjoy the waterfalls from a different perspective.
8. The next item to look for is the predominant shrub in this park.
Answer: * Bush Honeysuckle. This white flowering shrub grows up to 15 feet tall and is an invasive species. Fast growing, this shrub is one of the first plants to sprout leaves in the spring and last to lose them in the fall. Thus, native plants are deprived of vital sunlight. Furthermore, the roots of the plant take up water that would otherwise be used by native species. The red or orange berries of the bush are eaten by many creatures. However, they have fewer nutrients than our native plants. Lastly, the branching patterns and leaf growth do not provide cover as our native shrubs, leaving animals more susceptible to predation. The City of Dublin has an invasive species removal project. You might have noticed the lack of honeysuckle towards the library. City staff and volunteers work hard to remove this plant and make room for native species.
9. Take the path to the left and you'll find yourself in the parking lot. The next item is right beneath your feet! What is different about the parking lot surface?
Answer: The pavement is porous! Go ahead! Pour some water onto the surface. It won't run off like a usual parking lot. Typical pavement does not allow water to pass through the ground. The amount of rooftops and paved surfaces affects our hydrology and soils making our system less healthy. Porous pavement allows water to percolate through the soils. The soils clean the water and the water feeds the soil and creatures.
10. The next thing you're looking for would be a cozy place to live.
Answer: The Davis Log Cabin and kitchen originally stood on Old Dublin Road. This structure, from the 1830's was relocated to park property in 2009 and contains about 80 percent of the original structure. The remaining 20 percent was damaged by insects and could not be used. However in the rebuilding, 10 percent was taken from a barn that stood across from the cabins and the final 10 percent from other structures. You can still find insect holes and see the lines left by tools used to form the logs by hand.
11. Head back the way you entered turning left at the fork. You'll pass shelter houses and eventually the path will end. Where are you?
Answer: The last overlook on your journey. You are also close to where the Wyandot peoples had an encampment. Take time at this spot to enjoy the sounds of the world around you and ponder what the land might have looked like when the cabin was first built and when the Wyandot peoples stayed here. How is it different today? How can we protect this area? What are some things you can do to keep this area safe?
12. Walk back towards your starting point thinking of the things you've learned along your journey. Enjoy the walk.
*Symbol indicates this item might be harder to find in winter.
M. L. Red Trabue Nature Preserve Scavenger Hunt
6566 Post Rd.
Welcome to M.L. Red Trabue Park. The City of Dublin started purchasing the land for this park in 1987. The park was opened to the public in Starting from the Parking Area on Post Road.
1. This area has a place to sit and hear the wind through grasses, smell the roses, and see the beauty of flowers.
Answer: *The Sensory Garden is a lovely place to spend a few moments. With tall African swaying in a breeze or the smell of roses, this area can be a calm area on a hectic day. Many visitors eat lunch here.
2. Walk west, or left from this area along the bike path and find your next stop. This structure is from the mid 1800's.
Answer: Built in 1865, the Fleming Cabin was donated to the City of Dublin. It originally stood across from the new post office on Woerner Temple Road. Can you tell which beams had to be replaced because of too much insect damage? Unfortunately, because of vandalism, the cabin is kept locked and has an alarm system.
3. Continue west along the bike path. The next thing you're looking for will carry you from one side to another.
Answer: Bridge across the South Fork of the Indian Run. This stream collects rain water and drains into the Scioto River (behind the Dublin library). Many times of the year it will be dry with only small pools of water. Does pollution from neighboring homes affect this stream and therefore the Scioto River?
4. Don't move to find your next item. Do you hear it? If the water level is at the right height you'll hear the gurgling of the stream. What is this?
Answer: Riffle Zone. A riffle is any area where the water churns over rock. These areas introduce oxygen to the water and provide places for many critters to live. Fishermen tend to fish downstream of riffles because this is where fish tend to be.
5. Continue to the left on the bike path. You'll eventually turn right onto a grass path. The next items you're looking for houses something smaller than a human and a lot more colorful!
Answer: *Bluebird Boxes! These bird houses provide nesting areas for many types of secondary cavity nesters (a bird that needs a cavity, but can't build one itself). Chances are you'll see Tree Swallows in this area. Their remarkable eyesight allows them to be great insect catchers and aerial acrobats! Providing nesting boxes helps many of our native species.
6. Continue on your journey and you'll come to a fork in the grass path. Take this to the right and enter the woodlot. Typically we ask visitors to leave no trace. However, reach out and gently rub one of the understory shrubs. What do you smell?
Answer: *Spice Bush. This native shrub with its spicy scented leaves and small red berry was thought to indicate fertile soils to early settlers and helped them determine what land to claim. Many animals utilize this plant as well as Native Americans and early settlers.
7. *If you're visiting in the spring you might witness this next natural wonder! Look for a wet place in this woodlot that frogs and salamanders might like to lay eggs. In drier times this area might be void of vegetation.
Answer: Temporary standing pools for water are known as vernal pools. They are a critical land feature and we are fortunate to have them in this park. Because over 85% of Ohio's wetlands have been filled in, it is important to preserve remaining wetlands. Many critters rely on vernal pools for life.
8. Take the loop around the woodlot and continue back out to the grass path (to the right). You'll eventually come to your next stop. This structure will lead you over the water.
Answer: The boardwalk was designed with fishing in mind and yes this man-made pond is stocked with bass, bluegill and even hybrid striped bass (good for the sportsmen). Ponds are considered permanent wetlands and provide habitat for many creatures including bullfrogs and green frogs which take several years to mature and overwinter as tadpoles.
9. The next item on your list is a place to get comfortable and rest while finding some other items.
Answer: The benches and the picnic tables in our parks are there for your enjoyment. Please take time, relax, and enjoy the water as you look for the following items.
10. As you sit and stare into the water look for swimming visitors around the boardwalk. Find one with black ear flaps behind the eyes?
Answer: You've spotted a Bluegill. Spawning occurs mid May to mid June in Ohio. If you're lucky you might spot one on of the nests full of eggs. Male Bluegill will guard a nest filled with 10,000 to 60,000 eggs laid by females. The eggs typically hatch within five days.
11. Continue looking out over the water and notice what's around the edges of the pond. Depending on the time of year you might see something resembling a hotdog on a green stick or a shaggy, cotton-like mass on a stick. What is this?
Answer: * Cattails! Interestingly, cattails seem to be a plant that everyone knows. This and other wetland plants help improve water quality by removing chemicals from water. Cattails help in erosion control and provide shelter and food for a variety of wildlife. Historically, cattails were used in many ways including food, housing, and clothing!
12. There are many other things to see around the pond and hopefully you've enjoyed your time. When you're ready, begin your walk back by heading to the left when leaving the boardwalk. Your last item as you head back towards the parking area is all around you. It's something that has a calming effect, its own smells and sounds, and is known to lower blood pressure.
Answer: Nature. Hopefully you've enjoyed this park and will visit other Dublin parks enjoying the natural world. Let us know what you see at www.dublin.oh.us/parks.
*Connotes this item might not be found in winter.