Plants
Through floristic assessments, we know of our amazing plant diversity. Rock Cress, Drummond's Aster, Rattlesnake Fern, and Marsh Marigold, all endangered or county records, have been found in Dublin's parks along with a more common, but diverse list of plants. Regardless of the time of year you can find something blooming with each season taking on its own color scheme.
Invasive Plants
We are home to several of the plants listed on the Ohio Department of Natural Resources top ten most invasive plants. The Department reports that about one quarter of all plants currently in the state of Ohio are non-native. We encourage you to plant native perennials.
Our Green Team along with scouting groups works on non-native plant eradication in designated areas. If you are interested in doing more, let us know. Please note that it is illegal to remove any plant from public property.
Spring Ephemerals
Many of our woodlots and tree lines are filled with spring blooming plants. Darree Fields, M.L. Red Trabue Nature Reserve, Donegal Cliffs, Wellington Park and Heather Glen Park all are breathtaking and include many of the following.
Dutchman's Breeches
Trillium
Phlox
Violets
May Apple
Spring Beauty
Cut-leaved Toothwort
Jack in the Pulpit
Bloodroot
Wild Ginger
Hepatica
Dog tooth Violet
Jacob's Latter
Skunk Cabbage
Wild Geraniu
Wood Anemone Jacob's Ladder
Bellwort
Waterleaf
Animals
Because Dublin is so diverse in habitat and has the Scioto River corridor along with several other stream corridors, it is rich in wildlife. Exciting birds along with many interesting mammals, amphibians and reptiles are reported yearly.
Birds
Birding and Bluebird trails have been established and maintained in many of our parks through volunteer efforts.
Many species of birds can be seen in Dublin and if you're keeping a bird list you might be surprised at what passes through each spring and fall along the Scioto River corridor.
Several warblers, including the Prothonotary Warbler, migrate through or take up residency. Indigo buntings, Baltimore oreoles, Yellow-bellied sapsucker, Woodcocks, Bald eagles and Eastern Bluebird are among the favorites.
City offering Bluebird Box Maintenance educational session
Who doesn't get a thrill out of seeing a blue sky and hearing the song of birds? Eastern Bluebirds are a combination of the color of sky and happiness and the beautiful blue of their feathers lightens the hearts of our residents. We have created a volunteer program to ensure continued success of this bird.
The purpose of this volunteer group is to create a core network of trained volunteers to maintain bluebird boxes in our parks. Bluebirds are secondary cavity nesters, meaning they need a tree or other type of cavity to nest in but cannot build it themselves. They typically rely on woodpecker cavities or human structures such as bird boxes.
By establishing bluebird trails, small groups of boxes, throughout Dublin we can insure healthy populations of bluebirds for generations to come.
Discover the Bluebird Boxes: http://maps.dublin.oh.us/birdboxes
Butterflies and Hummingbirds
This garden at Scioto Park was established to draw butterflies and hummingbirds into view for visitors and to educate the public. Watch carefully and you might spot several species of butterflies flitting from flower to flower, or observe the ruby-throated hummingbird aggressively defending its territory.
Familiarity with the needs of an animal over its life span helps to provide the environment most favorable for the animal. This brochure describes feeding habits and life cycles of butterflies and hummingbirds. Information is also given about starting a garden at home.
Feeding Habits
Both butterflies and hummingbirds feed on nectar, which is found inside flowers. Butterflies are attracted to masses of soft flower color and are also drawn by flower scent and shape. Hummingbirds are lured to food sources by flower color. They prefer red flowering plants, such as coral bells and bee balm.
Nectar is not the only source of nourishment for hummingbirds and butterflies. For example, butterflies will drink tree sap or abstract nutrients from fruit. They can also draw minerals and salts from mud or nutrients from rotting fish. Hummingbirds mostly drink nectar but also supplement their diet with insects and spiders.
Life Cycles
The ruby throated hummingbird is the only hummingbird found in Ohio, migrating north to Ohio in the spring and staying through September. Females nest in dense thickets where they can easily hide. Nests are very small – about the size of a silver dollar – and are commonly made from hair, downy seed material, spider webs and lichen. A female normally lays two eggs and cares for the young on her own.
Butterflies have a particularly complex life cycle, with stages of development that differ considerably from one another. Adult butterflies lay eggs on a host plant. Eggs hatch into caterpillars and caterpillars feed on leaves of the host plant to store the needed energy to enter into the next stage, the chrysalis. As a chrysalis, the caterpillar forms a hard outer case and sheds its skin. After a period of time, an adult butterfly emerges from the chrysalis.
Creating Your Own Garden
Loss of habitat has an adverse effect on butterflies and hummingbirds. The Scioto garden demonstrates how anyone can create a haven for these animals with just a little time and space.
Site your garden in a sunny location. Butterflies are cold blooded animals and require sunlight for temperature regulation and for navigation. Avoid windy sites, as they are not favored by butterflies and hummingbirds.
Choose plants particularly for their value as food sources. Using a variety of plants and extending the bloom period as long as possible will attract the greatest numbers of butterflies and hummingbirds. Many different annuals, perennials, vines, shrubs and trees are available to attract butterflies and hummingbirds.
Be careful about using pesticides, as they can be harmful to these creatures. Because butterfly caterpillars feed on plant foliage, a certain amount of damage may be present. Generally this damage will not kill the host plant and simply needs to be tolerated by the gardener. Many books and reference sources are available about butterflies and hummingbirds. Your local library can provide a wealth of additional information.
Plants For A Butterfly And Hummingbird Garden
The listing below contains plants used in the Scioto Garden. However, many other plants are also available which will attract butterflies and hummingbirds.
Shrubs
Butterfly Bush (Buddleia davidii) B, H
Judd Viburnum (Viburnum x juddii) B
Perennials
Bee Balm (Monarda didyma) H
Butterfly Weed (Asclepias tuberosa) B, H
Wild Sweet William (Phlox maculata) B, H
Coral Bells (Heuchera sanguinea) H
Autumn Joy Sedum (Sedum x '
Autumn Joy') B
Common Yarrow (Achillea millefolium) B
Gayfeather (Liatris spicata) B
Purple Coneflower (Echinacea purpurea) B, H
B = attracts butterflies
H = attracts hummingbirds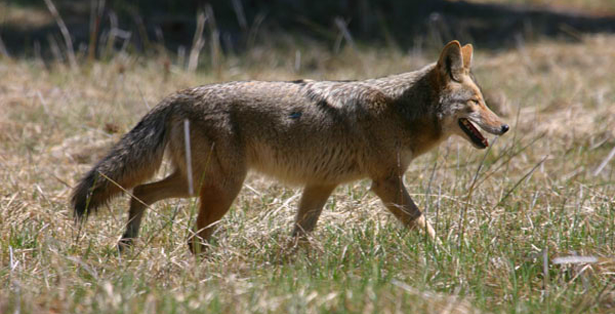 Coyotes
Coyotes are currently found throughout the U.S., although prior to the 1900s they were generally located west of the Mississippi River. The first sighting of a coyote in Ohio was recorded in 1919 and today this wild dog can be found in all 88 counties. Highly adaptable, research shows the coyotes can live in most habitats as long as their needs are met. While some wildlife species have avoided developed areas and often decline as a result of man's expansion, coyotes seem to succeed.
Coyotes are more easily seen in winter months because of the lack of vegetation and harsher conditions sometimes force them to hunt during daylight hours. They also look much larger than they actually are because of extremely dense winter coats. Central Ohio and Midwest research has revealed that coyotes weigh around 35 pounds on average. Although this is common knowledge amongst scientists, many still believe they weigh much more due to their appearance.
Habitat and Habits
The coyote is a nocturnal animal, mostly active during the nighttime and early morning hours. However, when it is less threatened by humans, it will hunt/move from place to place during the day. Furthermore, coyotes are more often seen in winter months when snow cover and harsh conditions cause them to hunt for food in daylight hours.
Considered carnivores, more than half of their diet consists of small mammals including shrews, voles, rabbits and mice. Plants can also be a significant part of a coyote's diet. Coyotes will eat fruits, grasses, vegetables, insects and carrion. Ample food can also be found in dumpsters or garbage cans as well as bird feeders.
Dispelling Rumors about Coyotes
Because of their diet, it is not common for suburban coyotes to hunt in packs. A group of coyotes is more likely to be a family in which the young are not yet mature enough to survive independently. In areas where winter food consists mainly of herd animals, they do sometimes feed in groups. However, this is less common in central Ohio. As opportunists, coyotes will pursue severely young, injured, and/or dying animals such as deer. As with all animals, coyotes tend to go after the easiest meal and expend as little energy possible.
Coyotes are highly unlikely to attack a person unless provoked or threatened. Coyotes are shy and cautious albeit curious creatures and most often they avoid humans. Across North America, including Canada, there have been less than 150 attacks (an average of 3 per year). Domestic dog attacks are far more common with hundreds happening in Franklin County, Ohio in any given year. Some humans have reported being followed by a coyote. However, most often it was when they were walking a pet.
Domestic cats and dogs are not necessarily seen as a food source, but rather a threat to a coyote's territory. Coyotes are extremely territorial. They protect their food, their mate (they mate for life), and their young. They scent mark their territories and most often do not cross into another coyote's territory. Our domestic dogs do not necessarily know how to read coyote signs and are simply seen as an intruder that could possibly do harm. We often unknowingly walk our pets through coyote territories.
Vocalization does not equal aggression. At times the city receives calls about coyotes howling and many believe they're hunting at this time. Oppositely, they're bonding as a family and just announcing their territory. Any animal hunting is going to be as quiet as possible.
Many believe the state of Ohio has open hunting season on coyotes because they are bad or evil animals. This however, is not true. Many animals, including woodchucks are so prolific and adaptable that according to the Ohio Division of Wildlife, they can be hunted year round without detriment to the species. Of course permits can be obtained for many nuisance animals including coyotes, on private property.
The Case against Trapping
When coyotes are spotted in urban and suburban settings, people often contact their local wildlife agency requesting that coyotes be trapped and relocated. Others advocate lethal trapping, poisoning or shooting. There are good reasons why these are neither appropriate nor effective responses to the presence of coyotes.
Perhaps the primary argument against attempting to remove coyotes from an area is based on coyote reproduction and behavior facts. In areas where there have been reductions in the coyote population due to human efforts, coyotes typically increase their litter size until the population is again brought to the level that the habitat can sustain. Empty territories also attract coyotes that migrate to fill the void. Therefore, if coyotes are not causing damage in an area then they will protect this territory from coyotes that might pose problems.
Basic Steps to Deter Coyotes
First and foremost it is important to understand that human behavior is the key to keeping pets and people safe when it comes to all wildlife. Often even those captivated by wildlife unknowingly cause harm. Standing and starring at any wild animal or leaving out of fear allows animals to think people are safe or that we'll leave. On the contrary, animals should leave, moving in the opposite direction of a human. We are a predator and we want wildlife to remember this. Humans should never coax a wild animal closer with food or a soft voice. Potential for harm increases when humans try to interact with wildlife.
Hazing is a great way to safely remind coyotes that they should steer clear of humans. Throw rocks or items in the direction of the coyote, spray water from a garden hose, wave your arms, yell, and look as big as you can. Never leave before the coyote. Wait for it to leave first.
Coyotes are protective, instinctual, and opportunists. They will be attracted to residential yards if a food source is available. Birdbaths, feeders, outside pet bowls, trash, unpicked fruits, and vegetable can attract an assortment of unwanted wildlife. Keeping yards free of these items can be helpful in deterring coyotes.
Never let small pets outside unattended. Not only coyotes, but also large birds of prey, domestic dogs, and automobiles can all be hazardous to our pets. If you are walking your dog through an area where you suspect coyotes are present, carry pepper spray, vinegar in a spray bottle, or even a walking stick. Furthermore, never let a dog off leash in these areas. Studies have shown that dogs on a leash six feet or less in length are far less likely to be attacked due to their proximity to humans.
Lastly, keep yourself safe. Some people are fearful of wildlife and are uncomfortable with any interaction, including the before mentioned hazing techniques. Only do what is comfortable and teach children to do the same.
For more information:
http://urbancoyoteresearch.com/index.htm
http://www.dnr.state.oh.us/Home/species_a_to_z/SpeciesGuideIndex/coyote/tabid/6598/Default.aspx
http://en.wikipedia.org/wiki/Coyote
Deer
White-tailed deer are an Ohio comeback success story. Ohio deer were eliminated from the state in the 1800s. With no hunting regulations and radical environmental changes due to clear cutting and farming, deer were once seldom seen. Spotting a deer was headline news in local papers. With regulated hunting, reintroduction of deer in the early 1900s and the return of woodlands over time, deer populations have increased tremendously, especially in urban areas were deer are not hunted and there are few natural predators.
White-tailed deer are common throughout Dublin. Ohio 's largest herbivore, white-tails feed on a variety of foods. Depending on the season their diet may consist of bark, fruits, twigs, acorns and an assortment of plants.
Their coloration changes from red tones in the summer to more grey/brown tones in winter. White-tailed deer rely on stealth to hide themselves. They tend to move slowly and deliberately, blending in with their surroundings. They rely on their speed to escape danger.
White-tailed deer can reach speeds over 30 mph. They are named for their white tail, which signals danger to other deer and tells predators they are leaving. Deer also have an incredible sense of smell, great eyesight and fantastic hearing, all of which help them detect danger.
Rearing one to three young per year, does are more communal and are frequently seen in groups, especially in winter months. Female offspring often stay with their mother for more than a year, but young bucks separate from their mother after about 12 months.
More solitary, bucks start growing antlers in the spring. Antler size has less to do with age than with genetics and health. Antlers are shed in late winter and are quickly eaten by many small mammals for their high vitamin and nutrient content.
Signs of Deer Activity
Because deer have no upper front teeth they tend to leave uneven, scraggly bite marks on plants they've been eating. Other animals such as rabbits tend to leave much cleaner, angled cuts. Additionally, deer sometimes leave a squared off bite.
Deer also leave rubs or scrapes on trees. Scrapes are made by the lower front teeth and are usually mistaken for rubs which are made by antlers. Usually rubs occur in the fall when a buck is shedding the velvet off his antlers. Rubbing not only helps remove velvet, but also scents the tree, helping the deer mark his territory.
Foot prints and droppings are further signs that deer have visited your yard. Droppings – usually oblong, rounded and dark in color – are usually left in feeding areas. Footprints have a somewhat heart-shaped appearance with two lobes forming a point at the toe.
Avoiding Deer While Driving
Drive more cautiously and reduce your speed in areas marked with deer-crossing signs. Road signs typically mark high traveled areas with previous accidents.
Deer often travel together. Therefore, if you see one deer assume others are following.
Be aware that fall is mating time for deer and a time when they are typically more active, traveling at odd times of day.
Do not feed deer or place salt blocks out for them. Although many homeowners love to see wildlife close up, it is best to let them find food naturally. Feeding can cause higher populations in an area, therefore causing an increase in disease and property damage.
Deterring Deer from Your Property
If a female deer (doe) is behaving oddly in your yard, it is likely there is a fawn involved. Does hide their fawns and only visit them a few times a day to feed them. However, the mother is nearby and can be very protective of their young.
What should you do? Do not approach a deer. Keep dogs and children away from deer. Make a lot of noise and use a water hose if necessary to encourage the doe to move the fawn to a new location.
Geese
Canada Geese are extremely adaptable. However, they are protected by the Federal Migratory Bird Treaty Act and it is illegal to remove the birds, eggs, or nests while in use unless proper permits have been acquired through the Ohio Division of Wildlife.
The best practice is to prevent geese from taking up residence and efforts must be prompt and persistent. Geese need proximity to water and cover for their nesting sites.
Canada geese mainly feed on Kentucky bluegrass in Dublin. This the primary grass planted throughout the city. Geese also like easy access to ponds, especially when molting renders them flightless.
Feeding waterfowl is prohibited in the City of Dublin. Feeding encourages animals to congregate and this often leads to the spread of disease and property damage. Furthermore, food provided by humans often lacks proper nutrition for wildlife. For more information on Canada Geese or to obtain permits to remove nests visit: http://wildlife.ohiodnr.gov/species-and-habitats/nuisance-wildlife
To see the city's ordinance visit: http://dublinohiousa.gov/government/city-code/
A few tips to deter geese are:
Plant trees and shrubs to block flight paths.
Allow tall plants to grow around ponds, blocking easy access to water.
Use frightening devices such as flags, balloons, scarecrows, and motion activated sprinklers.
Allow ponds to freeze in winter (turn off aerators and fountains).
Be persistent and constantly chase geese off your property early in the spring, before nesting.
Striped Skunk
Once thought to be more closely related to Weasels (Mustelidae), skunks now have their own family (Mephitidae). Distinctive white stripes on a black coat warn of the skunk's defense which makes the skunk one of the most known mammals in the United States. Although many color variations exist with brown, white, grey, and black reported, the majority of skunks have two white stripes that form a "V" at the neck and extend down the back. Common throughout the United States and found in all 88 counties in Ohio, the Striped Skunk is adaptable and eats a variety of foods. Striped Skunks are active primarily at night foraging for worms, insects, fruits, eggs, plant matter, small rodents and easy meals left by humans such as trash and pet or bird food. They can weigh from 4 to 14 pounds.
Although they do store fat and stay in winter dens for long periods of time, Striped Skunks do not hibernate and sometimes roam about on warmer winter nights in search of food. Mating occurs in late February through March. This is a typical time of year to smell skunk spray as they are more active. 2 to 10 kits are born after a gestation of 63 days. Kits are born blind and hairless. Young typically emerge from the den around six weeks of age; usually this is in late July. They are often seen following the mother in single file and learning foraging techniques. Late summer is another time when it's typical to smell skunk spray.
Skunks most often do not feel threatened by humans and therefore rarely use their defense against us. However, they do see dogs and cats as predators. Skunks aim and spray with amazing accuracy usually hitting the olfactory senses where the spray burns the eyes and overwhelms the nose. Skunks can hit their target easily from 10 or more feet away. This defensive tactic works and again, this is why skunks advertise their ability with their bold color pattern. They have no need to camouflage into the landscape like other animals.
Skunks are preyed upon by many animals including coyote, fox, and hawks. However, Great Horned Owls are the skunk's primary predator. Because the owl attacks its prey from the air and also because of its poor sense of smell, it is not as deterred by a skunk's defensive spray.
Ways to Deter Nuisance Skunks
Removing wildlife from the landscape is not always a viable answer. If habitat remains unchanged critters will continue to utilize an area. If the landscape and habitat were appropriate for one skunk, it will be appropriate for another. Modifications in behavior and area can often help with wildlife issues. Furthermore, it is hopeful that homeowners recognize that wildlife including skunks play a vital role in the ecosystem. This does not mean that it is ok for dogs to be sprayed. It simply means that perhaps skunk spray can be tolerated outside from time to time. In return skunks will continue to keep down rodent and insect populations, playing their role in the ecosystem.
If you know a skunk is in your area then monitor your pet closely. Step out the door before your pet and make a lot of noise. Stomping your feet and turning a porch light on and off are great ways to warn critters that something big is coming.
Using a leash during this time might seem like extra work, but it's better to be inconvenienced than it is to worry about skunk spray in your home.
Make sure recycling containers and trash can lids are secure and pick up any uneaten food (garden and pet) from your property.
Watch the amount of bird food placed in feeders. Place just enough food for daylight hours. Anything that falls to the ground or is left over becomes an easy meal for wildlife, including skunks.
Skirting and properly installed hardware clothe around decks, crawl spaces, and sheds can deter wildlife from utilizing these warm, dry spaces.
Temporary Deterrents:
Temporary deterrents can include motion activated sprinklers or children's toys to scare wildlife from an area.
Strong smells, such as ammonia soaked rags can deter critters from tight spots. Using moth balls is discouraged as chemicals are harmful to humans and other wildlife.
Effigies such as owl or coyote can also be used to scare skunks but become ineffectual if they go unmoved for more than a day.
Mylar tape, lights, and radios can deter skunks for short periods of time.
Filling in holes utilized by skunks can also discourage skunks. However, make sure the den is unused prior to filling it in by placing wadded up news paper at the entrance. When the paper hasn't been pushed in and out for more than a day, the hole is safe to fill in.
Need More Information?
If you have more specific questions concerning skunks, please contact one of the following:
The City of Dublin
614-410-4730
The Ohio Wildlife Center (OWC)
614-793-WILD
The Ohio Department of Natural Resources Division of Wildlife, Central Office
614-265-6300
Problem Animals
The following are common "problem animals" in central Ohio and suggestions for deterring them from taking up residence in your home, yard, garden, etc.
Squirrels & Raccoons
Look for gnawed, chewed, or loose shingles and boards. After all animals have left the nest seal the entry/exit points with metal flashing or 1/4-inch hardware cloth. Chimney guards also keep these "critters" from gaining access to your house by way of "falling" down the chimney. If an animal does fall down the chimney try suspending a rope from the top to give the animal some assistance in climbing out. Baiting the rope also might help.
If an animal does get into your house close all interior doors, open exterior doors and windows to provide an exit and leave the room. Chasing the animal will frighten it and may cause it to "hole up" in a convenient hiding place (such as under a sofa) or may cause it to display aggressive behavior.
Groundhogs (Woodchucks)
Groundhogs often come into conflict with humans when the animal's burrowing damages building foundation, gardens, fruit trees or ornamental shrubs/grasses. The groundhog's preferred diet consists of grasses, clover, legumes, peas, lettuce and apples. The most common locations for burrows are along fence rows, creeks, stone walls, roadsides, building foundations and bases of trees. Burrows have more than one entry point and several passages and rooms. A burrow may be from one foot to twelve feet long with a main entrance point of 10 to 12 inches in diameter. Groundhogs use their burrows for hibernating in winter, mating in spring, and raising their young until they are ready to leave the nest. Other animals such as rabbits, skunks, opossums and foxes may use the burrows as well. Groundhogs are also good climbers and can climb fences and trees. Placing fences along the bottoms of buildings and around gardens will help deter the groundhogs. Fences should be at least three feet high, and made of heavy, two-inch woven wire. Because of the animals' burrowing and climbing abilities the bottom edge of the fence should be buried 10 to 12 inches and the top 15 inches should be bent at a 45 degree angle. Professional exterminators may use gas cartridges, aluminum phoside, or trapping to remove the animals. Property owners should be aware that the use of gas cartridges can produce a fire hazard.
Bats
Bats can gain access to buildings through cracks, holes, vents, and uncapped chimneys. To exclude bats, seal cracks and crevices and screen off vents and chimneys. Bats can crawl through cracks as small as 1/3 inch. The best time to seal the entry/exit points is in August when young bats are learning to fly. Never touch or pick up a bat. If a bat has gained access to your home open a window to allow it to escape or trap the bat against a wall with a large can, then slide a piece of thin cardboard between the wall and the can opening to capture it.
Rats & Mice
Rats and mice are the most commonly encountered nuisance animals and represent the greatest health threat to humans and pets. Rats are known to transmit plague, typhus, food poisoning, leptospirosis, ratbite fever, trichinosis and other diseases. Mice transmit lymphocytic choriomeningitis and rickettsialpoy. Additionally, rats and mice deposit urine and feces everywhere they travel. The also carry fleas and mites that can transmit disease.
Rats and mice prefer dark, enclosed areas that are not regularly cleaned and are close to sources of food and water. Likely locations for nests include:
Double walls
Wooden floors in basements
Staircases
Wooden sidewalks
Boxed-in plumbing
Closed platformsUnder furniture
In piles of rubbish and ashes
In/around old boxes
Abandoned automobiles
Piles of old paper
In rag piles
Discarded furniture and bedding
Lumber & stored building materials
Rats and mice also can burrow. Rats can burrow up to four feet deep and have connecting tunnels with multiple exits.
To avoid infestation by rats and mice:
Use trash cans with tight-fitting lids.
Don't store refuse or discarded items.
Pick up litter or refuse left on the ground.
Make sure doors and windows fit snugly within their frames and are free of holes or gaps. Rotted or gnawed through panels should be replaced or repaired with metal channels or flashing
Replace broken window panes promptly.
Fill in openings in foundation walls with masonry or metal collars/shields (it only takes a half inch opening for a rat to enter).
Make sure floor drains have covers with openings less than half an inch in diameter and are in good repair.
Screen openings on roofs, ventilators, clothes dryer vents, etc. with hardware cloth.
Avoid feeding pets outside when possible. If feeding pets outside is unavoidable, empty any uneaten food at least daily (this will help deter rats and mice as well as help protect your pets from disease transmitted by rats and mice).
If infestation does occur it is permissible for property owners to kill rats and mice using traps and/or poison. Remember these traps and poisons can be harmful to humans and pets so follow all label directions carefully. Check the traps and bait (poison) locations frequently. Wear rubber gloves when handling dead animals, traps, and poisons. Place dead animals in sealed plastic bags and place inside trash receptacles for normal weekly refuse collection.
Rabbits
Rabbits are active all year, live virtually everywhere, and eat most succulent plants. While rabbits do not dig their own burrows they will use other animals' burrows. They will nest almost anywhere with an easily accessible food supply including open fields, pastures, orchards, mowed lawns, brushy fence rows, rose hedges, young pine plantings, brushy stream banks and dry drainage ditches. Nests are usually shallow depressions in the ground about 4-to-6 inches wide and 4-to-5 inches deep.
Rabbits prefer succulent plants such as clover, dandelion, ragweed, flowers, most vegetables (especially peas, beans, beets, and carrots), raspberry, blackberry, and ear corn. When the preferred food is scarce they will eat hay and the bark of fruit, shade and ornamental trees.
The best deterrent methods include:
Removing ground cover such as brush piles
Removing/cutting vegetation along fence rows and ditching
Frequent mowing of lawns
Placing low fences around gardens or shrubs (fences should be tight to the ground so the rabbits do not go under them).
Placing hardware cloth cylinders around trees. The cylinders should be one to two inches from the trunk and should extend beyond the animals reach when standing on snow cover.
Additionally there are chemical taste and odor repellents that homeowners may apply. Remember some repellents are poisonous and all label directions should be carefully followed. Check with a local nursery or garden center for suggested repellents. Usually, taste repellents are the most successful. Professional exterminators may be hired to perform live trapping and relocation of the animals.
Chimney Swifts
Chimney swifts are protected by the Federal Migratory Bird Treaty Act. It is illegal to remove the birds, eggs, or nests while in use. Have the chimney cleaned in the Fall and instruct the chimney sweep to destroy all nests at that time. Chimney guards will help prevent the birds from re-entering the chimney.
Canada Geese
Canada Geese are extremely adaptable. However, they are protected by the Federal Migratory Bird Treaty Act and it is illegal to remove the birds, eggs, or nests while in use.
The best practice is to prevent the geese from taking up residence and efforts must be prompt and persistent to accomplish this. Geese need proximity to water and cover for the nesting sites. To deter geese:
Do Not Feed Them. Although most people will welcome a pair of geese that pair can easily become 50 geese within five years.
Eliminate vegetation in and around ponds.
Plant trees and shrubs to block flight paths.
Use frightening devices such as flags, balloons, scarecrows, and water spraying devices.
Allow ponds to freeze in winter (turn off aerators and fountains).
Be persistent and constantly chase geese off your property early in the spring. Do not let them feel comfortable; chase them to encourage them to move elsewhere.
Aside from droppings the most common complaint from human-goose interaction involves injuries to humans as a result of a gander protecting the female, the nest, or the nesting territory. After hatching both the male and female will protect the goslings.