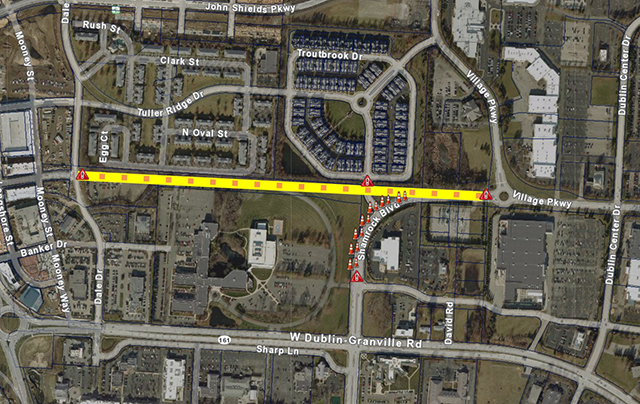 Work began in early September 2017 on the Bridge Park Avenue extension, which will add roughly a half mile of new roadway between Dale Drive and Village Parkway. Bridge Park Avenue opened between Riverside Drive and Dale Drive earlier this year. This next section will complete a new, seamless east-west connection from Riverside Drive to Sawmill Road.
November 6 through November 10, Bridge Park Avenue will be closed between Mooney Street and Dale Drive. To access Dale Drive from Bridge Park Avenue, traffic will be detoured to Mooney Street North to Tuller Ridge Drive East. There will be intermittent one lane restrictions at the intersection of Dale Drive and Bridge Park Avenue between the hours of 9 a.m. and 3 p.m. Two-way traffic will be maintained by a flagging operation.
During construction, the following restrictions will be in place:
Shamrock Boulevard is closed to thru traffic between S.R. 161 (Dublin-Granville Road) and Village Parkway. Drivers may use Dublin Center Drive as an alternate route.
Cooperstone Drive is closed at Shamrock Boulevard. To enter or exit the Greystone Mews neighborhood, drivers may use Tuller Ridge Drive on the east and Cooperstone Drive to Village Parkway on the west side of the neighborhood.
The northwest portion of Dave Thomas Boulevard is closed, but all parking areas are open and accessible at the Wendy's Dublin Restaurant Support Center.
Banker Drive will remain open with access maintained via Shamrock Boulevard to the south of the intersection, but not north. Drivers on Banker Drive will not be able to turn north onto Shamrock Boulevard.
Portable electronic message boards were up one week prior to the road closure. The project is expected to be completed by late November 2017. This extension will complete an important connection identified in the Bridge Street District street grid plan.
###
Media contact:
Lindsay Weisenauer
Senior Public Information Officer
614.410.4504 – Desk
614.704.9742 – Cell
lweisenauer@dublin.oh.us
Newsroom: http://dublinohiousa.gov/newsroom
@DublinOhio | @DublinPolice | www.DublinOhioUSA.gov