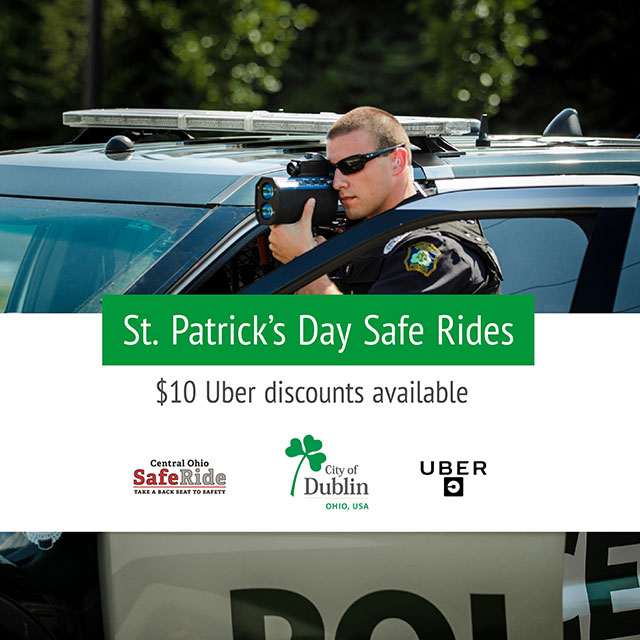 The City of Dublin is partnering with the Central Ohio Safe Ride program to offer Uber discounts on St. Patrick's Day this year. The discounts are worth up to $10 for any ride to or from a location within the Dublin city limits. Each rider may only use the code once.
The rides will be available with a promotional code that may be used through the Uber app. The code is DUBLINSPD18. It will be valid from March 15 at 4pm through March 19, at 3pm while supplies last.
Patrons must be dropped off or picked up in Dublin for the code to work.
This promotion is part of the long-standing and ongoing partnership between the City of Dublin and the Central Ohio Safe Ride program. In 2017, the safety program provided nearly 600 safe rides during several promotions throughout the year.
About Safe Ride
The Safe Ride concept is simple: prevent impaired driving and promote responsible serving in Central Ohio. The City of Dublin, Safe Ride of Central Ohio and Uber encourage everyone to be safe and not drink and drive.
###
Media Contact:
Cameron Keir, Public Information Officer
614.410.4501 – Desk
614.318.3009 – Cell
ckeir@dublin.oh.us
Newsroom: http://dublinohiousa.gov/newsroom/