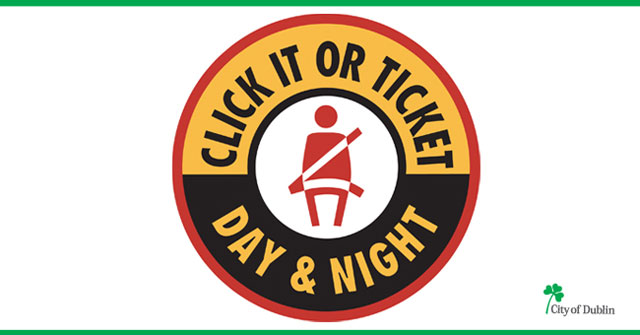 Don't start your summer with a traffic ticket.
(Dublin, OH) The Dublin Division of Police is participating in the annual "Click it or Ticket" campaign, which runs nationwide May 18-31, 2015.
Dublin officers will join law enforcement across America in actively enforcing seat belt laws. The campaign serves as a reminder to wear safety belts at all times, especially as we head toward the busy summer travel season.
Vehicle fatalities can be prevented. In 2013, 61% of young adult passengers, ages 13-15 and 18-34 who were killed in crashes, were not wearing a seat belt, according to the National Highway Traffic Safety Administration.
Seat belts save lives. Regardless of vehicle type, time of day, or seating position, wearing a seat belt is the single most effective way to reduce fatalities in motor vehicle crashes.
Buckle up in the back seat, too. 61% of back seat passengers who were killed in 2013 were not wearing a safety belt, according to the NHTSA.
The 2013 Click it or Ticket campaign resulted in more than 400,000 seat belt violations nationwide. Although the campaign runs now through May 31, officers will continue to issue seat belt tickets throughout the year.
Media contact:
Lindsay Weisenauer
Senior Public Information Officer
614.410.4504 – Desk
614.704.9742 – Cell
lweisenauer@dublin.oh.us
Newsroom: http://dublinohiousa.gov/newsroom
@DublinOhio | @DublinPolice | www.DublinOhioUSA.gov