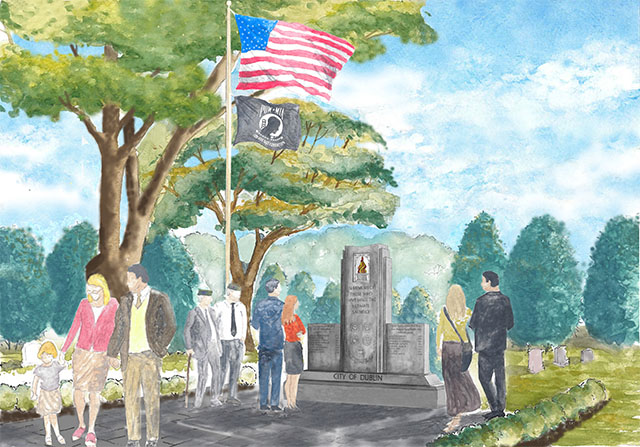 The City of Dublin dedicated a memorial to veterans killed in action as part of its annual Memorial Day tribute.
The dedication took place at Dublin Cemetery on May 27 following a procession through Historic Dublin.
The memorial was initiated by Dublin City Council to honor veterans who lost their lives while serving active duty to our country. The granite memorial incorporates a stained-glass panel, which houses an eternal flame.
The 16 veterans listed on the memorial were either killed in action at the hands of hostile forces or died during a period of action, invasion or conflict. The memorial honors veterans who were residents of the City of Dublin; Washington Township, the former Village of Dublin or attended Dublin City Schools. If anyone believes a veteran's name should have been included on the memorial, they should contact Senior Project Manager Sara Ott at sott@dublin.oh.us or 614.410.4448.
Dublin's annual Memorial Day tribute offers a chance to honor veterans who have made the ultimate sacrifice while fighting for our nation's freedom. In addition to the dedication of the memorial for those soldiers killed in action, the City's observances also included:
11 a.m.
Procession in Historic District from The Bridge Pointe Center at state Route 161 and Riverside Drive to Dublin Cemetery
The procession will pause on the Bridge Street Bridge to cast a wreath into the Scioto River.
*Roadway closure from 11:00 a.m. – 11:30 a.m. (US33/SR161 between SR 257 and Monterey Drive)
11:30 a.m.
March to Dublin CemeteryThe ceremony at the cemetery will include the dedication of the memorial honoring those killed in action and a 21-gun salute.
Noon
Procession to Grounds of Remembrance at Dublin Veterans Park
Bagpiper and veteran Dave Hopper will lead everyone to the park where the official Memorial Day remembrance will take place, including remarks from Dublin Mayor Tim Lecklider and students speaking on the significance of Memorial Day.
12:30 p.m.
Complimentary picnic lunch on the grounds of the Dublin Library
Residents are encouraged to bring blankets and lawn chairs. Limited covered seating will be available for veterans and senior guests.
For more information, contact:
Nancy Richison
City of Dublin
Community Relations
614.579.2612
nrichison@dublin.oh.us