(Dublin, OH) Dublin Police are releasing sketches of two individuals involved in a burglary late last year.
On November 3, 2016 around 11 a.m., Dublin Police received a call of a burglary in progress on Carrigan Ridge Court. The victim said she was upstairs when she heard frantic knocking on her front door. When the victim started to come downstairs, she saw a female had entered her house through an unlocked sliding door and was walking toward her on the stairway while putting on latex gloves.
The victim said she screamed at the woman, at which point the intruder turned around and went out the front door. The victim and a neighbor followed the female to a car parked down the street, which was being driven by a male accomplice.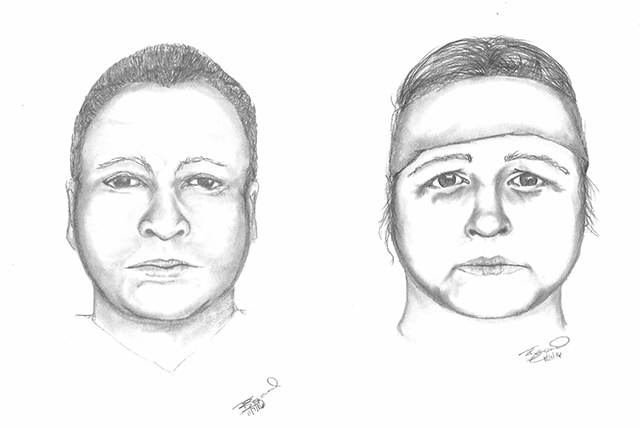 The female is described as Hispanic, in her mid-30s with black hair, roughly 5'7" and 180 pounds, with a "boxy or square" build, wearing a blue bandana across her forehead.
The male is described as Middle-Eastern with darker skin, in his 40s with an average build.
The vehicle is described as a silver mid-sized car with out-of-state tags, possibly featuring cursive writing in the state name.
The attached composite sketches were made based on the descriptions provided to Police.
Anyone with information about the identity of these individuals is asked to call the Dublin Police Department at 614.410.4800. Anonymous tips can also be submitted online.
#
Media contact:
Lindsay Weisenauer
Senior Public Information Officer
614.410.4504 – Desk 614.704.9742 – Cell
lweisenauer@dublin.oh.us
Newsroom: http://dublinohiousa.gov/newsroom | @DublinOhio | @DublinPolice