Public Meetings Scheduled for January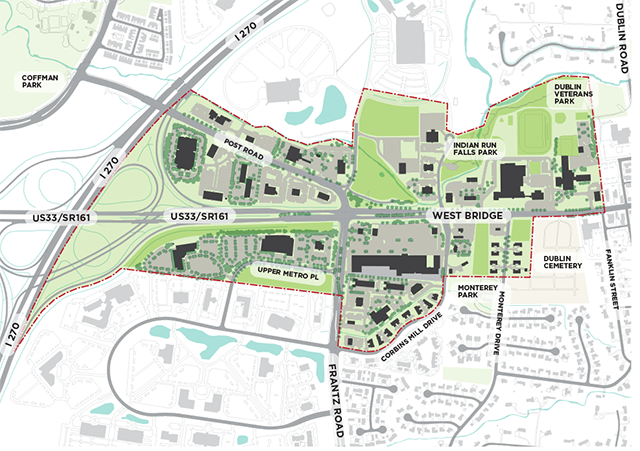 The City of Dublin, in partnership with urban design firm NBBJ, is hosting two public meetings to seek ideas and create the vision for this important gateway for the City of Dublin and the Bridge Street District.
With the completion of the I-270/US 33 interchange the West Bridge Street corridor is expected to undergo increased development pressure. The framework plan will establish a cohesive community vision so that all aspects of future development, including development character, walkability and pedestrian experience, connectivity and access, and supporting infrastructure are consistent with the community's vision.
Upon its completion in fall 2017, the West Bridge Street Corridor Framework Plan will provide a road map to guide implementation, while building upon the Bridge Street District vision and encouraging public and private investment that continues to attract jobs, amenities and services which benefit the entire community.
Public Meeting #1
WHEN
Wednesday, January 18
5:30-6:15 p.m. – Presentation (project goals, overview and preliminary analysis)
6:15-7:30 p.m. – Solicit the public's ideas and questions
WHERE
Dublin Community Recreation Center, 5600 Post Road, Dublin, OH 43017
Talla Rooms 2 and 3
Public Meeting #2
WHEN
Tuesday, January 24
5:30-7:30 p.m. – Public Open House (learn and provide feedback on how the public's ideas create the vision)
WHERE
Dublin Community Recreation Center, 5600 Post Road, Dublin, OH 43017
Abby Theater
CONNECT WITH US Facebook Twitter LinkedIn Nextdoor
Media Contact: Sue Burness, Public Affairs Officer sburness@dublin.oh.us 614.226.5382
Twitter/@sueburness @dublinohio www.dublinohiousa.gov
About the City of Dublin, Ohio, USA
Dublin is a city of more than 44,000 residents located just northwest of Columbus, Ohio. It offers residents and corporate citizens responsive services, attractive housing, superior public education, direct regional highway access, abundant park space, thoughtful and strategic planning, innovative ideas and technology and a dynamic community life. Dublin is consistently ranked one of the safest cities in the nation and in 2015 was named one of America's Top 20 Creative Class Cities. It is home to more than 20 corporate headquarters, an entrepreneurial center, 3,000+ businesses, world-class events and the urban, walkable Bridge Street District. For more information, visit DublinOhioUSA.gov or call 614.410.4400.