Dublin, OH – To meet the growing market interest in alternative fuel vehicles, the City of Dublin has recently installed two "level two" electric vehicle charging stations on the west side of the Dublin Community Recreation Center (DCRC) at 5600 Post Road. The stations will be available to Dublin Recreation Center patrons and visitors free of charge during DCRC operational hours.
According to Dublin Fleet Manager Darryl Syler, these stations were made possible through a 50 percent matching grant from Clean Fuels Ohio. The total cost of both units, including installation, was $28,400, with Clean Fuels Ohio reimbursing $14,200 of this total back to the City.
The City will provide free public use of the charging stations due to the fact the Public Utilities Commission of Ohio (PUCO) prohibits non-utilities from selling electricity to the public. Costs to charge a vehicle will vary based on the type of vehicle and the duration of the charge.  For example, a Nissan Leaf, which pulls 3.3 KW/hour, would cost $.2590/hour to charge, based on the DCRC's average KW/hour cost of $.0785.
Syler said these stations will help accommodate residents that have purchased or plan to purchase an electric vehicle.  While electric vehicles are currently a small percentage of the car market in Ohio, numerous manufacturers are already producing electric vehicles or have an electric vehicle planned for production in 2013, and the market is expected to grow substantially in the coming years.
According to a Huffington Post article this fall – model 2012 plug-in hybrid sales of cars like the Chevy Volt are running at triple the rate of last year and hybrids are up almost 50 percent compared to 2011.
And earlier this month Tesla Motors, the Palo Alto, CA-based maker of electric cars, announced it is bringing a 3,000-square-foot service center and repair operation to 4140 Tuller Road, in Dublin – the company's first facility in Ohio.
"There is a big push to go green nationwide," said Syler. The automotive industry is responding to the need to reduce dependence on foreign oil and the push to provide clean alternative fuels. We are pleased we can provide this added service to our residents who want to save money on gasoline and keep our City green."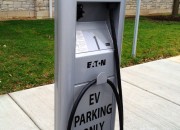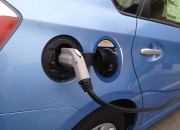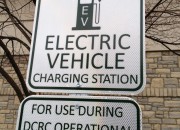 For more information:
Sue Burness sburness@dublin.oh.us 614.226.5382 Twitter/@sueburness