What: Emerald Parkway Final Phase Construction Public Information Meeting
When: Wednesday, February 5 from 6 – 8 p.m.
Where: Dublin Scioto High School, 400 Hard Road in the Commons/Cafeteria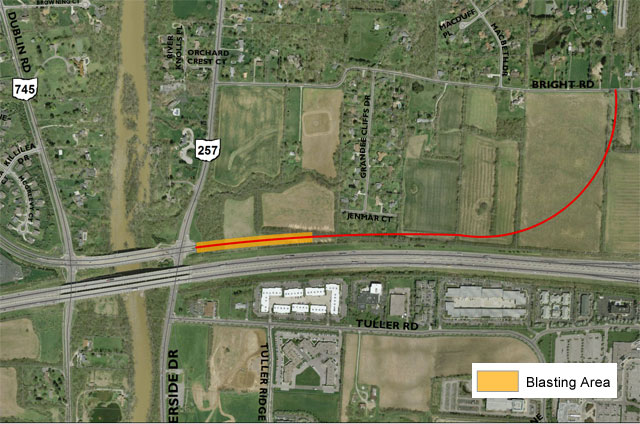 The City of Dublin is preparing to begin construction of Emerald Parkway Phase 8, which will be the final phase extending 5,500 feet from a new bridge over Billingsley Creek, intersecting Bright Road with a new roundabout, and connecting to Riverside Drive. The City has selected the George J. Igel Company (Igel) as the project general contractor and has awarded them a $7,743,856.11 construction contract. The most recent noticeable work on the project is tree clearing near Billingsley Creek (which began January 22nd) and utility relocations along the north side of Bright Road.
To keep area residents informed and address any questions or concerns, the City will hold a public information meeting on Wednesday, February 5, from 6 to 8 p.m. at Dublin Scioto High School, 4000 Hard Road, in the Cafeteria. The pre-blast survey conducted by Sauls Seismic, Inc. will be discussed at the meeting. Blasting is slated to begin in mid-February.
This last phase of Emerald Parkway will open up nearly 115 acres of land for commercial development with I-270 visibility and Sawmill Road interchange access. It will also provide increased mobility from Sawmill Road to Tuttle Crossing for the many residents, businesses and employees in and around Dublin.
#
Media contact: Sue Burness, City of Dublin Public Affairs Officer
614.226.5382   sburness@dublin.oh.us
Newsroom: http://dublinohiousa.gov/newsroom/
Twitter: @sueburness | @DublinOhio | www.DublinOhioUSA.gov