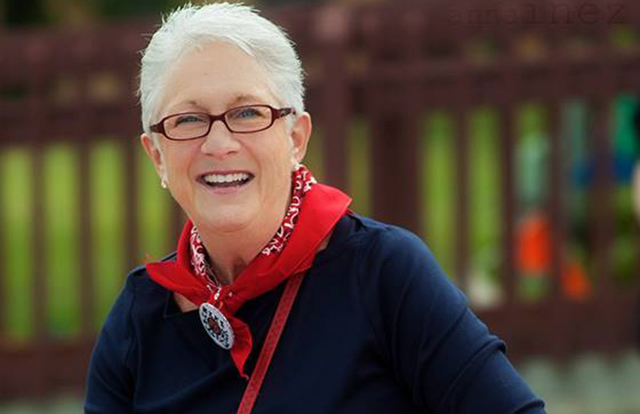 News Facts:
The City of Dublin has chosen its Queen of Halloween, Beth Hillmann, to preside over its annual Halloween Spooktacular.
Join us for an evening of merry, not scary family fun for guests of all ages on Thursday, October 20, from 3 – 8 p.m. at the Dublin Community Recreation Center (DCRC), 5600 Post Road.
The Queen of Halloween will meet and greet guests and preside as a dignitary in recognition of her volunteer contributions to the City of Dublin and the community.
Hillmann has been an active City of Dublin volunteer for many years. She has donated her time and talents to all aspects of the Dublin Irish Festival, from serving on the Dub Club and Sponsorship committees to assisting as a floater working many areas where coverage is needed during the Festival weekend. Beth's dedication to the Dublin Irish Festival was recognized in 2008 when she was announced as that year's adult Best of the Fest award winner. Hillmann has also previously volunteered at the Halloween Spooktacular.
In addition to her work within the City of Dublin, Beth volunteers with JDRF, a global organization that funds type 1 diabetes research. She recently served as the chairman of the silent auction committee for the organization's annual gala last May. Beth has also previously volunteered with Wyandot Elementary School, Karrer Middle School and the Dublin Coffman High School Band.
Hillmann has been a proud Dublin resident for 18 years. Before moving to the area, she lived in Chicago, where she worked with the American Medical Association.
New in 2016, reduce your fear of waiting in line! Dublin residents and Dublin school district residents may pick-up free Trunk or Treat Trail tickets starting Thursday, October 13 at 8 a.m. at the Dublin Community Recreation Center. Tickets are timed in 15 minute increments. Proof of residency is required with a limit of five per household.
Event parking is available at the DCRC and Coffman Park. No shuttle service will be provided, but all locations are within walking distance of the event.
Rain or shine. Halloween Spooktacular will not be cancelled due to rain. However, some festivities may move inside the DCRC, including the Trunk or Treat trail.
For more information, contact Events Administration at 614.410.4545 or visit http://dublinohiousa.gov/events/halloween-spooktacular/.
Quote:
I'm honored that the City of Dublin has chosen me to be the Queen of Halloween. Each year at Spooktacular, I enjoy seeing the kids, the excitement in their eyes and the fantasy of dressing up. That's the fun of being a kid and the fun of this event. – Beth Hillmann, 2016 Queen of Halloween
Get Involved!
Volunteers are needed to make this an extra spooky event! Sign-up today!
Talk To Us Directly:
We can arrange a conversation with our management team – just ask!
Referenced Links:
###
Contact Information:
Mary Jo DiSalvo
Event Marketing Administrator
City of Dublin
Phone: 614.410.4507
Sara O'Malley
Event Specialist
City of Dublin
Phone 614.410.4518