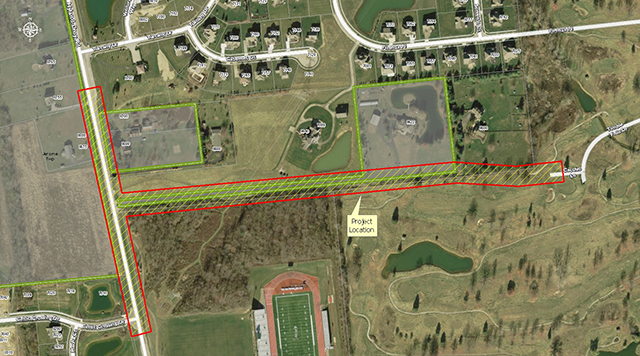 The City of Dublin is currently working on the design of the Hyland-Croy Road / Cacchio Lane Connector project. The design and plans are approximately 60% complete. This project, which is intended for construction in 2018, provides for the extension of Cacchio Lane to Hyland-Croy Road from Riviera subdivision. Hyland-Croy Road will also be modified to provide a southbound left turn lane to Cacchio Lane.
You are invited to attend a public information meeting where you will be able to view the proposed design and ask questions of City Engineering staff. Additionally, City staff will be discussing the property access requirements with individual property owners and discussing the future scheduling of a one-on-one meeting with the owners.
The date of the meeting is Wednesday, October 25, 2017. The meeting will take place between 6:30 p.m. and 8 p.m. at Dublin Jerome High School (commons area) located at 8300 Hyland-Croy Road, Dublin, OH 43016.
The agenda for the meeting will be:
6:30 p.m.  Doors open
6:40 p.m.  Brief presentation with group questions and answers
7 p.m.  Individual property owner discussions
8p.m. Adjourn
#
Media contact:
Lindsay Weisenauer
Senior Public Information Officer
614.410.4504 – Desk 614.704.9742 – Cell
lweisenauer@dublin.oh.us
Newsroom: http://dublinohiousa.gov/newsroom | @DublinOhio | @DublinPolice