Work Begins in January on I-270/US 33 Interchange in Dublin
Delaware (December 31, 2014) – Before the Ohio Department of Transportation (ODOT) begins construction on the new interchange in Dublin early next year, a contractor will clear dozens of trees and vegetation on Interstate 270 and US Route 33.
"Clearing the landscaping is the equivalent of a painter preparing the canvas before work begins on the masterpiece," said Ferzan M. Ahmed, ODOT District 6 Deputy Director. "While routine, stripping the area of all green for a major highway project can be alarming to people."
The contractor, Complete Clearing, will begin work, weather permitting on January 5. They have 45 days to remove all the trees and vegetation at the interchange.
The City of Dublin is dedicated to conserving and protecting the City's existing trees, wooded areas and fence rows to the greatest extent possible. The City promotes public health, safety and welfare through the preservation and replacement of trees while allowing for the reasonable development of land in a way that implements the City's goals, objectives, policies and standards. Trees that come down will be replaced, or funding will be provided to plant replacement trees throughout the community.
Along with rebuilding ramps from I-270 to US 33 and adding travel lanes on US 33, the interchange improvement project also includes extensive and detailed landscaping.
Construction on the $71 million project is expected to begin in the spring and be completed in 2017.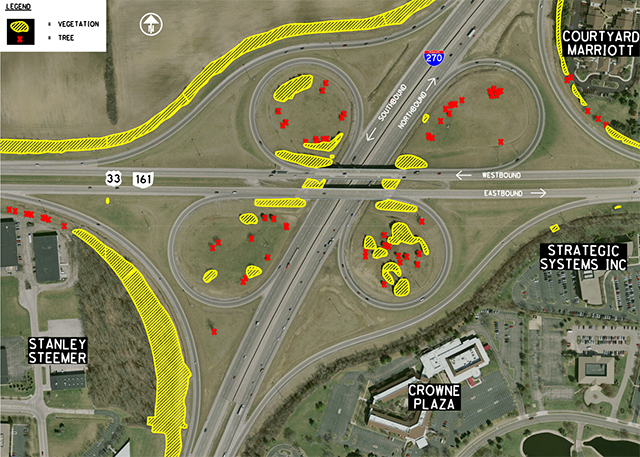 Tree Clearing Overview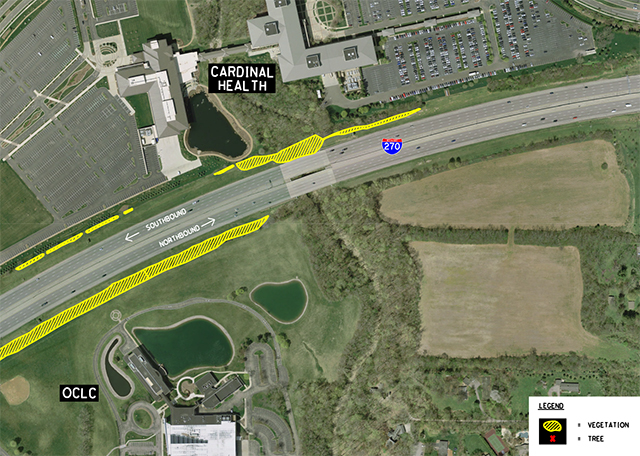 Tree Clearing North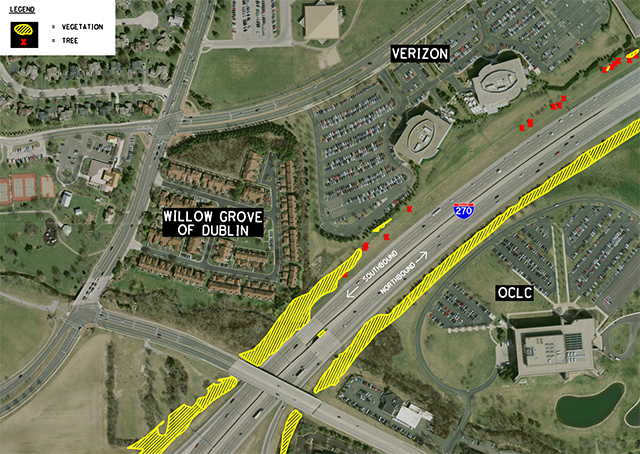 Tree Clearing Northeast
To view more graphics that illustrate which parts of the I-270/US 33 interchange will be cleared, visit http://www.dot.state.oh.us/districts/D06/projects/Pages/I-270-US-33-Interchange-Improvement.aspx
For up-to-date traffic information, construction information and road conditions, 24-hours a day, visit www.OHGO.com.
Find us on Facebook: http://www.facebook.com/ODOTColumbusDistrict6
Follow us on Twitter: http://www.twitter.com/ODOT_Columbus
For more information:
Contact Nancy Burton, ODOT District 6 Public Information Office at (614) 205-3131
or
Breanna Badanes, District 6 Communications, at (740) 833-8222.