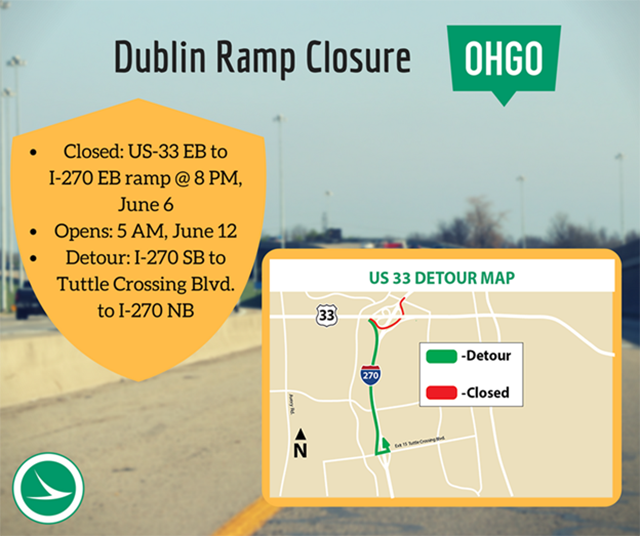 A major ramp in Dublin that carries traffic from Marysville to Sawmill Road and beyond will close for a week beginning June 6 after the Memorial Golf Tournament. During the closure, the bridge deck or driving surface will be replaced.
Last January the bridge surface and the walls were damaged extensively when a tanker truck carrying 8,000 gallons of gasoline crashed and burned. The fire damaged a third of the bridge deck and 250 ft. of bridge wall costing more than a half a million dollars.
Tuesday night June 6 at 8 p.m., the US 33 eastbound to Interstate 270 east ramp will close for five days. Eastbound 33 traffic will be re-routed to I-270 south to Tuttle Crossing Boulevard to I-270 north.
While the Ohio Department of Transportation (ODOT) acknowledges that closing this ramp for a week is inconvenient, it is better than the alternative which is two months of continuous lane closures and repairs.
Drivers who normally travel eastbound on US 33 to I-270 east should allow extra time for their daily commute.
The work is weather dependent.
Tuesday, June 6 – Monday, June 12
8 PM TUESDAY: The ramp from US 33EB to I-270EB will close. Detour: I-270SB to Tuttle Crossing Blvd. to I-270NB.
5 AM MONDAY: The ramp will open.
The graphics below illustrates how traffic will be maintained through the closure. Drivers need to pay special attention to the overhead signs during that week. The two right lanes will take drivers to Interstate 270 south. The other two lanes to the left are for through traffic only.
Traffic will travel to the detour by taking the right two lanes eastbound on US 33 to exit onto I-270 south and continue on to exit at Tuttle Crossing Blvd. (Exit 15), and re-enter I-270 north. The left two lanes will continue straight on to US 33 eastbound into Dublin.
The environmental review, consultation, and other actions required by applicable Federal environmental laws for this project are being, or have been, carried-out by ODOT pursuant to 23 U.S.C. 327 and a Memorandum of Understanding dated December 11, 2015, and executed by FHWA and ODOT.
US 33 East Ramp to I-270 East Closed
Use right tow lanes for detour to I-270 south
For up-to-date traffic information, construction information and road conditions, 24-hours a day, visit www.Ohgo.com
Don't forget to like us on Facebook and please contact us with any questions or concerns. www.facebook.com/ODOTColumbusDistrict6.
For more information: Contact: Nancy Burton, District 6 Communications, at (614) 205-3131, Breanna Badanes, District 6 Communications, at (740) 833-8222.