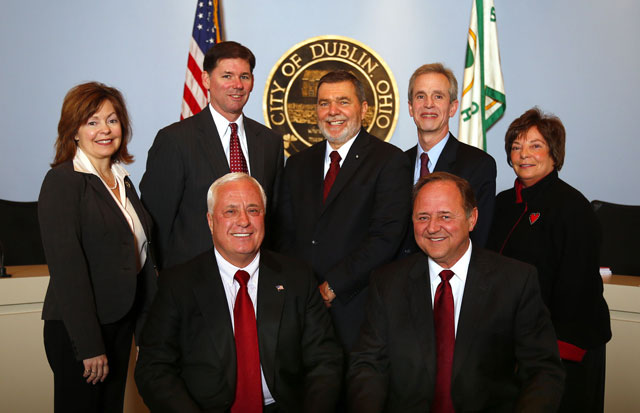 (Dublin, Ohio) — Dublin City Council elected Michael H. Keenan to serve as mayor for 2014-2015 at its organizational meeting Monday, January 13, 2014. Rick Gerber was elected to serve as vice mayor.
Council-Manager Form of Government
In Dublin's Council-Manager form of government, City Council elects the mayor and vice mayor from among fellow council members. Mayor Keenan will preside at City Council meetings and will perform ceremonial duties and functions. As Dublin's City Manager, Marsha Grigsby is a full-time City of Dublin employee and is responsible for day-to-day administration and operations.
Mayor Keenan has served on Council since 2004.
Vice Mayor Gerber has served on Council since 2008.
Council Profiles
www.DublinOhioUSA.gov/council/member-profile-assignments
Four Ward Council Members
Dublin's ward council members also were sworn in at tonight's meeting.
Gregory Peterson – Ward 1
Amy J. Salay – Ward 2
John G. Reiner – Ward 3
Timothy A. Lecklider – Ward 4
Voting Wards
www.DublinOhioUSA.gov/council/voting-wards
#
Download Photos
Michael H. Keenan Photo | Rick Gerber Photo | Dublin City Council Photo
Contact:
Sandra Puskarcik
City of Dublin Community Relations Director
614.410.4501 – office; 614.206.3303 – cell