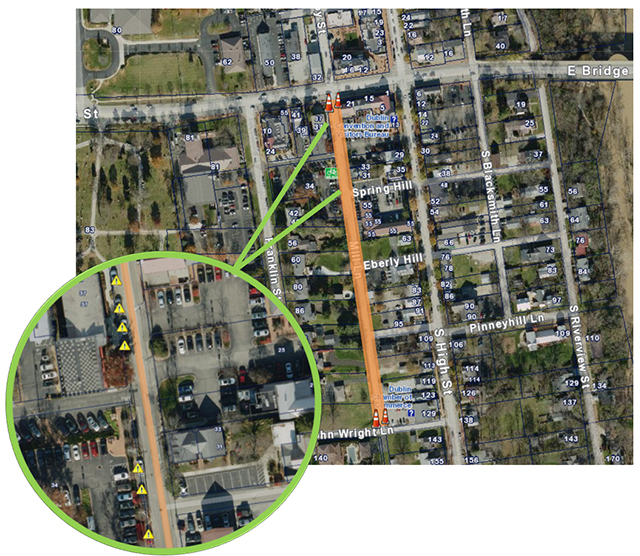 Mill Lane is among the first streets to be resurfaced as part of the 2018 Street Maintenance Program. Work is scheduled to begin as soon as May 7, 2018 and take approximately three weeks to complete. This work is weather dependent, and the schedule is subject to change.
Construction hours are 7 a.m. to 6 p.m. Monday through Friday. During this work, there will be some intermittent traffic and parking restrictions.
Parking Restrictions
On-street parking restrictions are expected on Mill Lane for a few days during the resurfacing process. This will impact the spots marked in the above map with yellow restriction icons. The spots will be blocked off only when necessary.
Traffic Impacts
During work hours, there will be intermittent lane restrictions on Mill Lane. Two-way traffic will be maintained by flaggers when necessary. There may also be times when construction workers will have to temporarily block access from Mill Lane to the adjacent parking lots. All traffic and parking restrictions will be kept to a minimum the inconvenience to employees and customers.
If you have any concerns throughout the process visit dublinohiousa.gov/service-request-construction/, call 614.410.4638 or e-mail troot@dublin.oh.us. We will be working diligently to restore the street as quickly as possible.
Thank you for your patience as we make these important improvements!