West Nile Virus was detected in a pool of mosquitoes in the central area of Dublin, which is generally bordered by Brand Road to the North and Post Road to the South. See the included map for reference.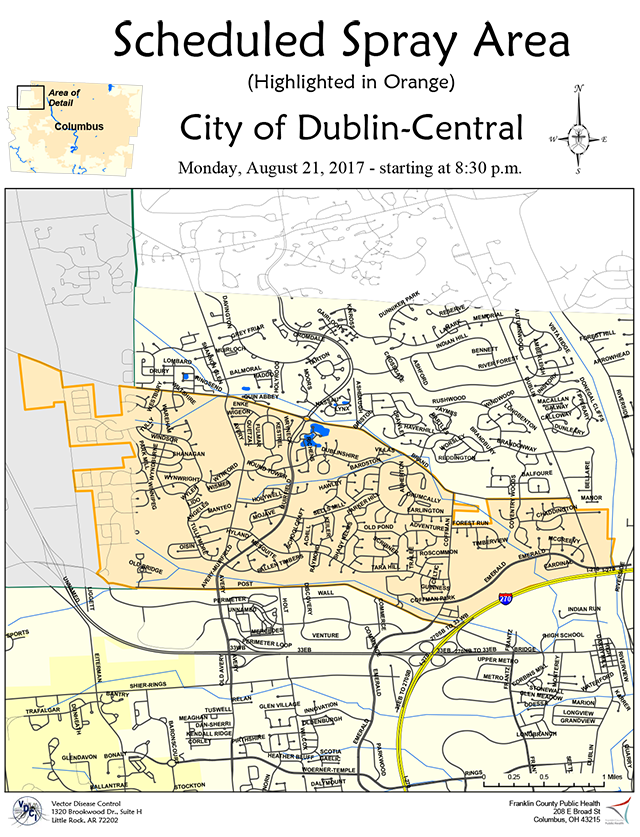 The area is scheduled to be sprayed Monday, August 21 starting at 8:30 p.m. (weather permitting). It will take Franklin County Public Health a few hours to spray the entire area. The Avery Park and Earlington Park areas will be sprayed last, around 10 p.m. so that evening activities there won't be affected.
Spraying is just one part of our integrated mosquito management program. Residents and business owners play a role, too.
Please remember to:
Empty, remove, cover or turn over any container that has the potential to hold water.
Repair leaky pipes and outside faucets.
Make sure gutters and downspouts are free of blockage and are properly draining.
Change the water in wading pools weekly and store indoors when not in use.
Properly dispose of old tires.
Empty planters that hold water twice each week.
Empty bird baths twice weekly.
Empty your pets watering dishes daily.
Use sand to plug holes in trees where water can collect.
Drain or fill low areas on your property that hold water for more than three days.
Remind or help neighbors to eliminate breeding sites on their property.
WNV can be transmitted to people through the bite of an infected mosquito. Symptoms include mild fever, headache and body aches, often with skin rash and swollen lymph glands. Eighty percent of people bitten by an infected mosquito will not show any symptoms at all.
Here are some steps you can take to protect your family from WNV:
Wear insect repellent containing DEET (follow package directions)
Limit outdoor activity at dusk and dawn when mosquitoes are most active
Eliminate all standing water around your home (mosquitoes breed in water and it doesn't take much)
Visit our mosquito management webpage for more information on our Mosquito Management program, how you can help reduce mosquitoes and to sign up for FCPH's Do Not Spray list – http://dublinohiousa.gov/services/mosquito-program/.
Please visit www.myfcph.org or call (614)525.BITE (2483) to report problem areas in your neighborhood.
###
Media contact:
Lindsay Weisenauer
Senior Public Information Officer
614.410.4504 – Desk
614.704.9742 – Cell
lweisenauer@dublin.oh.us
Newsroom: http://dublinohiousa.gov/newsroom
@DublinOhio | @DublinPolice | www.DublinOhioUSA.gov