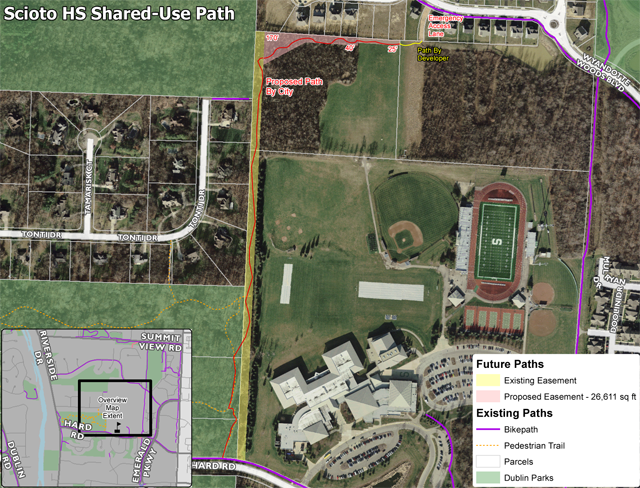 Work is beginning on the shared-use path connection between Hard Road and the Wyandotte Wood subdivision, which will run along the western edge of the Dublin Scioto High School property.
Contractors are clearing brush and trees in preparation for path construction. Clearing will be conducted with care, and a line of trees will remain during and after path construction. Some path construction and paving will take place this fall, with the remaining work to be finished in Spring 2016. The project is expected to be complete by the end of May 2016. Work is weather dependent.
Dublin is home to over 100 miles of shared use paths that enhance the City's health, wellness, connectivity and convenience. Additional paths and path connections are designed to better serve the community. This particular connection has been a part of the Community Plan for several years.
Anyone with questions about this project may contact Barbara Cox, Engineering Manager at 614.410.4641 or bcox@dublin.oh.us.
#
Media contact:
Lindsay Weisenauer
Senior Public Information Officer
Cell 614.410.4504 – Desk 614.704.9742
lweisenauer@dublin.oh.us
Newsroom: http://dublinohiousa.gov/newsroom