As the City of Dublin prepares to welcome visitors from all over the world for the 2017 Memorial Tournament presented by Nationwide, Dublin Police are encouraging guests to plan ahead for a smooth travel and parking experience.
Traffic Impacts
Please note that Thursday, June 1 through Sunday, June 4, 2017 the O'Shaughnessy Bridge is limited to one-way eastbound traffic from 3:30 p.m. to 7 p.m. daily.
Out-of-town visitors wishing to patronize our Downtown Dublin businesses should also note that North High Street is currently restricted to one-way, southbound traffic between Indian Run Drive and North Street. More information on the North High Street Widening and Other Improvements is available online here.
Parking
Police ask drivers to use Dublin Road or Sawmill Road as the primary routes to Memorial Tournament parking. The Memorial Tournament offers free parking in the following locations:
Sixth Tee Lot– Located off State Route 745/Dublin Road
Columbus Zoo Lot(Thursday – Sunday ONLY) 4850 W Powell Rd., Powell, OH 43065
 – Shuttles run: Thursday – Sunday: 6:45 a.m. – 7 p.m. (or one hour after play)
Ashbaugh Lot– Located off Brand Road just east of Muirfield Drive
Disabled Parking– 6189 Memorial Dr., Dublin, OH 43017 (Muirfield Square) State-issued placard required
– Shuttles run: Monday – Tuesday: 7 a.m. – 6 p.m.; Wednesday – Sunday: 7 a.m. – 7 p.m. (or one hour after play)
Safe Ride
The City of Dublin and Central Ohio Safe Ride are partnering with the Tournament to enhance the Safe Ride program this year with the addition of taxi and ride-sharing pick-up/drop-off locations. The following locations should be utilized:
The #6 Tee Lot off Dublin Rd. – 10573 Dublin Road, Dublin, OH 43017
West side of the tournament grounds will be at our #15 gate on Muirfield Drive – 8668 Muirfield Drive, Dublin, OH 43017
A limited number of promotional codes will be provided each day, Thursday through Sunday, for patrons to receive $10 off an Uber ride to or from the Tournament. PATRONS MUST BE DROPPED OFF OR PICKED UP AT ONE OF THE ABOVE-MENTIONED DESIGNATED SPOTS FOR THE CODE TO WORK.
The Uber codes are as follows:
Thursday: MTTHURS17
Friday: MTFRI17
Saturday: MTSAT17
Sunday: MTSUN17
The map below gives an overview of the preferred traffic routes as well parking locations.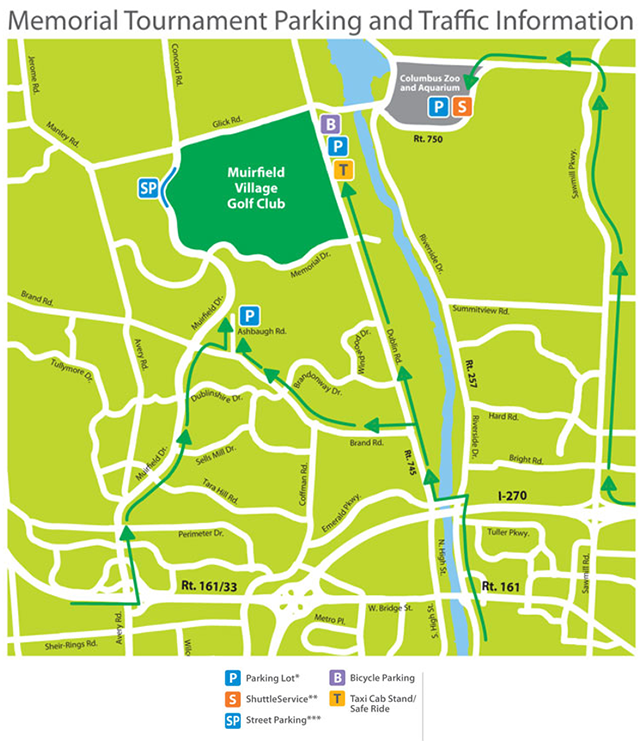 Traffic & Parking Updates
Tune into 1610 AM for updates May 29 – June 4, 2017. This broadcast, which provides up-to-date traffic, parking and weather information, is available to patrons within a three to five mile radius of Muirfield Village.
The City also encourages residents and visitors to monitor @DublinPolice and @DublinOhio on Twitter for the latest traffic information.
#
Media contact:
Lindsay Weisenauer
Senior Public Information Officer
614.410.4504 – Desk 614.704.9742 – Cell
lweisenauer@dublin.oh.us
Newsroom: http://dublinohiousa.gov/newsroom | @DublinOhio | @DublinPolice