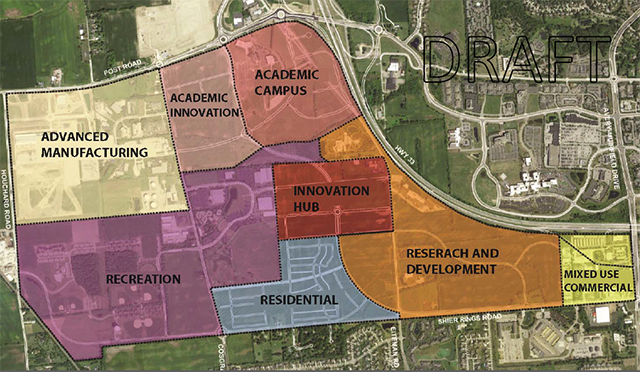 WHEN: Tuesday, August 8, 2017 | 6 – 8 pm
WHERE:  Ohio University Dublin Integrated Education Center | 6805 Bobcat Way | Dublin, OH 32016
PURPOSE
The City of Dublin has concentrated significant investment in the West Innovation District and surrounding areas over the past decade. Many important projects have since been addressed to establish a high level of amenities and development quality that will benefit future development The West Innovation District Plan is intended to clearly define that development goal for a targeted portion of this critical economic development corridor. The City's Planning team will be available to ask questions.
Area Plan Background
The western edge of Dublin is an area poised for significant change. With approximately 1,100 acres of land between Avery Road, Houchard Road, Shier Rings Road, and State Route 161/Post Road, the West Innovation District is a key portion of the City's business neighborhoods targeted for office, research, laboratory and clean manufacturing uses. The area is now developing around the Ohio University campus, Nestlé Quality Assurance Center, the Amazon data center. 
Learn More!
All materials will be available on the project website:http://dublinohiousa.gov/west-innovation-district/
Brief video showcasing background on the West Innovation District and community engagement to date.
###
CONNECT WITH US   Facebook Twitter LinkedIn Nextdoor
Media Contact: Sue Burness, Public Affairs Officer sburness@dublin.oh.us   614.226.5382
Twitter/@sueburness @dublinohio www.dublinohiousa.gov