Drivers Take Notice: Speed Limits Will Vary
DELAWARE (April 24, 2017) – This weekend marks the start of a multi-million dollar widening project on Interstate 270 between Dublin and Trabue Road on the west side. Because the project is several miles long, variable speed limits will be used.
The Ohio Department of Transportation is widening I-270 from three lanes to four using the inside median.
"Utilizing variable speed is another way to keep workers and motorists safe in this eight mile work zone," said Jack Marchbanks, ODOT District 6 Deputy Director. "Despite construction, drivers on I-270 will still have the same number of travel lanes. When workers are present, however, the speed limit will be reduced."
The digital speed limit signs will be placed in several locations along north and southbound Interstate 270. Areas of I-270 with an original speed limit of 65 mph will have a small reduction in speed even though workers are not present. That's because the travel conditions include narrower travel lanes and portable concrete barrier.
When the lights are flashing on the digital speed limit signs, workers are present and the speed limit will be further reduced.
The Ohio Legislature in 2012 enabled ODOT to establish Variable Work Zone Speed Limits. The director of ODOT can establish reduced speed limits based on the type of work and time of day. Variable speed limits improve safety for the public and the construction workers without imposing unnecessary travel delays during non-working periods.
The portable speed limit signs DO NOT use radar or any other technology to record and/or collect speeds from passing motorists for citations. The trailers are programmed to post the speed limit in a construction work zone and flash lights intermittently.
Drivers should be mindful of these signs and always obey the posted speed limit.
The $59 million widening project on Interstate 270 is expected to be complete Fall of next year.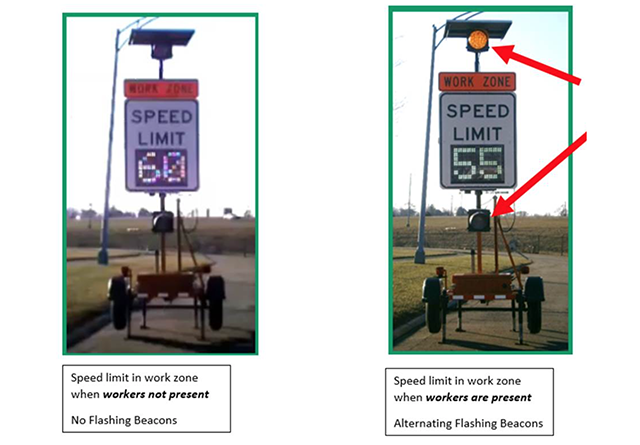 For up-to-date traffic information: www.ohgo.com
Find us on Facebook: http://www.facebook.com/ODOTColumbusDistrict6
Follow us on Twitter: http://www.twitter.com/ODOT_Columbus
###
For more information contact:
Nancy Burton, ODOT District 6 Communications, at (740) 833-8063
Or Breanna Badanes, ODOT District 6 Communications, at (740)833-8222