April 9 – 15, 2017 is National Public Safety Telecommunicators Week. It's a time to honor the lifesaving role that 9-1-1 professionals play around the country.
Dublin is home to the Northwest Regional Emergency Communications Center, which dispatches for Dublin and Hilliard Police and the Washington Township and Norwich Township fire departments. Learn more from the highly-trained staff men and women who answer your emergency calls and send help where it is needed.
To be notified when our application process opens, please click below to complete a job interest card.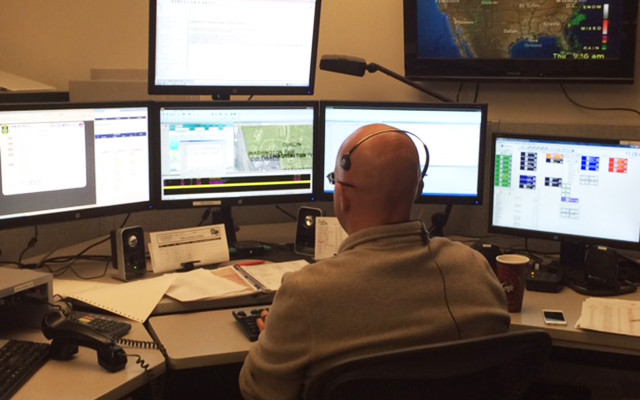 The Northwest Regional Emergency Communications Center will be hosting the Public Safety Group for three dispatcher classes this May.
On May 17th, the class HACKED, ATTACKED AND WHERE'S THAT will discuss the fact that swatting, hoax and denial of service calls are occurring all over the country on a daily basis. Have you been trained in how to recognize and respond to these calls? These types of incidents can be dangerous and have resulted in the shootings of law enforcement personnel. This course will provide you with the information you need to respond and keep responders safe.
On May 18th, RIPPED FROM THE HEADLINES: In the past two years, we have seen more civil unrest than occurred in the previous 40 years. With this backdrop, police officers have been the target of assassinations. This class will address the dispatcher's role in community-oriented policing, cultural diversity, de-escalation techniques and responder targeting. There is no other class on the market that addresses these issues in one comprehensive course.
On May 19th, CRITICAL INCIDENT STRESS: Communications is one of the most stressful jobs you can have. Every dispatcher will experience critical incident stress during his or her career. This class will provide the dispatcher with techniques to manage critical incident stress and educate themselves about the effects of critical incident stress. It is critical for the dispatcher's long-term health and well-being.
Classes will be held at:
The Norwich Twp Safety Service Building
5171 Northwest Pkwy, Hilliard, OH 0830
For more information about the classes, or to register, go to http://www.publicsafetygroup.com
Northwest Regional Emergency Communications Center
The Northwest Emergency Communications Center (NRECC) is the primary public safety dispatch center for the City of Dublin, City of Hilliard, Washington Township and Norwich Township. Located inside the Dublin Justice Center, NRECC was formed in October 2013 when Dublin began providing dispatching services for Norwich Township Fire and became the primary 9-1-1 answering point for all of Hilliard. Dispatching for Hilliard Police started in January of 2014.
Managed by the Technical Services Division of the Dublin Police Department, our consolidated center is staffed by 19 communications technicians, 3 communications supervisors, 1 operations manager and 1 bureau director.
An executive committee of the participating agencies provides policy and management direction while a police policy board and a fire/EMS policy board provide procedural input for day to day operations.
NRECC is the primary answering point for all wireline and voice-over-internet calls placed within the City of Dublin and City of Hilliard. As one of five wireless PSAPs, we are also the primary answering point for 9-1-1 calls placed from wireless phones throughout northwest Franklin County.
All of our telecommunicators are certified Emergency Medical Dispatchers (EMD) and provide pre-arrival instructions to callers on medical responses.
Our staff dispatches for the following agencies:
Question? Contact Operations Manager Nancy Nicodemus 614.410.4911 or nnicodemus@dublin.oh.us
The NRECC is a user of the Central Ohio Interoperable Radio System and utilizes system talk-groups to dispatch for participating agencies. For more information on COIRS, visit their website at http://coirs.org