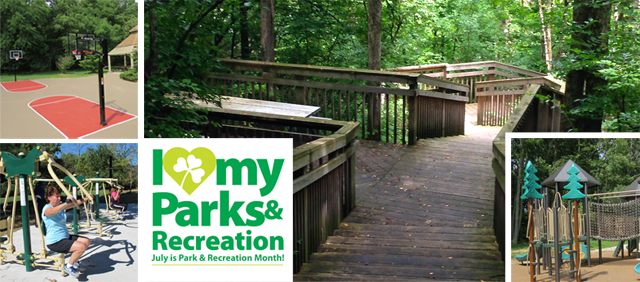 To encourage physical activity and increase awareness of our inventory of outdoor spaces, the City of Dublin, in conjunction with the National Parks and Recreation Association, is celebrating the 30th annual Parks and Recreation Month this July. Parks and Recreation Month highlights the City's mission of serving Dublin residents by giving them places to exercise, socialize and enjoy Dublin's natural surroundings.
"This is a great opportunity to celebrate the vital role that parks and recreation both play in protecting our natural resources, providing activities for all ages, and enhancing the quality of life for all our residents," said Matt Earman, Director of Parks & Recreation Services.  "July is the perfect month to enjoy our amenities and activities, bookended by the Independence Day celebration and the Dublin Irish Festival."
The City of Dublin Parks & Recreation Department kicks off the celebratory month with social media contests for a chance to win prizes such as Dublin Irish Festival tickets or Rec Center passes and a Kids Coloring Contest.
To celebrate the 30th anniversary specifically, some events will have an 80s theme.
Movie in the Park – "Back to the Future"
Free 80's Zumba at BriHi Square
Night Owl Prowl
80's Teen Party
Astronomy in the Park
Other events in month of July will include free Zumba and yoga classes held in parks, Game-a-Palooza at the outdoor pools, and a movie-in-the-park night, among many other activities.
Full calendar of events for the month of July
Activities, events and contests run through the end of July.
Share your love of Dublin's parks on the City's social media sites. Tag your stuff: #dublinohio #dublinishome #sodublin