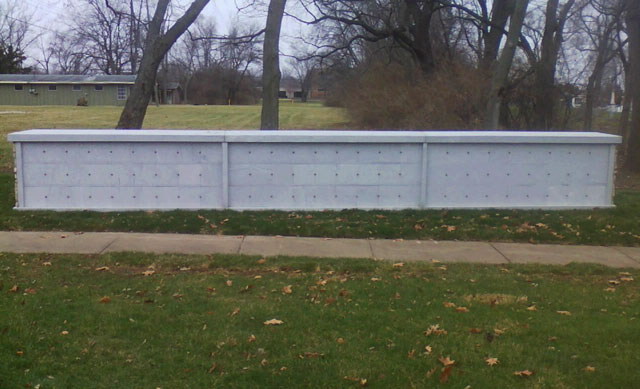 Columbarium Opens At Dublin Cemetery
The Dublin Cemetery now has a columbarium available to serve as a final resting place for cremated remains and a place of remembrance for the deceased.
The granite, above-ground structure is located adjacent to section 4A, which is at the entrance off of Monterey Drive.
The columbarium has 81 niches. Each niche is 12 inches by 12 inches and can hold up to two urns.
The fee structure is as follows:
Dublin resident – $1,700
Non-residents- $2,400
Inurnment services Monday through Friday between the hours of 8am and 3pm -$100
Inurnment services after hours or weekends – $150
Niche engraving – $150 per occurrence
*All engravings will consist of a name, date and religious symbol if desired. Certain non-religious symbols are also available.
Cremation has historically been a widely accepted means of burial among most religions, and continues to gain acceptance and popularity. It is generally considered more affordable and environmentally friendly than a casket burial.
Niches can be purchased by contacting the City of Dublin Parks and Open Space department at 614.410.4728.
The Dublin Cemetery is an example of the fine suburban cemeteries which appeared around the Midwest in the 19th century, and has its roots in Europe, in the grand, elegantly landscaped grounds of Paris' Pere la Chaise Cemetery. Literally translated, a cemetery is "a place of repose," and cemeteries of this type exemplify the ideas of the time, which began to move away from the grim images of strife and suffering which characterize the 18th-century graveyards of New England and toward a more peaceful image of restful, eternal slumber.
The suburban cemeteries were created to be parks where people could come to pay their respects to the deceased, walk the tree-lined avenues, and enjoy the peace and quiet.
This guide has been created to help maintain the beauty and serenity of the cemeteries of Dublin, and to ensure their continued enjoyment for generations to come.
A complete list of burials in the Dublin Cemetery and the smaller cemeteries is available in the cemetery office. For more information, please contact the Cemetery office in Parks & Open Space: 6555 Shier-Rings Road, or by phone: 614.410.4700.