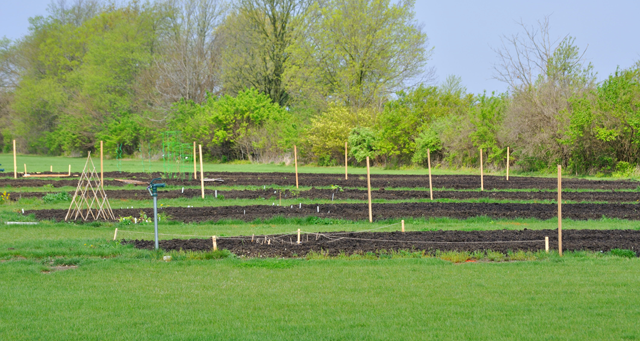 Garden plots in the Dublin Community Gardens at Darree Fields have sold out. Space was limited and was available on a first-come, first-served basis to Dublin residents only. Plots are 15'x15' and will be maintained organically. The annual $40.00 fee covers a once a year tilling, compost tending, water and gardening classes. Visitors are asked to be respectful of gardens; no pets are allowed in the garden area.
For more information on the community gardens, call Parks and Open Spaces at 614.410.4700
Guidelines have been set to:
Ensure the Community Gardens are safe
Ensure the Community Gardens are a pleasant place to be for gardeners, neighbors and the general public
Ensure fairness and respect among Community Gardeners
Ensure the best care of soil, groundwater and generally speaking the environment
Guidelines
Plots located at Darree Fields Park, 6285 Cosgrey Road are 15'x15' and will be allocated on a first come first serve bases with a one season agreement. An annual payment of $40.00 is due at sign up.
Plots are open to Dublin residents only. Proof of residency may be required.
All Gardeners must attend a preliminary garden meeting and at least two garden classes provided by the city.
Garden plots may be utilized after April 15th and must be cleared, with all items removed by November 15th. Planting must commence by June 15th.
Garden Volunteers are responsible for ensuring guidelines are followed at all times. Garden matters will be discussed at periodic meetings and communicated via email or phone conversation.
Plots are to be maintained in a safe and respectful condition. Garden Volunteers will require gardeners to rectify any situation within seven days. Communication will happen primarily through email and secondarily by phone.
If gardens remain untidy for an extensive time, gardeners will be provided reminders. If plots remained un-kept after 21 days gardeners forfeit their plot.
Gardeners and Volunteers are required to carry a badge during their visits to the garden.
Gardeners have access to gardens during normal park operating hours.
Gardens are to be maintained through organic means only.
Gardeners are responsible for their plot weeding, watering and general upkeep.
Gardeners are asked to be respectful of others plots by tending to sprawling plants, planting taller plants toward the center of their plots and not impeding others plots in any way.
If gardeners are unable to maintain their plot, they are to contact city staff or volunteers.
Gardeners must provide their own tools.
Fencing less than two feet in height is permitted to exclude garden pests.
Trellises must be 6' or less and should not impede neighboring plots.
Pets are not permitted in the garden at any time.
Children under the age of 16 must be accompanied and supervised by an adult.
Items such as trash, weeds and spoiled items should be placed in proper locations. A compost pile will be maintained for the latter items.
Gardeners are encouraged to plant extra produce. Volunteer collection will occur for the Dublin Food Pantry on specific dates.
Water is provided on site. The use of hoses is not permitted and gardeners are asked to be respectful of water use.
Garden Guidelines are subject to change.
Volunteer Guidelines:
Volunteers oversee Garden Guidelines (creating and administering)
Volunteers will liaison with Gardeners and city staff regarding garden issues
Volunteers will liaison with city staff to create educational opportunities for gardeners
Volunteers must carry a badge during visits to the garden
Volunteers are asked to design collection schedule for excess produce donated by gardeners for Food Pantry
Learning Opportunities
Seasonal gardening classes area available through the Dublin Community Recreation Center (link).
Questions Regarding Gardening?
For More Information Regarding Dublin's Program contact Parks and Open Spaces at 614.410.4700