Playing Through
Playing Through, an interactive street piano and original piece of public art, consists of an upright piano and bench enhanced with a golf-inspired theme. This public artwork was created by ALTernative, a Columbus-based artist collaborative led by Tim Lai and Eliza Ho during the summer of 2013.
The inspiration for Playing Through came from the concept of street pianos placed in communities to encourage public interaction. Playing Through will transcend language with music and welcome people of all nationalities and ages to sit down and play a song.
While players will be scheduled to play the street piano at select times, the most engaging aspect of the interactive artwork will consist of simply leaving the piano in a public space, with an open invitation for all to sit down and take a turn at the keyboard.
The newest addition to Dublin's Art in Public Places program, the piano will become a legacy public artwork and will be strategically placed throughout the city in highly visible indoor and outdoor public spaces as well as community events.
Playing Through was commissioned in celebration of The Presidents Cup, hosted at Dublin's Muirfield Village Golf Club Oct. 1-6, 2013.
About the artists
ALTernative, a non-profit organization, promotes art and design to enhance the environment and improve quality of life. This arts collaborative was founded by Tim Lai and Eliza Ho in 2011.
ALTernative engages the community throughout the artistic process. Upon being commissioned for this project, ALTernative connected with the community to gather thoughts, memories and inspiration for the design.
About street pianos
While street pianos may date back to the barrel piano of 19th century England, modern history cites a notable occurrence in 2005 in Sheffield, England when a piano's owner couldn't face moving his piano up the steps of his new home. He left the instrument temporarily on the pavement next to the steps with a sign made from the remains of a cardboard box with black marking pen instructions proclaiming "Street Piano – feel free to play any time between 9am and 9pm." It was intended as a temporary measure, but struck a note, so to speak, with the public, resulting in solo and group players flocking to interact with the instrument.
Be sure to use the has tag: #PlayingThrough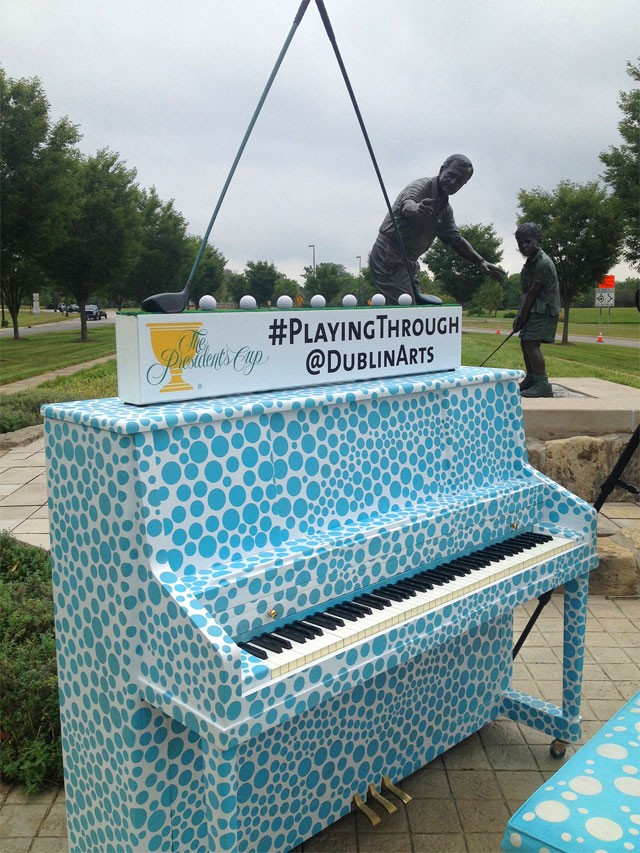 Where will Playing Through be next?
Calling all piano players: Want to volunteer to play at an event? Send us an email: playingthrough@dublinarts.org
Oct. 3, 2013
PGA Breakfast (private event) / OCLC Conf. Center
6600 Kilgour Place, Dublin
Info: OCLC
Oct. 3, 2013, 5-10 p.m.
Fore!Fest – historic Dublin
Bridge & High Streets, Dublin
Info: City of Dublin
Oct. 4, 2013, 4-8 p.m. (arrival time approximate), Oct. 5 & 6, 7:30 a.m. – 8 p.m.
The Presidents Cup Fan Experience / Merchandise Pavilion (public – free of charge)
Muirfield Village Golf Club
5750 Memorial Drive, Dublin
Info: The Presidents Cup