The full Fan Experience area will be open from Monday, Sept. 30 through the end of the event on Sunday, Oct. 6.
Admission: FREE
Operating Hours
Saturday, Sept. 28, and Sunday, Sept. 29: 10 a.m. – 3 p.m.
Monday, Sept. 30: 9 a.m. – 3 p.m.
Tuesday, Oct. 1: 7:30 a.m. – 6 p.m.
Wednesday, Oct. 2: 7:30 a.m. – 6 p.m.
Thursday, Oct. 3: 7:30 a.m. – 7:30 p.m.
Friday, Oct. 4, through Sunday, Oct. 6: 7:30 a.m. – 8 p.m.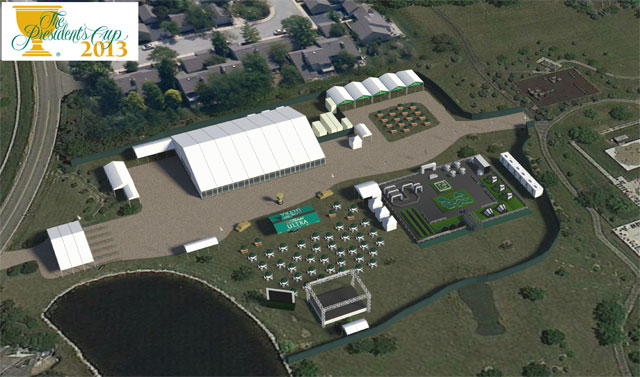 Things to See and Do
Official Merchandise Tent
Dress like the team! Authentic team uniforms available
Commemorative belt buckles, lapel pins and cuff links
Custom-embroidered hats and putter / driver head covers
International and U.S. patriotic team apparel (all things red, white and blue)
Oakley O-Lab
Use your favorite team colors to design custom-made sunglasses
vineyard vines
Signature label Presidents Cup merchandise
FedEx Shipping Tent
The convenience of shopping – and shipping – at your fingertips
Interactive Zone
Golf lessons from local PGA of America members
Hitting nets
Golf simulator
Miniature Golf Course
Long-putt and chipping challenge
Pedal-cart track
Remote-control cars
Food Court, Courtesy of Cameron Mitchell
Cap City Fine Diner and Bar
Marcella's
Rusty Bucket Restaurant and Tavern
International Tent – experience food from the countries represented in The Presidents Cup history
Michelob ULTRA Mobile Bar (for ages 21+)
Take a break and enjoy refreshments from Michelob ULTRA, Budweiser, Stella Artois and Goose Island IPA
Humana Well-Being Tour – A 53-foot tractor trailer and mobile wellness center, has traveled across the United States to educate and challenge people to live healthier lives.
Learn about and measure biometrics
Participate in healthy, fun games
Register for the Humana Walkit program to track steps both on and off the course.
Nightly Concerts
Thursday – Hat Trick
Friday – Conspiracy
Saturday – Floor Walkers
Sunday – Closing Ceremony
And More!
Larger than life Presidents Cup trophy for great photo opportunities
CDW Technoliner – A state-of-the-art mobile data center
The Presidents Cup Radio tent ($20 or $15 if reserved in advance)
Lexus and EZ-GO displays
Free samples of Nature Valley Granola Bars
Dublin Convention & Visitor Bureau Display
Video board – watch live tournament coverage
First-Aid Station
Free Wi-Fi
Upgraded restrooms