As part of the City's ongoing effort to encourage environmental stewardship and water conservation, the City is offering rain barrels at a discount. The purpose of the program is to help homeowners conserve and reuse rain water and educate the community on the importance of local water conservation techniques. The price of the workshop includes the barrel, the kit to connect the barrel to the gutter, and instruction on how to connect to your gutter. Attendance at the workshop is required to receive a barrel. Rain barrels are given out at the end of the workshop.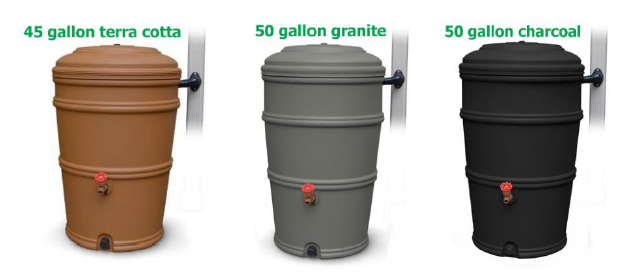 Two sizes and three colors of rain barrels are available: A 45-gallon terra cotta, and a 50-gallon in either granite or charcoal. Please make your selection carefully during registration, we cannot issue refunds/changes/substitutions.
To ensure all barrel orders can be filled, the class registration closes one week prior to the date of the class. There is minimum of 10 participants per class. If the minimum is not met, you will be notified of the class cancellation and will receive a refund or ability to register in another class.
Register online or call the Dublin Community Recreation Center – 614.410.4550

It's Greener in Dublin because of you.
From the Scioto River and Indian Run Falls to ponds and fountains, Dublin's waters define our city. We share our water resources, and, likewise, share responsibility for protecting and conserving those water resources whenever possible. Rain barrels are a great way to protect Dublin's waters by reducing stormwater pollution and waste.
What is a Rain Barrel?
Rain barrels connect to downspouts to collect rainwater from roofs. The collected water can be used to water gardens.
Modern rain barrels:
Come in a great variety of colors, styles and designs to complement your home's look.
Are closed containers to prevent children, pets and mosquitoes from getting in.
Have a spigot so rainwater can be easily accessed and used to water gardens and flower beds. Come in easy, ready-to-install kits.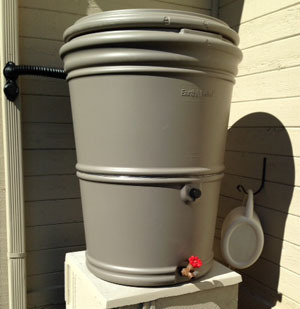 Rain Barrel Benefits
Safely and efficiently reduce water use and water bills!
Protect our river and streams and decrease storm drain floods by reducing the amount of rain that enters drains during major storms.
Plants prefer rainwater over hose water because it is chlorine-free.
Using less water in our yards conserves limited freshwater resources for future generations.
Code Update:
Rain barrels made of natural materials, designed to appear similar to a wood barrel, planter, stone boulders or similar may remain as constructed and are not to match in color the attached building.
Plastic rain barrels must be neutral in color, painted to match your house, or match as closely as possible.