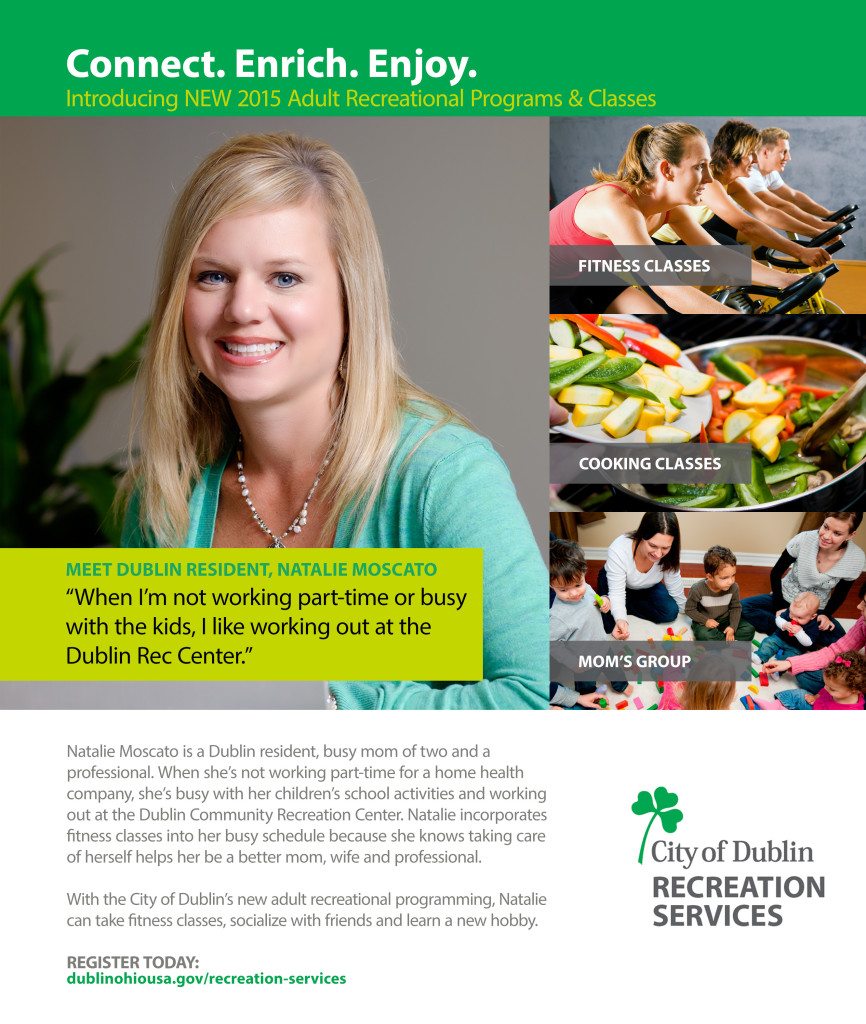 Summer Lineup
Below you'll find some of our new courses for summer 2015. We are diligently working on adding a variety of courses to our offerings each and every term. We have something for everyone, so whether you're interested in learning a new hobby or brushing up on a skill, we hope to see you in one of our classes this summer! If you have any questions or suggestions regarding new/existing courses, please contact our Adult Program Supervisor; Carla Doty: cdoty@dublin.oh.us
August
Learn to Stand Up Paddleboard (SUP) | Sign Up Now! | 346011.03
8/8/2015, 9:00 am – 10:30 am, Offsite- Twin Lakes
The team at Project 908 is an experienced group of Stand Up Paddleboarders (SUP) who have SUPed all over the world from whitewater, flatwater to surfing.  With their years of experience making boards, paddling boards and instructing classes enable us to offer a class that meets the needs of a beginner SUPer.  Begin with on land instruction to cover the basics regarding boards, paddle stroke, standing up and safety.  Following 20 minutes of on land instruction we head to the water.  The instructor stays with the class to ensure each pupil stands up and SUPs. Participants must dress appropriately for an outdoor, water activity. Participants should be comfortable in water where they cannot touch while wearing a life jacket.
Souvenir Store with the Columbus Museum of Art | Sign Up Now! | 342115.02
8/15 – 8/29/2015, 10:00 am – 12:00 pm, Columbus Museum of Art
Everyone relishes that perfect poster, t-shirt, hat, or postcard commemorating a special occasion. Join the Columbus Museum of Art where together, we'll hand-make the ephemera that surround your favorite memories.
Paddle in the City | Sign Up Now! | 346009.01
8/15/2015, 9:00 am – 1:00 pm, Offsite- Amberleigh
Paddle in the City is a community based introductory kayak guided paddling course series offered by HERO USA. All HERO instructors are ACA certified instructors. We offer the ACA quick start to paddling curriculum designed for novice paddlers. The course is intended to introduce the participants to kayaking and canoeing. Participants will be participating in a guided paddle from the new access point at Amberleigh Park to the take out point at St. Rt. 161 Kiwanis Park. This section of the Scioto is gentle with some small riffles. There is an opportunity to catch some wildlife: Many bird species including blue herons and hawks, ducks, turtles and potentially a beaver or even a deer. Participants will have the ability to choose wither a single kayak or a tandem kayak with a partner. HERO USA instructors will cover all the basic safety aspects of paddling. Students will learn the proper technique for operating their boat and on water instruction on navigation. We ask that students bring water, sunscreen, a change of clothes and a towel and wear close toed shoes or water shoes (no flip flops). HERO USA is a 501©3 non-profit organization who offers outdoor adventure sports training to under resourced youth. Our partners include The Boys and Girls Club of Columbus and Big Brothers Big Sisters of Central Ohio. A portion of the proceeds of Paddle in the City classes are allocated to offering this same program free of charge to our community youth participants.
Celebrating the Small Stuff | Sign Up Now! | 342110.02
8/16/2015, 1:00 pm – 4:00 pm, Arts and Crafts Room
Participate in a group discussion/introduction led by the facilitator exploring ways we as individuals can celebrate, what we might see as, insignificant things in our lives. The group will journal responding to prompting questions regarding this topic. Individuals will then create a two or three dimensional art piece responding to the subject at hand. Individuals will then journal about their art experience and participate in a group discussion regarding their experiences and proposed changes in their life.
Gluten Free 101 | Sign Up Now! | 344125.02
8/22/2015, 9:00 am – 11:00 am, DCRC Kitchen and Talla 1
Join author and blogger of Vegetarian Mamma; Cindy Gordon, where she'll share tips and tricks to make a gluten free lifestyle a success. Topics covered: Going gluten free in the kitchen, bathroom, grocery store, restaurants. A cooking demonstration is included in this course. Each student will receive one of Cindy's gluten free cookbooks and a box of gluten free baking mix.