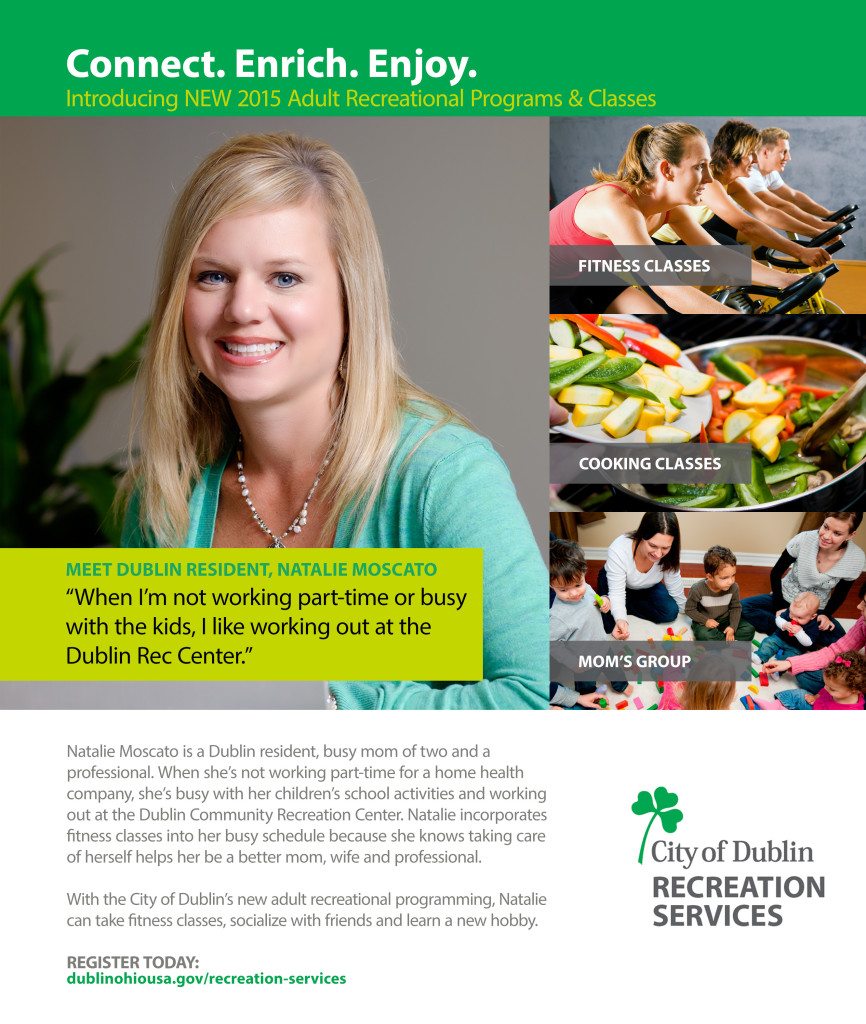 Our goal is create unique, fun, interesting and informative programs for the Dublin community
Adult Programming has classes for every age and every interest. Programs where you can learn a new hobby, meet new friends, or experience a local company in a new light, there's something for everyone.
April
iPad Special Topic- Using Pages and iMovie | Sign Up Now!
Sunday, April 12, 2015
Beginning Ballroom Dance | Sign Up Now!
Thursdays, April 16 – May 21, 2015
The Single Malt Scotches of Scotland | Sign Up Now!
Monday, April 2, 2015
iPad and iPhone Special Topic- Tips and Tricks | Sign Up Now!
Sunday, April 26, 2015
May
Decoding Wedding Planning Timeline: Package | Sign Up Now!
Mondays, May 11 – June 1, 2015 (no class May 25, 2015)
iPad and iPhone Special Topic- 8 Great Apps | Sign Up Now!
Sunday, May 3, 2015
The Art of Food and Wine Pairing | Sign Up Now!
Monday, May 11, 2015
Vegetarian Lifestyle 101 | Sign Up Now!
Tuesday, May 12, 2015
Not the Same Old Craft with the Columbus Museum of Art | Sign Up Now!
Saturday, May 16
Food and Wine Dinner | Sign Up Now!
Monday, May 25
June
Pottery Open Studio Class | Sign Up Now!
Thursdays, July 2 – August 13, 2015 (no class July 23, 2015)
Kayaking with a Naturalist | Sign Up Now!
Saturday, June 20, 2015
The Health of Our Waterways | Sign Up Now!
Sunday, June 27, 2015
July
Learn to Stand Up Paddleboard (SUP) | Sign Up Now!
Saturday, July 18, 2015
Yoga for Kayakers | Sign Up Now!
Sunday, July 19, 2015
August
Dublin Moms Small Business Expo | Sign Up Now!
Saturday, August 8, 2015
ed2go Online Courses
We are pleased to offer a convenient, affordable and effective way to learn a new skill or brush up on an old one. The DCRC has partnered with ed2go to offer an exciting and diverse category of online non-credit educational opportunities. These online courses are flexibly formatted to meet your busy schedule–you take classes anytime, anywhere, 24/7. These instructor-facilitated online computer courses are informative, fun and highly interactive. Most courses run for six weeks (two courses per week) and are project oriented. Each course contains lessons, quizzes, hands-on assignments, lively discussions with your fellow students, supplementary links and more. Prices start at $99. Ed2go fees are standardized for all registrants. Member discounts and credits may not be applied. All ed2go registrations must be done online with full payment made by credit card at the time of registration. All you need to get started is Internet access, an e-mail address and a Web browser. These courses are for individuals who are looking for non-credit, online courses for self improvement, job skills building and individual educational goals. Select from:
Accounting/Art/History/Psychology/Basic Computer Literacy/Business Administration/Computer Applications/Database Management/Digital Photography/Graphic Design/Nutrition/Languages-French, Italian, Spanish/Personal Development-Enrichment-Finance/Web and Computer Programming/Web Graphics/Web Page Design/Writing & Publishing.
For a complete course catalog, class descriptions and outlines visit: www.ed2go.com/dublinohio and click on courses.