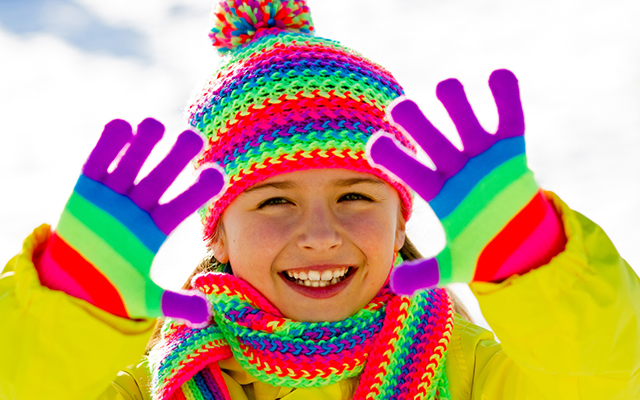 Thank you to all the families that participated in preschool/youth programs in 2016. We look forward to serving you in 2017!
Snowman Contest
The City of Dublin is offering a community snowman building contest during the first big snow of the season. Don't let the cold keep you inside – get outdoors and stay active this winter! We challenge you to build your own version of Frosty at home, a park, or even your Dublin workplace. Add a creative touch to make your snowman unique and then send the pictures to photos@dublin.oh.us or use the hashtag #DublinSnowman on a public social media account. All entries must be submitted within a week of the first big snow, which will be announced on the City of Dublin's website, DublinOhioUSA.gov. Prizes awarded for Best Dressed, Most Original, and Most Dublin Spirit.
Preschool Program Highlights
Preschool Open Gym
The gym is set up with age appropriate toys and equipment for you and your child to play and have a safe, fun time! This program is designed for children 6 months – 6 years of age. Parents are encouraged to place children young than 6 months or older than 6 years in our Wee Folk Room.
Mondays and Fridays, January 6 – May 19
Wacky Wednesdays
Bring your little ones on the first Wednesday of each month to Kaltenbach Park and play with us! Each month we celebrate a new theme, complete with age appropriate toys, games, and crafts that families are welcome to join in at their pace. Parent participation required. Pre-Registration Required – NO registration available onsite.
Snow Birds | January 4
Heart Hugs | February 1
Seuss-ing Around | March 1
Froggie Fun | April 5
Beautiful Butterflies | May 3
Super Saturdays
Bring your little ones on select Saturdays each month to Kaltenbach Park and play with us! Each month we celebrate a new theme, complete with age appropriate toys, games, and crafts that families are welcome to join in at their pace. Parent participation required. Pre-Registration Required – NO registration available onsite.
Winter Wonderland | Saturday, January 14
Hearts Galore | Saturday, February 25
Lucky Leprechauns | Saturday, March 11
Earth Day Fun | Saturday, April 22
Fun with French | Saturday, May 6
Little Feet Fitness & Nutrition
Join us for a great parent/child bonding experience while teaching your little ones how to achieve a healthy mind and body. Each week we explore a different theme and include playful exercises to develop gross motor skills and improve balance and self-esteem. Round out each class with a healthy snack and story time!
Wednesdays, January 11 – February 1
Wiggle Giggle Dance
It's time to wiggle and giggle your way to FUN in this entertaining dance class perfect for a preschooler. Age-appropriate music and props, along with easy to follow dance steps keep dancers engaged from start to finish, allowing them to develop a transition of movement to music.
Thursdays, January 12 – February 2
Preschool BOOST!

Join us for a preschool enrichment series focused on positive approaches to learning utilizing fun S.T.E.A.M. activities. Great program for all preschool-aged learners!
Tuesdays, January 10 – February 7
Jr. Instructibles
Parents and children build and learn utilizing a variety of Lego® blocks, focusing on letter recognition, colors, counting, patterns, and shapes. Start and end each class with time for imagination exploration to naturally enhance socialization and fine motor development skills in a group atmosphere.
Jr. Challenge Island – Rainforest Island
Grab your survival gear for an Amazonian adventure on Rainforest Island! Parents and children take on a jungle of challenges at breathtaking destinations, including: Jaguar's Claw; Monkey Swings; and Anaconda Squeeze.
Wednesdays, January 18 – February 22
Enriched P.L.A.Y.
This enrichment class is designed around developmental play through sensory, fine and gross motor development for newborns to 24 months with a caregiver. Age-appropriate play classes provide families an opportunity to engage and learn activities that can be continued at home.
Mondays, January 23 – February 13
Saturdays, January 28 – February 18
Preschool Sports Programs
Check out the variety of winter sports programs available, especially for our youngest patrons!
Youth Program Highlights
Dance Infusion
Let's get dancing! Dance Infusion combines genres of music and dance steps to develop coordination and build age-appropriate skills perfect for beginning dancers. Each class includes warm ups, exploration of dance concepts and skill development, and ends with an energizing cool down.
Tuesdays, January 10 – 31
Train Your Brain
LearningRx Brain Trainers lead brain training activities and other games and activities that increase cognitive skills in a fun environment. Participants work on memory, attention, problem solving and really challenge their mind.
Premier Chess
Here's your opportunity to learn on the most historic, complex games in a casual, entertaining environment. The instructor engages participants in group activities, diagram problem solving, and a club tournament experience. Open to both new and skilled players.
Thursdays, January 10 – February 16
Club Instructible
Join us at Club Instructible where you build and learn utilizing a variety of Lego® blocks. Each week focuses on a theme and includes weekly build challenges and take homes for continued play.
Mondays, January 23 – February 6
Little Medical School – Pharmacist
Learn about the role of the Pharmacist, including what it takes to be one and what their responsibilities are behind the counter. Through interactive demonstrations, crafts and games, explore and learn about this important member of the health care team.
Family Cafe
Join Ms. Laura at the Family Café where parents and kids learn side by side how to cook easy, family friendly recipes at home. The theme is "fast foods with a healthy twist" where the focus is on preparing healthier versions of popular fast food.
Upcoming Family Activities
Angry Birds
Join Mrs. Barbara and her angry bird friends to learn about these powerful birds of prey and their amazing adaptations. Learn cool facts about these raptors and see them up close for a real-life angry bird experience! All ages welcome.
Daddy/Daughter Date Night
Don't miss this opportunity to spend the evening with your littlest sweetheart! The evening includes desserts, dancing, craft, and a special treat for the little ladies. Also included is our photo booth, where you can capture all the fun and laughs of the evening together, and have a special keepsake to take home and share. Fee is per couple. Additional charge for more than one daughter.
Turn the evening into an even more special affair by registering for dinner at the Golf Club of Dublin from 5 -6 p.m. Dinner registration is separate from the dance, and must be made by January 29. Fee is per couple and includes tax and gratuity. Additional charge for more than one daughter.
Baby & Kid Sale Bonanza
Our annual spring sale is back where you have the opportunity to purchase children's (newborn-12yrs) and maternity items in a community garage sale setting. To sell, register for the sale as you would any DCRC program. To attend, refer to the flyer for complete details on how the sale works. No commercial vendors please. Doors open at 1:30 p.m.
Complete List of Activities & Events
Preschool/Youth Program Updates Mailing List:
If you would like to receive monthly e-mail updates on preschool/youth programs, please join our e-mail mailing list. Contact Jennifer Vosters at 614.410.4573, or jvosters@dublin.oh.us to add your address to the list.
Program Evaluation
All of our preschool/youth programs can now be evaluated by logging on and providing us meaningful feedback without the hassle of filling out and mailing back a paper survey. We love to hear from you so make sure to log on and let us know how we are doing: http://www.surveymonkey.com/s/KPH2R5C
Healthy Children
In our continued effort to provide safe, meaningful experiences for you and your children while at the DCRC, we need your help in making sure our programs include healthy participants. Healthy Children
Volunteer
If you're available one day per week between 9 a.m. – 12 p.m., our preschool classes need volunteers to help make programming possible. Days and opportunities vary. Email Shannon at volunteer@dublin.oh.us if you can help.
Special Needs Participants
Parks & Recreation Services promotes an inclusive policy for all of our programs. To provide the best overall experience for your child or to carry over IEP accommodations, an appointment must be made for an inquiry of needs. Contact Jodi Shealy, Adaptive Recreation Coordinator, at 614.410.4574. An accommodation plan MUST BE COMPLETED PRIOR TO your child's program or camp registration. This plan is required for each seasonal enrollment.
For 2017 summer camp consideration, please contact Jodi Shealy to schedule your inquiry of needs before Friday, March 17, 2017.