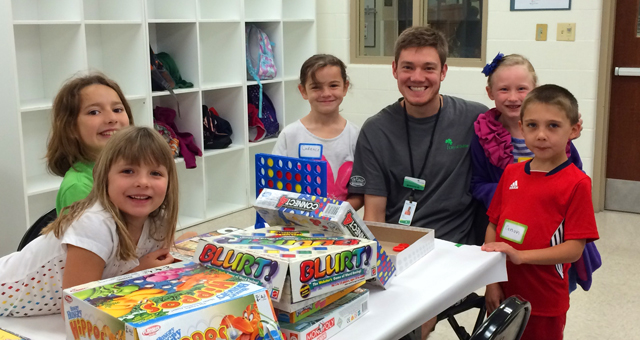 Preschool/Youth Program Updates Mailing List:
If you would like to receive monthly e-mail updates on preschool/youth programs, please join our e-mail mailing list. Contact Jennifer Vosters at 614.410.4573, or jvosters@dublin.oh.us to add your address to the list.
Preschool Open Gym – Winter 2015
Upcoming Programs
Tiny Picassos: Art Book | Sign Up Now!
Wednesdays, Feb 18 – March 11, 9:30 – 10:30 a.m.
Tiny Picassos: Mixed Media | Sign Up Now!
Wednesdays, Feb 18 – March 11, 10:45 – 11:45 a.m.
Baby's First Massage | Sign Up Now!
Wednesday, March 4, 10 – 11 a.m.
Upcoming Events
Book Swap
Saturday, February 14 | 9:30-10 a.m. (drop) | 10-11 a.m. (swap) DCRC, Community Hall
Bring your books, DVD movies, and/or Music CDs and recycle them for different ones in our annual swap. This event is open to all ages, so join in and discover new books, movies, and music to take home and enjoy.
Baby & Kid Sale Bonanza | Sign Up Now!
Registration begins online | Residents/School District Residents – December 22 | NonResidents – December 29
Space is limited so register early! No commercial vendors please.
Here's your chance to do a little spring cleaning and sell your gently-used children's items (newborn-12yrs) in a community garage sale setting. Register for the sale as you would any DCRC program.
Mobile Ed Productions – Mr. Peace | Sign Up Now!
Monday, February 16, 2 – 3 p.m. | Arts & Crafts Room | #124251.01 $20CR $30SDR/NR
Join Mobile Ed and Kevin "Mr. Peace" Szawala as he spreads his message about peace, love, equality and tolerance. Mr. Peace focuses on four different topics: bullying, diversity, leadership, and making positive life choices.
Preschool & Youth Activities
Program Evaluation
All of our preschool/youth programs can now be evaluated by logging on and providing us meaningful feedback without the hassle of filling out and mailing back a paper survey. We love to hear from you so make sure to log on and let us know how we are doing: http://www.surveymonkey.com/s/KPH2R5C
Healthy Children
In our continued effort to provide safe, meaningful experiences for you and your children while at the DCRC, we need your help in making sure our programs include healthy participants.  Healthy Children