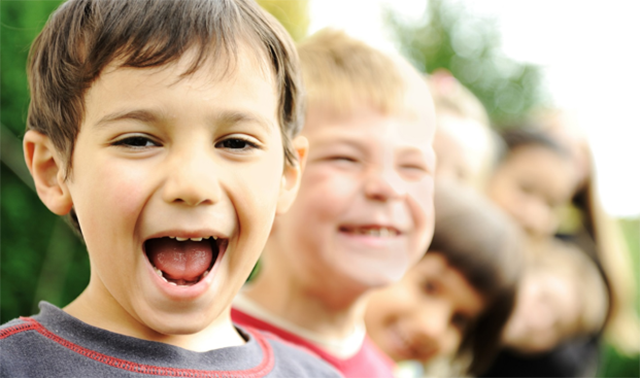 Preschool Program Highlights
Preschool Open Gym
The gym is set up with age appropriate toys and equipment for you and your child to play and have a safe, fun time! This program is designed for children 6 months – 6 years of age. Parents are encouraged to place children young than 6 months or older than 6 years in our Wee Folk Room.
Preschool Storytime @ Avondale – New

Join us at the National Church Residences Avondale for FUN with books, music, crafts, and more that encourage development of early literacy and social skills. Each month we explore a new theme with the Avondale residents, sharing stories and songs, and creating a small art project to take home and display for the family. Don't miss out on this great sharing experience with your little ones! Pre-Registration Required – NO registration available onsite.
Super Saturdays
Bring your little ones on select Saturdays each month to Kaltenbach Park and play with us! Each month we celebrate a new theme, complete with age appropriate toys, games, and crafts that families are welcome to join in at their pace. Parent participation required. Pre-Registration Required – NO registration available onsite.
Wiggle, Giggle, Dance
It's time to wiggle and giggle your way to fun in this entertaining dance class perfect for a preschooler! Age appropriate music and props, along with easy to follow dance steps keep dancers engaged from start to finish, allowing them to develop a transition of movement to music.
Preschool Spanish – New
Here's an opportunity to learn a new language! Cultured Kids Club brings full language immersion programming to the DCRC, utilizing play based activities to make learning natural and fun. Also check out the brochure for details on our Family Spanish program!
Jr. Instructibles
You and your child build and learn utilizing a variety of Lego blocks. Each week focuses on a theme and includes: letter recognition; colors; counting; patterns; and shapes.
Preschool Sports Programs
Check out the variety of spring sports programs available, especially for our youngest patrons!
Youth Program Highlights
Train Your Brain
LearningRx Brain Trainers lead brain training activities and other games and activities that increase cognitive skills in a fun environment. Participants work on memory, attention, problem solving and really challenge their mind.
Little Medical School – Let's Make a Cast!

Learn about the role of the Pharmacist, including what it takes to be one and what their responsibilities are behind the counter. Through interactive demonstrations, crafts and games, explore and learn about this important member of the health care team.
Drawing & Painting
Sharpen your visual recognition skills in an art environment that provides individual expression and artistic growth. Develop a complete drawing with mixed mediums of one or more natural objects utilizing shape, line, and texture.
Dance Infusion
Let's get dancing! Dance Infusion combines genres of music and dance steps to develop coordination and builds age appropriate skills perfect for beginning dancers.
#BESTOFCAMP– New
Who's ready for summer? Join us for the best parts of camp: games and crafts…and don't forget to hashtag all the fun! Familiarize yourself with the classic camp games, and learn a few new things to pump you up for this year's summer camp season! Sign up for just one week, or join us every week April – May!
Columbus Young Author's Academy– New
This workshop is designed for the emerging writer. Emphasis is put on perfecting grammar and usage of standardized language and exploring how vocabulary can create imagery and influence feelings.
Fish w/a Firefighter
Join Washington Township firefighters as they cover fishing basics including equipment, bait, fishing techniques, fishing first aid, and pond safety.
Youth Sports Programs
Check out the variety of spring sports programs available, especially for youth ages!
Upcoming Family Activities
Baby & Kid Sale Bonanza
Our annual spring sale is back where you have the opportunity to purchase children's (newborn-12yrs) and maternity items in a community garage sale setting. To sell, register for the sale as you would any DCRC program. To attend, refer to the flyer for complete details on how the sale works. No commercial vendors please. Doors open at 1:30 p.m.
Complete List of Activities & Events
Preschool/Youth Program Updates Mailing List:
If you would like to receive monthly e-mail updates on preschool/youth programs, please join our e-mail mailing list. Contact Jennifer Vosters at 614.410.4573, or jvosters@dublin.oh.us to add your address to the list.
Program Evaluation
All of our preschool/youth programs can now be evaluated by logging on and providing us meaningful feedback without the hassle of filling out and mailing back a paper survey. We love to hear from you so make sure to log on and let us know how we are doing: http://www.surveymonkey.com/s/KPH2R5C
Healthy Children
In our continued effort to provide safe, meaningful experiences for you and your children while at the DCRC, we need your help in making sure our programs include healthy participants. Healthy Children
Volunteer
If you're available one day per week between 9 a.m. – 12 p.m., our preschool classes need volunteers to help make programming possible. Days and opportunities vary. Email Shannon at volunteer@dublin.oh.us if you can help.
Special Needs Participants
Parks & Recreation Services promotes an inclusive policy for all of our programs. To provide the best overall experience for your child or to carry over IEP accommodations, an appointment must be made for an inquiry of needs. Contact Jodi Shealy, Adaptive Recreation Coordinator, at 614.410.4574. An accommodation plan MUST BE COMPLETED PRIOR TO your child's program or camp registration. This plan is required for each seasonal enrollment.
For 2017 summer camp consideration, please contact Jodi Shealy to schedule your inquiry of needs before Friday, March 17, 2017.