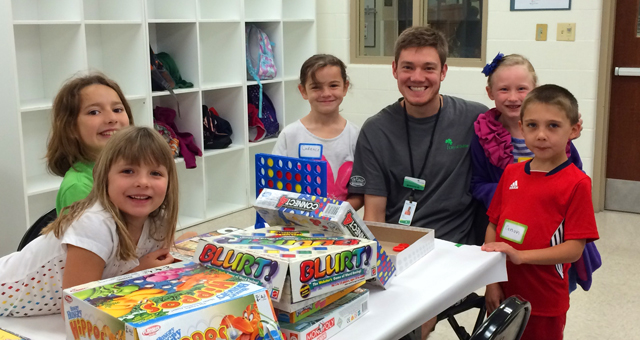 It's the "Most Wonderful Time of the Year," and it'll be here before you know it. Check out our holiday family activities and register now to reserve your spot.
Upcoming Events
From Dublin to the North Pole
Tuesday, Dec. 15 or Wednesday, Dec 16 | 6 – 8:30 p.m.
Join us for this annual holiday family tradition! Families who love watching The Polar Express can see the movie come to life as it plays in Dublin's Abbey Theater. Families hop aboard our holiday trolley and are taken to the train station in time to experience all the excitement! We encourage all children to come dressed in their pajamas. Parent participation is required. Fee is per person. This event sells out – Please register early!
Dublin Community Recreation Center – Abbey Theater
$8 per participant
Trolley Ride to "Train Station" runs 5:30-6:25 p.m.
Movie begins promptly at 6:30 p.m.
Gingerbread Houses (All Ages)
Saturday, December 19
Session 01: 9:30 – 10:30 a.m.
Session 02: 11:30 a.m. – 12:30 p.m.
Session 03: 1:30 – 2:30 p.m.
Session 04: 3:30 – 4:30 p.m.
Join us and get up to your elbows in icing and candies creating yummy gingerbread houses with your family. Each participant registered receives one gingerbread house for as many family members as would like to work together.
Location: Ted Kaltenbach Park Community Center | 5895 Cara Rd
Program Fees/Supplies/Dress
The program fee is $30 for Residents and $40 for School District & Non-Residents. Fees include all supplies and materials. Enrollment deadline is one week before the program so food supplies can be purchased. Dress casually in clothing that could get dirty. Short sleeves and fitted clothing should be worn for safety and ease of cooking. For additional houses (ie: a house for each sibling) there is an additional $15 fee. Please contact Jennifer Vosters at 614.410.4573 to register additional family members.
Program Expectations for Parents
This is a family event and parent participation is required. We ask all families to arrive on time so instruction can be provided in a timely manner.
Meet the Instructor
Laura Finley is a Registered and Licensed Dietician and has many years' experience as a culinary instructor and home cooking consultant. She has been instructing the youth cooking classes/camps for the past three years and looks forward to creating holiday family memories with the Gingerbread House programs.
Holiday Drop & Shop (5 – 12 years)
Sunday, December 20 | 10 a.m. – 2 p.m.
Need a little time away to get your holiday shopping taken care of without the little ones in tow? We can help by engaging them in a day of holiday fun crafts, games, and activities! Pack them a lunch, drop them off, and enjoy worry-free shopping time. Children must be fully potty trained. Fee is per child.
$30 Dublin Residents/ $40 School District Residents and Non-Residents
Location: Ted Kaltenbach Park Community Center | 5895 Cara Rd
Preschool/Youth Program Updates Mailing List:
If you would like to receive monthly e-mail updates on preschool/youth programs, please join our e-mail mailing list. Contact Jennifer Vosters at 614.410.4573, or jvosters@dublin.oh.us to add your address to the list.
Preschool Open Gym
The gym is set up with age appropriate toys and equipment for you and your child to play and have a safe fun time!
Mondays & Friday, September 11 – December 18 | Preschool Open Gym Fall 2015
Preschool & Youth Activities
Program Evaluation
All of our preschool/youth programs can now be evaluated by logging on and providing us meaningful feedback without the hassle of filling out and mailing back a paper survey. We love to hear from you so make sure to log on and let us know how we are doing: http://www.surveymonkey.com/s/KPH2R5C
Healthy Children
In our continued effort to provide safe, meaningful experiences for you and your children while at the DCRC, we need your help in making sure our programs include healthy participants.  Healthy Children