Art Barn Escape Room
The Coffman Park Art Barn has been taken over by a group of old Dublin artisans back from the dead! Work together to solve a series of clues, puzzles, and challenges in order to escape the barn before the 45 minute time runs out. Follow the clues, solve the puzzles, find the key and escape the room before the undead of the art barn get loose! Each escape session is set up for 12 participants, so please register for just one session time. Do you think you have what it takes to escape the Art Barn Escape Room?
Each escape session is set for 12 participants, so please register for just one session time.
Thursday, October 26 | Ages: 8-12 
$10 per person
423500.01: 6-6:45 p.m.
423500.02: 7-7:45 p.m.
423500.03: 8-8:45 p.m.
Friday, October 27 | Ages: 10-15
$10 per person
423501.01: 6-6:45 p.m.
423501.02: 7-7:45 p.m.
423501.03: 8-8:45 p.m.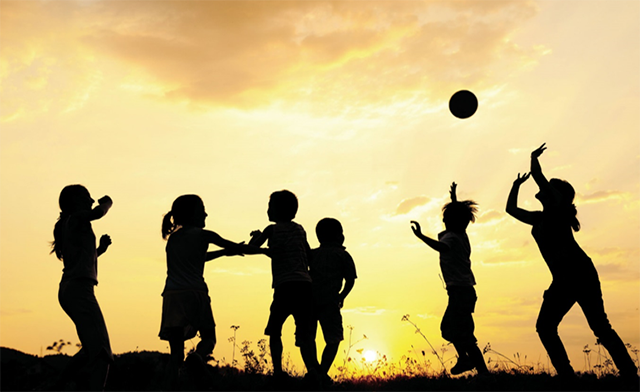 Families Celebrate Fall Photo Contest
This October, share with us how your family celebrates the fall season and actively participates in our beautiful community whether through the landscape, people, or a special outdoor recreation activity – we want to see your story in photos! We challenge you to add your own creative touch and then send your pictures to photo@dublin.oh.us or use the hashtag #Falling4Dublin on a public Facebook, Twitter, or Instagram account. All entries must be submitted by 8 p.m. October 31. The winner receives a prize and bragging rights. Look for an announcement on the City's Facebook, Twitter, and Instagram accounts.
Preschool/Youth Programs Just Added
These programs were just added to the Preschool/Youth Fall program lineup (not in Healthy).
Meme It: The Art of Lettering
Combine the current trend of memes with the art of lettering to create an inspirational meme poster using typography in art. Each week, engage in a new drawing style including: block; bubble; graffiti; and calligraphy.
Natural Art
Create an autumn-inspired hanging sculpture using clear acetate, strings, sticks, and found objects collected from the surrounding park grounds.
Wearable Art
Create bracelets, necklaces, and rings utilizing various art materials. Develop skills in flat and spiral knot macramé, adding beads and wrapping around wire to create wearable jewelry.
Kids Cafe (8-12yrs)
Tiny Treats: Saturday, October 7
#424181.01: 10 a.m. – noon
Mini Meals: Saturday, November 11
#424181.02: 10 a.m. – noon
CR: $25 SDR/NR: $35
DCRC, Kitchen
At the Kids Café, participants are involved in creating a sampling of foods based on the theme, and then take home the recipes to make and share with their family. Budding chefs learn fundamental kitchen skills, work cleanly and safely in the kitchen, and explore new foods while following recipes geared for their age group.
Fall Scavenger Hunt (3-5yrs w/parent)
Wednesday, October 18
#414211.01: 10 – 11 a.m.
$5 per family
DCRC, Coffman Art Stable
Join us at the Coffman Art Stable for a fun, family scavenger hunt where we search in the park for seasonal shapes and colors, and try to locate some of our furry park friends as well!
O-H Buckeye Making (5-12yrs w/parent)
Mondays, November 20
#424182.01: 4:30 – 6 p.m.
CR: $20 SDR/NR: $30 (fee is per couple)
DCRC, Kitchen
Let's kick of *ichigan week and celebrate The Ohio State Buckeyes with a fun, buckeye making class! Participants move through stations that offer a different style of buckeye craft…and we all end with a dozen homemade buckeyes to take home and share during the big game! Please note for allergy purposes, this program does include peanuts.
Preschool Program Highlights
Preschool Open Gym
The gym is set up with age appropriate toys and equipment for you and your child to play and have a safe, fun time! This program is designed for children 6 months – 6 years of age. Parents are encouraged to place children young than 6 months or older than 6 years in our Wee Folk Room.
Preschool Programs @ Avondale
Family Fishing Fun
Join Ms. Barbara at Coffman Park Pond for a fun, family evening of fishing! Get up close and hands-on with nature as we practice techniques to catch fish, including how to properly cast and catch. Equipment and supplies are provided.
Fall Family Hike
Join us at Avery Park for a fun family hike where we can observe the fall season up close and identify plants and animals living in our parks. Learn about the adaptations made and what the various plants and animals do to prepare for the upcoming winter season.
Wiggle, Giggle, Dance
Age appropriate music and props, along with easy to follow dance steps keeps dancers engaged from start to finish, allowing them to develop a transition of movement to music.
Whirlygig
Have fun with your child while singing songs together and playing with age-appropriate musical instruments. Fine and gross motor skills are naturally enhanced during play and positive, social interactions are facilitated by Ms. Marlene.
Ooey Gooey Creations
Get ready for a real messy time! Join Ms. Lori for a fun parent/child art experience creating projects that explore textures, provide different sensory experiences, and develop their understanding of colors, numbers, and shapes.
Preschool BOOST!
Join Ms. Lori for a preschool enrichment series focused on positive approaches to learning that provide children the basic building blocks & socialization needed to transition to a school environment.
Family Clay
Join us on our new day and time! This program is designed for families who would like to learn basic ceramic techniques together to create works utilizing low fire clay and glazes.
Preschool/Youth Sports Programs
Check out the variety of sports programs available, especially for our youngest patrons!
Tumble Time
Join Dublin Dance Centre & Gymnastics in developing and improving your child's coordination, large motor and movement skills through basic tumbling techniques.
Little Rhinos
Little Rhinos is part of the PRO Martial Arts Armor® program. Your child gains character development values such as self-confidence, body control, and discipline through the practice of age-appropriate martial arts. Participants build on listening, following directions, and most importantly builds a positive independence for helping at home. No parent participation.
Youth Program Highlights
Dance Infusion
Dance Infusion combines genres of music and dance steps to develop coordination and build age-appropriate skills perfect for beginning dancers.
Wild Art in the Park
Enjoy the wild wonder of nature as we examine nature's patterns and textures to create art using found items surrounding the Coffman Art Stable. All supplies are included.
Intro to Ceramics
Learn three basic hand-building techniques and proper glazing methods to create ceramic pieces based on personal interests utilizing low fire clay and glazes. Each class includes a demonstration followed by hands-on practice with additional assistance as needed.
Intermediate Ceramics
Take the basics of ceramic hand-building to the next level. This projects-based class is designed to expand on the knowledge gained from Intro to Ceramics, and includes an opportunity to learn wheel-throwing ceramic techniques. Open to new and returning participants with previous ceramics experience, or by permission of the instructor.
Premier Chess
Premier Chess provides participants the opportunity to learn one of the most historic, complex games in a casual, entertaining environment. The instructor engages the participants in: group activities; diagram problem solving; and a club tournament experience. Open to both new and skilled players.
CodeMonster – Level 2
Kids coding adventures start here! Utilizing Scratch, a visual programming language developed by MIT involving age-appropriate learning concepts, participants build their own games using drag and drop blocks on the computer. CodeMonster provides laptops and each participant receives a USB drive for storage. Two levels available for new and developing individuals.
Cookies & Canvas
Join Ms. Lori for the latest art craze – Cookies & Canvas! Follow step-by-step instructions to paint your favorite art idea while enjoying juice and cookies. Thursdays = Holiday Edition.
Complete List of Activities & Events
CREATE-A-CLASS
Let us know how WE can serve YOU! Here's a chance for local Dublin community groups (girls/boys scouts; church groups; homeschoolers; etc.) to create a program opportunity specifically geared towards a merit badge, group project, interest, etc.
Preschool/Youth Program Updates Mailing List:
If you would like to receive monthly e-mail updates on preschool/youth programs, please join our e-mail mailing list. Contact Jennifer Vosters at 614.410.4573, or jvosters@dublin.oh.us to add your address to the list.
Program Evaluation
All of our preschool/youth programs can now be evaluated by logging on and providing us meaningful feedback without the hassle of filling out and mailing back a paper survey. We love to hear from you so make sure to log on and let us know how we are doing: http://www.surveymonkey.com/s/KPH2R5C
Volunteer
If you're available one day per week between 9 a.m. – 12 p.m., our preschool classes need volunteers to help make programming possible. Days and opportunities vary. Email Shannon at volunteer@dublin.oh.us if you can help.
Special Needs Participants
Parks & Recreation Services promotes an inclusive policy for all of our programs. To provide the best overall experience for your child or to carry over IEP accommodations, an appointment must be made for an inquiry of needs. Contact Jodi Shealy, Adaptive Recreation Coordinator, at 614.410.4574. An accommodation plan MUST BE COMPLETED PRIOR TO your child's program or camp registration. This plan is required for each seasonal enrollment.