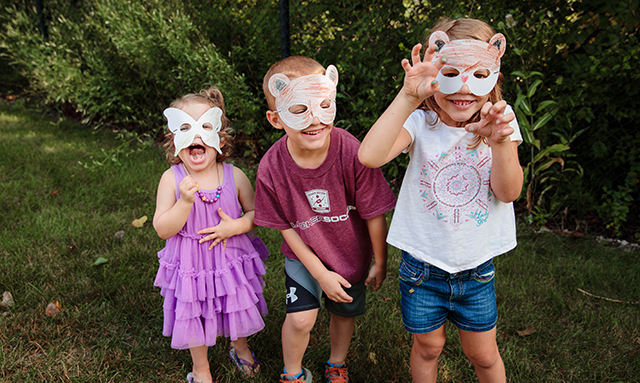 Complete List of Activities & Events
EXPERIENCE PUBLIC WORKS DAY

What keeps Dublin's Public Works Department rolling? Come see what it takes in our first-ever Experience Public Works Day. We're taking the "Touch a Truck" concept to the next level with a combination of family fun, food and convenient services.
PRESCHOOL OPEN GYM
The gym is set up with age appropriate toys and equipment for you and your child to play and have a safe, fun time! This program is designed for children 6 months – 6 years of age. Parents are encouraged to place children young than 6 months or older than 6 years in our Wee Folk Room.
Mondays and Fridays, January 5 – May 25
Preschool Program Highlights
WEJOYSING'S HEART STRINGS
Discover how your child learns and grows through joy-filled musical play. Evening sessions available. Parent participation is required.
Wednesdays, June 6 – 27
Wednesdays, July 11 – August 8
FAMILY NATURE NUTS
Join us for family nature fun at Thaddeus Kosciuszko Park. Explore nature's playground through a scavenger hunt, listen to a story under the shade of the trees, and create a nature craft together that you can take home.
FAMILY ART IN PARK
Bring your family to the Scioto Park and create fun art memories with us! Each family is provided a mini art canvas to create a work of art to take home and display. We even have pre-designed canvases for the younger family members!
Preschool/Youth Sports Program Highlights
SILLY SETS TENNIS
Utilizing age-appropriate preschool equipment, participants develop gross motor skills, having fun and playing games while instruction is provided on the very basic fundamentals of tennis. Parent participation is required. Spring & Summer sessions available.
Thursdays, June 14 – July 12
Thursdays, July 19 – August 9
LITTLE NINJAS
Little Ninjas is a family participation program that incorporates age-appropriate exercises and games to help strengthen balance, coordination, listening, following directions, and good sportsmanship. Spring & Summer sessions available.
Wednesdays, June 13 – July 25
KARATE BEGINNERS
This introductory class covers 30 basic upper and lower body techniques. Additional course work includes basic self-defense, break falls, and rolls.
Tuesdays & Thursdays, June 5 – August 16
KARATE INTERMEDIATE
This novice class is intended for students with some prior experience or who have completed the beginner class curriculum. Instruction includes the continued study and practice of kihon, as well as introduction to kata and kumite.
Tuesdays & Thursdays, June 5 – August 16
KARATE ADVANCED
For this advanced class, course work includes the continued study and practice of kihon, advanced kata, bunkai and kobudo with bo and sai. Minimum prerequisites include a working knowledge of at least five katas by matriculation or permission of the instructor.
Tuesdays & Thursdays, June 5 – August 16
Youth Program Highlights
OWL PROWL
Join Barbara Ray for a night hike in Coffman Park to listen for and maybe even see some owls in their natural habitats. Learn about owl calls, signs and ecology. There is no cost for this program, however registration is required to participate.
WILD ART IN THE PARK
Enjoy the wild wonder of nature as we examine nature's patterns and textures to create art using found items in Coffman Park. From Fibonacci spirals to balance stones, we create cool art pieces then photograph our art to preserve it.
Wednesday, May 23
Wednesday, August 8
PICASSO IN THE PARK
Time to unleash your creative artist for an hour of fun, youth art stations where we explore the park around us and create cool art to take home and share with family and friends.
CREATE-A-CLASS
Let us know how WE can serve YOU! Here's a chance for local Dublin community groups (girls/boys scouts; church groups; homeschoolers; etc.) to create a program opportunity specifically geared towards a merit badge, group project, interest, etc.
Preschool/Youth Program Updates Mailing List:
If you would like to receive monthly e-mail updates on preschool/youth programs, please join our e-mail mailing list. Contact Jennifer Vosters at 614.410.4573, or jvosters@dublin.oh.us to add your address to the list.
Program Evaluation
All of our preschool/youth programs can now be evaluated by logging on and providing us meaningful feedback without the hassle of filling out and mailing back a paper survey. We love to hear from you so make sure to log on and let us know how we are doing: http://www.surveymonkey.com/s/KPH2R5C
Volunteer
If you're available one day per week between 9 a.m. – 12 p.m., our preschool classes need volunteers to help make programming possible. Days and opportunities vary. Email Shannon at volunteer@dublin.oh.us if you can help.
Special Needs Participants
Parks & Recreation Services promotes an inclusive policy for all of our programs. To provide the best overall experience for your child or to carry over IEP accommodations, an appointment must be made for an inquiry of needs. Contact Jodi Shealy, Adaptive Recreation Coordinator, at 614.410.4574. An accommodation plan MUST BE COMPLETED PRIOR TO your child's program or camp registration. This plan is required for each seasonal enrollment.