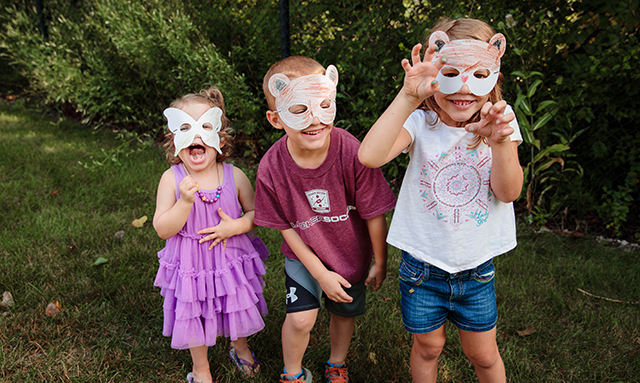 Complete List of Activities & Events
EXPERIENCE PUBLIC WORKS DAY

What keeps Dublin's Public Works Department rolling? Come see what it takes in our first-ever Experience Public Works Day. We're taking the "Touch a Truck" concept to the next level with a combination of family fun, food and convenient services.
PRESCHOOL OPEN GYM
The gym is set up with age appropriate toys and equipment for you and your child to play and have a safe, fun time! This program is designed for children 6 months – 6 years of age. Parents are encouraged to place children young than 6 months or older than 6 years in our Wee Folk Room.
Mondays and Fridays, January 5 – May 25
Preschool Program Highlights
OOEY GOOEY CREATIONS
Create fun and messy art projects utilizing a variety of different art mediums. Lead by a new instructor, the spring session engages parents and children in self-portraits; color changing chameleons; and more! April and May sessions available.
WHIRLYGIG
Join Miss Marlene as she leads the group with her guitar singing songs and taking the group on a musical journey of discovery and delight each week in this high-energy parent/child participation program.
Tuesdays, April 3 – May 8
WEJOYSING'S HEART STRINGS
Discover how your child learns and grows through joy-filled musical play. Evening sessions available. Parent participation is required.
Wednesdays, April 4 – May 16
WIGGLE, GIGGLE, DANCE
It's time to wiggle and giggle your way to fun in this entertaining dance class perfect for preschoolers!
Mondays, April 9 – May 14
BEGINNER IRISH DANCE
This class is age-appropriately designed and focuses on introducing young dancers to Irish Dancing in a fun, relaxed atmosphere.
Wednesdays, April 4 – May 9
PRESCHOOL/FAMILY FRENCH
Cultured Kids Club bring full language immersion programming to the DCRC, utilizing play based activities to make learning natural and fun. Preschool & Family sessions available.
Wednesdays, April 4 – May 9
Preschool/Youth Sports Program Highlights
SILLY SETS TENNIS
Utilizing age-appropriate preschool equipment, participants develop gross motor skills, having fun and playing games while instruction is provided on the very basic fundamentals of tennis. Parent participation is required. Spring & Summer sessions available.
Tuesdays, April 10 – May 8
LITTLE NINJAS
Little Ninjas is a family participation program that incorporates age-appropriate exercises and games to help strengthen balance, coordination, listening, following directions, and good sportsmanship. Spring & Summer sessions available.
KARATE BEGINNERS
This introductory class covers 30 basic upper and lower body techniques. Additional course work includes basic self-defense, break falls, and rolls. No prior experience is required. Intermediate and Advanced Levels also available!
Tuesdays & Thursdays, April 3 – May 31
LITTLE RHINOS
Pro Martial Arts has partnered with the Dublin Recreation Center to provide martial arts programming that contain learning values of quiet confidence, poise, and fulfillment. Their programs are specifically designed to help toddlers and preschoolers build healthier bodies and stronger minds.   
Mondays, April 2 – May 21
TUMBLE TIME
Join Dublin Dance Centre & Gymnastics in developing and improving your child's coordination, large motor and movement skills through basic tumbling techniques.
Thursdays, April 12 – May 10
SOCCER SHOTS
Soccer Shots is an engaging children's soccer program with a focus on character development. We positively impact children's lives on and off the field through our best-in-class coaching, communication and curriculum.  
Saturdays, April 7 – May 12
JUMP START SPORTS PROGRAMS
Jump Start Sports has partnered with the Dublin Recreation Center to provide recreational sports programs in an environment that is more focused on fun and learning than on competition. Check out the variety of sports programs available for children 2-12 years of age.
SKYHAWKS SPORTS PROGRAMS
Skyhawks provides sports program development to give children a positive first step into athletics. Programming in multi-sport and golf available during the spring for ages 5-10 years.
Youth Program Highlights
PREMIER CHESS
Learn one of the most historic, complex games in a casual, entertaining environment. The instructor engages the participants in: group activities; diagram problem solving; and a club tournament experience. Open to both new and skilled players.
Thursdays, April 12 – May 10
INTRO TO CERAMICS
Learn three basic hand-building techniques (pinch pot, coil, and slab) and proper glazing methods to create ceramic pieces based on personal interests.
Tuesdays, April 3 – May 8
INTERMEDIATE CERAMICS
Take the basics of ceramic hand-building to the next level in this projects-based class designed to expand on the knowledge gained from the introduction class.
Thursdays, April 5 – May 10
LITTLE MEDICAL SCHOOL
Spend time with the Little Medical School staff in this mini course, discussing what bones are made of, practice casting and splinting, and build your own humerus bone model.
CODEMONSTER               
Join CodeMonster staff where kids coding adventures start here! Utilizing Scratch, a visual programming language, build your own games using drag and drop blocks on the computer. CodeMonster provides laptops and each participant receives a USB for storage. Level 1 & Level 2 available.
GAMING ENGINEERS
Join Engineering for Kids and create your own version of the electronic game design: Ninja. End the session with a take home version of the game compatible for Windows computers.
Thursdays, April 5 – May 10
HIP HOP JAZZ
Here's an energizing dance program that engages dancers in a variety of hip hop and jazz steps while listening to upbeat music.
Tuesdays, April 10 – May 15
YOUTH IRISH DANCE
This class is age-appropriately designed and focuses on introducing young dancers to Irish Dancing in a fun, relaxed atmosphere.
Wednesdays, April 4 – May 9
CREATE-A-CLASS
Let us know how WE can serve YOU! Here's a chance for local Dublin community groups (girls/boys scouts; church groups; homeschoolers; etc.) to create a program opportunity specifically geared towards a merit badge, group project, interest, etc.
Preschool/Youth Program Updates Mailing List:
If you would like to receive monthly e-mail updates on preschool/youth programs, please join our e-mail mailing list. Contact Jennifer Vosters at 614.410.4573, or jvosters@dublin.oh.us to add your address to the list.
Program Evaluation
All of our preschool/youth programs can now be evaluated by logging on and providing us meaningful feedback without the hassle of filling out and mailing back a paper survey. We love to hear from you so make sure to log on and let us know how we are doing: http://www.surveymonkey.com/s/KPH2R5C
Volunteer
If you're available one day per week between 9 a.m. – 12 p.m., our preschool classes need volunteers to help make programming possible. Days and opportunities vary. Email Shannon at volunteer@dublin.oh.us if you can help.
Special Needs Participants
Parks & Recreation Services promotes an inclusive policy for all of our programs. To provide the best overall experience for your child or to carry over IEP accommodations, an appointment must be made for an inquiry of needs. Contact Jodi Shealy, Adaptive Recreation Coordinator, at 614.410.4574. An accommodation plan MUST BE COMPLETED PRIOR TO your child's program or camp registration. This plan is required for each seasonal enrollment.