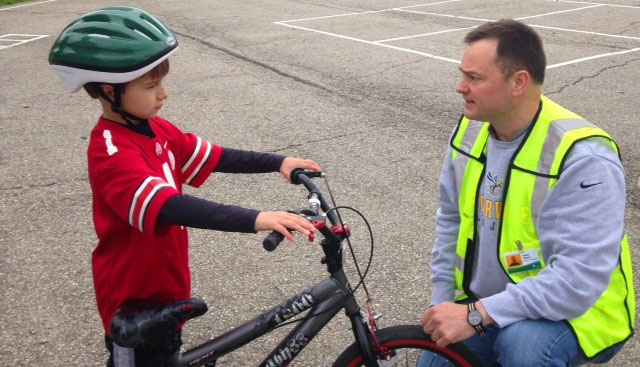 Daytime Preschool Volunteers
If you have time this winter between 9 AM – 12 PM one day per week, our preschool classes need volunteers to help make programming possible. Days and opportunities vary, but it's a good way to keep your heart smiling. E-mail Karin at volunteer@dublin.oh.us if you can help!
City of Dublin St. Patrick's Day Parade
The Greenest, Grandest Day in Dublin, Ohio happens because of the spirit of volunteers. Registration is now open for the more than 100 volunteers needed to help with many roles. Help get parade units to their line up areas, carry a banner in front of a festive parade entry, keep folks safe as a Parade Marshal, or most popular – be a Balloon Guide as you walk the parade guiding a giant parade balloon throughout the route to the delight of thousands. If you can help on Saturday, March 12, please sign up to become a volunteer
Dublin Bicycle Ambassadors
We are in need of several new Dublin Bicycle Ambassadors. If you enjoy riding your bicycle, interacting with people, and want to put your time to great use as an Ambassador, please contact Christine at cnardecchia@dublin.oh.us. It's a wonderful, on-your-own schedule for an even more wonderful reason — safe and healthy biking!
Bluebird Team
Can you hear the birds chirping already? If you and/or your family would like to be trained to become a Bluebird Team volunteer, now's the time. We gather once per year in late February/early March to talk about how important our volunteers are in monitoring and documenting bluebird activity in our city. It's a wonderful way to enjoy nature! E-mail volunteer@dublin.oh.us.
Student Opportunities
If you're in need of service hours between now and the end of the school year, we want to hear from you NOW, not in May. Please let us know so that we may add you to our list of service opportunities as they become available! E-mail volunteer@dublin.oh.us to let us know you want "in."
Wee Folk Room
Our Wee Folk Room at the rec center is far better when volunteers help during very busy times: weeknights between 5:30-7 PM and Saturdays from either 10 AM – 12 PM or 12 PM – 2 PM. If you're age 12 or up and would like to contribute your time, please let us know so we can set up a meet-and-greet and get you trained and scheduled! E-mail Karin at volunteer@dublin.oh.us.
Programs
Dublin Bicycle Ambassadors
Adults interested in turning their leisure biking time into a service to the community may inquire about this program that encourages safe biking, offers extra eyes and ears out on our bike paths, and assists City staff with bike-related events.
K.I.D.S Leadership Team
Our Kids In Dublin Service program launched in 2015 and is in need of leaders to help with planning, program leadership and communication efforts. A K-4 volunteer program, the idea is to inspire our very youngest citizens at an early age to reach out and give to others.
Office and Project Assistants
Our offices are always in need of project champions. We are especially interested in matching volunteer skills and interests with City initiatives and projects in need of helping minds, whether with technology, with programs and planning, wellness and research, or communication and engagement efforts.
Preschool & Youth Programs

Kids need you! Our recreation pre-school and youth programming and camps need reliable and helpful assistants to help with youth photography classes, junior "chef" classes, and more. Contact shaberkamp@dublin.oh.us for the schedule of needs.
Always Up and Running
Here are the many ways people put their skills, talents and generous spirits to use. If you are interested in helping in any one of these ways, click on the guided links or apply here. If we don't have what you're looking for, let us know and we'll help guide you, or check out our Area Opportunities section.
Neighbor-to-Neighbor program
If you live within the City of Dublin and are willing to help a neighbor in need, we're asking you to register for the Neighbor-to-Neighbor program. If a senior has difficulty clearing the end of their driveway after a snow event, or needs help gathering leaves or debris after a storm – when those calls for help come in to the city, we'll have a caring neighbor to refer to them. Register by emailing volunteer@dublin.oh.us.
Kids in Dublin Service (K.I.D.S.)
For K-4th graders ONLY. Children will have the opportunity to come together on several Saturdays in 2015 to volunteer on a project that will have an impact. Service projects vary from making cookies and delivering to the Ronald McDonald House, to planting in a community garden, and more. If you want to inspire the volunteer spirit in a soon-to-be volunteer superhero, space is limited for our first project! To inquire please email volunteers@dublin.oh.us.
Board and Commission Members
A vital part of our community, Board and Commission members are appointed by Dublin City Council and advise Council on various issues. Board and Commission Members must be residents of Dublin and registered voters. More information and the application process requirements can be found here.
Dublin Bicycle Ambassadors
Dublin is proud to be designated a Bicycle Friendly Community by the League of American Bicyclists. Bicycle Ambassadors serve the City by riding our paths and roadways to report maintenance concerns to the City, offer directions and assistance to path users and riders, observe and report on safety issues and serve as overall Ambassadors for safe biking in Dublin.
Community Service Officers
Graduates of Dublin's Citizen Police Academy serve as the City's Community Service Officers (CSOs). These highly-trained community members add value to the mission and goals of the Dublin Division of Police by assisting with safety and crime prevention strategies, special event crown control and traffic flow, and much more. All CSOs must be graduates of the Dublin Citizens Police Academy.
Dublin Irish Festival
The City of Dublin's signature event takes place the first weekend in August and more than 1,200 volunteers are needed to make it happen. Volunteers serve in 60 areas of the Festival, including a 5K run, Admission Gates, Ticket & Token Sales, Hospitality, Merchandise Sales and much more. We've heard it on good authority that once you start volunteering at this fun-filled Irish celebration—you're hooked for life! http://dublinirishfestival.org
Dublin Teen Corps
Dublin high school sophomores, juniors and seniors have the opportunity to participate in Dublin Teen Corps, a unique summer experience combining local government learning with service to others. Students participate in hands-on learning about our form of government, processes and government careers. Each member serves as a volunteer in offices, at agencies or in our summer children's camps. This self-led group also chooses its own group service projects and meets periodically throughout the year to discuss community ideas and initiatives as they relate to youth and youth engaged with government.
Recreation Classtime Aides
From sports programming to arts, volunteers assist our talented Recreation Services Team by being "teachers' aides" during classes and sometimes, lead classes themselves. Ages 12 and up are welcome to inquire about assisting with classes and one-time recreational events.
Project Teams
City staff relies on our volunteers for feedback, new program testing, and assisting with various city-wide initiatives. Volunteers provide us with a profile, which includes talent areas, leadership skills, languages spoken and more. Based on that knowledge, we periodically call upon project teams to help with things such as e-testing, language translation, surveying, distributing information to neighborhoods, and even "Mystery Shopping."
Parks and Open Space
We're grateful for the brawn of so many volunteers who team up to beautify and clean up our parks and open spaces throughout Dublin, while learning about our environmental stewardship and practices. Dublin is host to more than 1,000 acres of developed parkland that make up 56 parks; we often rely on volunteers to help our staff keep it clean and green.
Senior Buddies
Adult volunteers interested in helping out a Dublin senior citizen with weekly phone check-ins and occasional transportation needs are encouraged to inquire about this emerging community need. To become involved with the program, volunteers must be at least age 21 and complete an application process and specialized training. Minimum age: 21 years.
Special Events
Our special events are renowned in Dublin thanks to a responsive and talented group of volunteers who make them possible. From our Martin Luther King, Jr. Day of Service, to St. Patrick's Day and Earth Day, from Independence Day, The Halloween Spooktacular to Make A Difference Day, volunteers team up and bring safe, enjoyable events to life in Dublin.
Got an idea for service? Let us know. The best ideas sometimes come from our community members and we welcome the discussion!
E-mail cnardecchia@dublin.oh.us