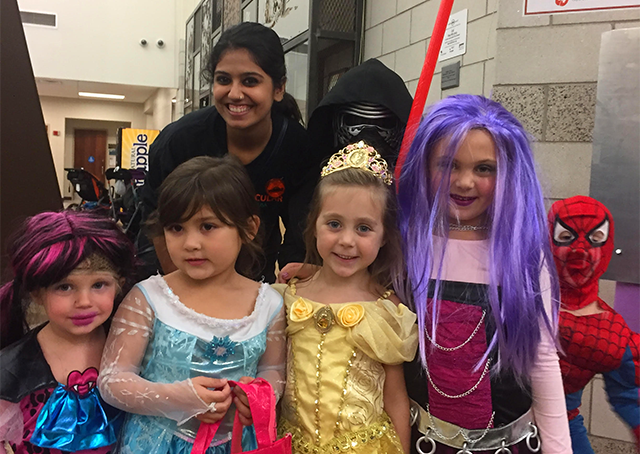 Written by Carolyn Greco, City of Dublin Volunteer
Heena Gandhi has only lived here 10 months. Her visit home to Mumbai, India, took her away from Dublin's official Trick or Treating so she volunteered to corral and chat with children at the Halloween Spooktacular.
Heena helped check the costumed children into the Dublin Community Recreation Center's decorated queue with its fortune teller prop and performers. She laughed and jokingly offered to accept a candy bribe for admittance but the tricksters wouldn't part with their sugary loot.
"It was crazy madness," she says, "I wasn't expecting so many kids!"
Heena guessed that 700-800 children passed through the maze's gym entrance as she checked tickets.
"I saw pirates, princesses, witches, Barbies, super heroes and costumes I didn't know!"
She enjoyed the children's explanations of who they were and she learned a bit of American culture. Not having seen Star Wars, Heena didn't know the scary black-hooded Darth Vader.
"I wanted to volunteer to see the kids dress up, see the make-up and feel their excitement," she said.
Heena's volunteer experience began with assisting at the Preschool Open Gym on Friday mornings. She liked watching the children play in the colorful open space with their caregivers.
"I really like the people at the Dublin rec center," she says. "It's very welcoming there!"
Heena explained that because she is new to the area she wanted to meet people.
"Otherwise it's too lonely. I joined the rec center and learned that you could volunteer. I really enjoy working with kids. I would like to become a teacher."
Heena's voice becomes lighter when she talks about the children.
Like Heena, you may not get candy, but volunteers taste the sweetness of watching children have fun.
The Volunteer Spotlight series shines a light on the City of Dublin's valued volunteers. To recommend a deserving volunteer, or to inquire about volunteer opportunities, email volunteer@dublin.oh.us