West Innovation District Master Plan Public Meeting – Tuesday, September 6
When: Tuesday, September 6, 2016 | 6 – 8 pm
Where: Ohio University's Dublin Integrated Education Center, Second Floor, 6805 Bobcat Way, Dublin, OH 43016
Purpose: A significant amount of development activity has required the City of Dublin to take a coordinated approach to the master plan for the West Innovation District – the City's northwest innovation business district west of S.R. 33, south of S.R. 161 and east of Houchard Road.
The meeting will provide Dublin staff and various stakeholders to discuss land use, development character, road infrastructure and other planning recommendations for Dublin's West Innovation District based on the findings from O'Brien Atkins Associates from Research Triangle, NC.
The public will also be able to review and comment on the Ohio University Dublin Campus Master Plan, the proposed Kaufman residential development, and the Shier Rings Roadway Corridor Character Study first initiated in 2013.
The City is looking for community input to help drive future development and improve upon the well-established innovation area already developing around the Ohio University campus, Nestlé Quality Assurance Center, the Vadata data center and more.
There will be a brief presentation followed by interactive discussion among the participants
West Innovation District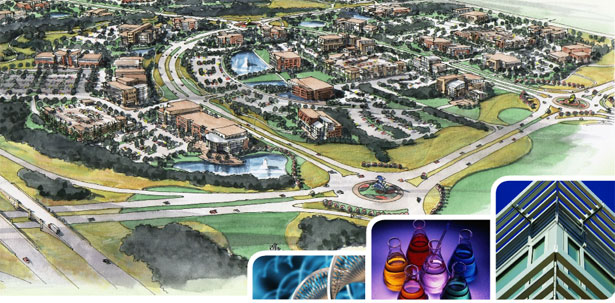 The western edge of Dublin is an area poised for significant change. With approximately 1,100 acres of land between Avery Road, Houchard Road, Shier Rings Road, and State Route 161/Post Road, the West Innovation District is a key portion of the City's business neighborhoods targeted for office, research, laboratory and clean manufacturing uses. With a focus on "speed to build," the area is a focus for quality projects requiring quick administrative approval. Just as Dublin has grown and changed significantly over the last few decades, technology and the way we do business has also evolved. The planning in the West Innovation District is geared to meet the needs of today's development environment.
Contact Jenny Rauch, AICP, Planning Manager at 614.410.4690 or jrauch@dublin.oh.us for more information regarding the West Innovation District.
View all City of Dublin Business Districts
Applications for Development
General
Application for Development – With the exception of the four general applications below, all applications for development in the West Innovation Districts shall include the general Application for Development, along with the appropriate application material checklist.
West Innovation District Application Checklists
For development application inquiries in the West Innovation Districts, contact Jenny Rauch, AICP, Planning Manager at 614.410.4690 or jrauch@dublin.oh.us.
West Innovation District

On May 23, 2011, City Council adopted the final version of the West Innovation District (Economic Advancement Zone Plan) – View
West Innovation District Code

On June 27, 2011, City Council adopted the final version of the West Innovation District (EAZ Innovation District Code) – View